Spiritualized are back. The group announced plans to release, Everything Was Beautiful, their ninth studio album on February 25, 2022.
Following the 2018 And Nothing Hurt, which was thought to be the final Spiritualized album, Everything Was Beautiful is available for pre-order in various box set formats, and on light pink vinyl. Today, the band dropped the record's first track "Always Together With You."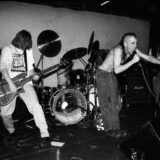 Like a flower blooming in time-lapse, "Always Together With You" is the epitome of a Spiritualized track and something that longtime fans of the band will enjoy. The song is a reworking of a track that was originally released as a demo in 2014.
"There was so much information on it that the slightest move would unbalance it, but going around in circles is important to me," frontman J Spaceman said in a statement. "Not like you're spiraling out of control but you're going around and around and on each revolution you hold onto the good each time. Sure, you get mistakes as well, but you hold on to some of those too and that's how you kind of… achieve. Well, you get there."
Spaceman played 16 different instruments on Everything Was Beautiful which tracked at 11 different studios, as well as at his home. He also employed more than 30 musicians and singers including his daughter Poppy, long-time collaborator and friend John Coxon, string and brass sections, choirs and finger bells and chimes from the Whitechapel Bell Foundry.
Everything Was Beautiful
Out Feb 25th 2022
Available to pre-order now.
Limited edition boxset only available throughhttps://t.co/D98xVU4reL pic.twitter.com/R7mkkALlGC

— Spiritualized® (@officialSpzd) November 2, 2021
Everything Was Beautiful Track List:
1. "Always Together With You"
2. "Best Thing You Never Had (The D Song)"
3. "Let It Bleed (For Iggy)"
4. "Crazy"
5. "The Mainline Song"
6. "The A Song (Laid In Your Arms)"
7. "I'm Coming Home Again"
Spiritualized 2022 Tour Dates:
Mar 31, 2022 – Dallas, TX, Granada Theater
Apr 01, 2022 – Austin, TX – Scoot Inn
Apr 03, 2022 – Santa Fe, NM – Meow Wolf
Apr 04, 2022 – Denver, CO – Ogden Theatre
Apr 05, 2022 – Salt Lake City, UT – The Commonwealth Room
Apr 07, 2022 – Seattle, WA – Neptune
Apr 08, 2022 – Portland, OR – Revolution Hall
Apr 09, 2022 – Vancouver, BC – Commodore Ballroom