What people don't tell you about pro wrestling is oftentimes, the worst-kept secrets are the most satisfying.
On August 20, 2021, after All Elite Wrestling (AEW) spent weeks strongly teasing and coyly shrugging about the impending arrival of a beloved, long-retired pro wrestling icon, a familiar sound rang through Chicago's United Center. A tangled guitar riff unfurled, provoking an ovation only heard a few times in the century-long history of the sport.
By the time Living Colour's 1988 hit "Cult of Personality" hit full steam, the response from the crowd was already deafening. When Chicago native CM Punk walked from the tunnel to the arena's main room, the roar escalated several octaves and sustained itself for a number of minutes. People from all over the world jumped up and down in the arena. Adults wept; not just in the house that Michael Jordan built, but in homes across America. Punk himself was on the verge of tears.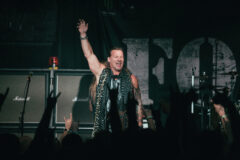 It was an experience that bordered on religious exaltation.
"I think 'overwhelmed' is the all-encompassing word," CM Punk tells SPIN over the phone about his much-celebrated return to wrestling after a seven-year sabbatical. Speaking of "Cult of Personality," he says, "There was such a buzz in the air that I could only hear the first note of the song and then I couldn't hear anything else, because the crowd was so loud."
At this point in his wrestling career, CM Punk is inextricably tied to the song which plays him out to the ring. In fact, he's so synonymous with "Cult of Personality," he introduced Living Colour at Riot Fest 2021 despite being "banned" from the festival years ago.
"What gets me is that it's such a personal story of his connection with the song and the band," Living Colour singer Vernon Reid said about the connection between Punk and "Cult of Personality." "His Little League coach was totally hip, using 'Cult' as young pre-CM Punk's 'get out on the field' music in 89. They won their season's championship! It stuck. We're grateful."
Punk's first time using the theme was for the world-renowned independent promotion Ring of Honor after he became their world champion amidst news he had signed a contract with World Wrestling Entertainment. After ridiculing the Ring of Honor fans relentlessly, he signed his WWE contract on the ROH World Championship, an act of pure sacrilege in pro wrestling. In pro wrestling, every aspect of presentation is considered when conceiving a persona; what moves they use or don't use, how they talk and what they say, what they wear to the ring. So Punk's sudden change in his acceptance of the fans' adulation had to be reflected as such in his musical choice.
"I was this guy the fans loved," Punk says about the impetus of using his then-new entrance theme. "So the song 'Cult of Personality' represents when there is a distinct individual who has such charisma, such personality, that they develop this following, and it's really not anything more than a cult. And more often times than not, that person turns out to be very dangerous."
After several years in WWE and ascending to become one of its biggest stars, Punk won the WWE Championship at 2011's Money in the Bank event, the first of many majorly significant events for Punk in his hometown of Chicago. As a result of a freshly inked contract, weeks later he began entering arenas to "Cult of Personality." During this time, he was being portrayed as an antihero seen by fans as a wrestling deity. Announcers—conditioned to steer fans to feel a certain way about characters on the show—gently suggested his selfish or traitorous tendencies to deaf ears. In order to avoid music licensing fees, WWE has utilized the efforts of in-house music producers dating back decades, which made Punk's entrance music all the more special. "It had a lot to do with me swinging my big ol' dick around and making them invest in me as a person," he jokes about his contract negotiations with WWE.
Corey Glover recalls, "We met him before Wrestlemania at MetLife Stadium [when we played Punk out to the ring live]. When he came to the WWE he had to fight them to use the song." Punk's insight into being able to come out to "Cult of Personality" corresponds with Glover's.
It didn't take long for him to get to the crux of pro wrestling companies licensing music for their programming in conversation: "Licensed music and pro wrestling has been a very happy marriage. [When] you think Road Warriors, you think Black Sabbath's 'Iron Man.' Pro wrestlers for better or worse are attached to some very iconic songs. If the Road Warriors came out to some bullshit theme Vince [McMahon] commissioned [which they did, as the Legion of Doom in the '90s], it's just not the same."
Punk mentioned he briefly internalized the idea of changing his theme music, just as he routinely changes his hairstyle and his in-ring gear. He quickly balked. "It would be absolutely stupid to change my entrance music," Punk said, "and I think that's pretty powerful when you think about it. You know, people hear 'Cult of Personality' now and they think of CM Punk, and I think that is just so Goddamn special."
The symbiotic relationship between pro wrestlers and signature music has been at the forefront of All Elite Wrestling president/CEO Tony Khan's mind since he was a kid, fantasy-booking wrestling matches for an imagined television program in notebooks. "I always did consider [music]," Khan says. "The wrestlers' entrance themes could get the fans more excited about these wrestlers and make their appearances feel special."
Khan confirmed music licensing as part of AEW's business plan before the company's launch was announced on New Years Day 2019, and implemented his vision when the company signed a contract extension with WarnerMedia the following year. The first on-air licensing opportunity for the company came through a highlight video using hair metal band Cinderella's "Don't Know What You Got (Till It's Gone)," creating an unexpectedly emotional touchstone in a tournament final match between former tag team championship partners Kenny Omega and "Hangman" Adam Page.
Shortly after this video package, AEW secured the rights for Baltimora's "Tarzan Boy" for rising star and current AEW Tag Team Champion Jungle Boy. Khan noted the song was already a fan favorite when Jungle Boy—Jack Perry, son of dearly departed network TV heartthrob Luke Perry—used the theme while working the L.A. independent circuit. Soon after, Khan made the decision to use a popular song for a much more heartbreaking tribute.
On December 26, 2020, Jon Huber, also known as Brodie Lee—a wrestler as imposing in the ring as he was beloved backstage—died from a rare respiratory illness. Four days later, AEW dedicated that week's episode of Dynamite to Huber's memory, augmented by a tribute video soundtracked by Tom Waits' ballad "Ol' 55." Khan says, "He had been sick and it wasn't looking very positive. And as the outlook got worse—the possibility of him passing—I wanted to make sure to give him a very fitting tribute that would last forever."
Since then, AEW has licensed a handful of themes for its wrestlers. Tough-as-nails, fatalistic brawler and former AEW World Champion Jon Moxley walks out to X's cover of "Wild Thing," a nod to both deathmatch wrestling demigod Atsushi Onita and the 1989 film Major League. Rookie world-beater HOOK is now tied to "The Chairman's Intent," written and performed by rapper and noted pro wrestling fan Action Bronson, whose music Khan was not familiar with before being presented with the idea. "I didn't know about [the song] until HOOK introduced me to it," Khan says about using the Blue Chips 7000 standout, which currently has 5.7 million plays on Spotify. "And the song was perfect; I closed my eyes and visualized HOOK coming out to it. And it made a lot of sense. And when I heard Action Bronson was a fan and wanted to work with us, I liked it even more."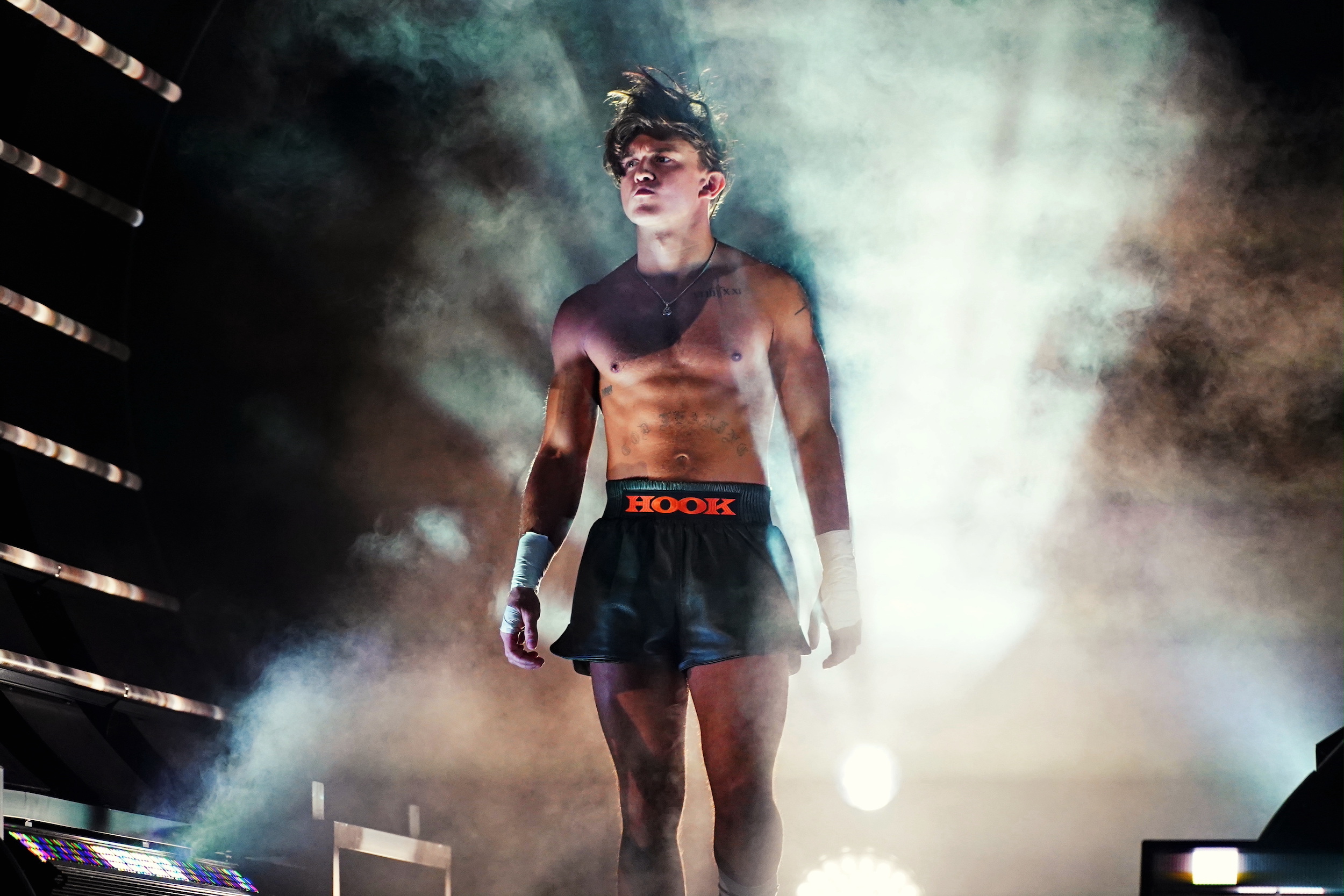 Another well-received addition to the AEW roster, Ruby Soho, appears alongside the rousing chorus of her namesake, Rancid's 1995 hit and alternative rock radio staple.
"I was just so nervous about how I was going to be perceived," Soho says about her AEW start—as the final entry in the company's annual Casino Battle Royale, usually reserved for big debuts and surprises. "When the countdown started to happen, my heart started to pound and I was sweating and short of breath. I heard them chant 'Ruby Soho' before my music ever hit; I'm already welcomed and I haven't even shown up yet. From the moment I stepped onstage, it felt like home."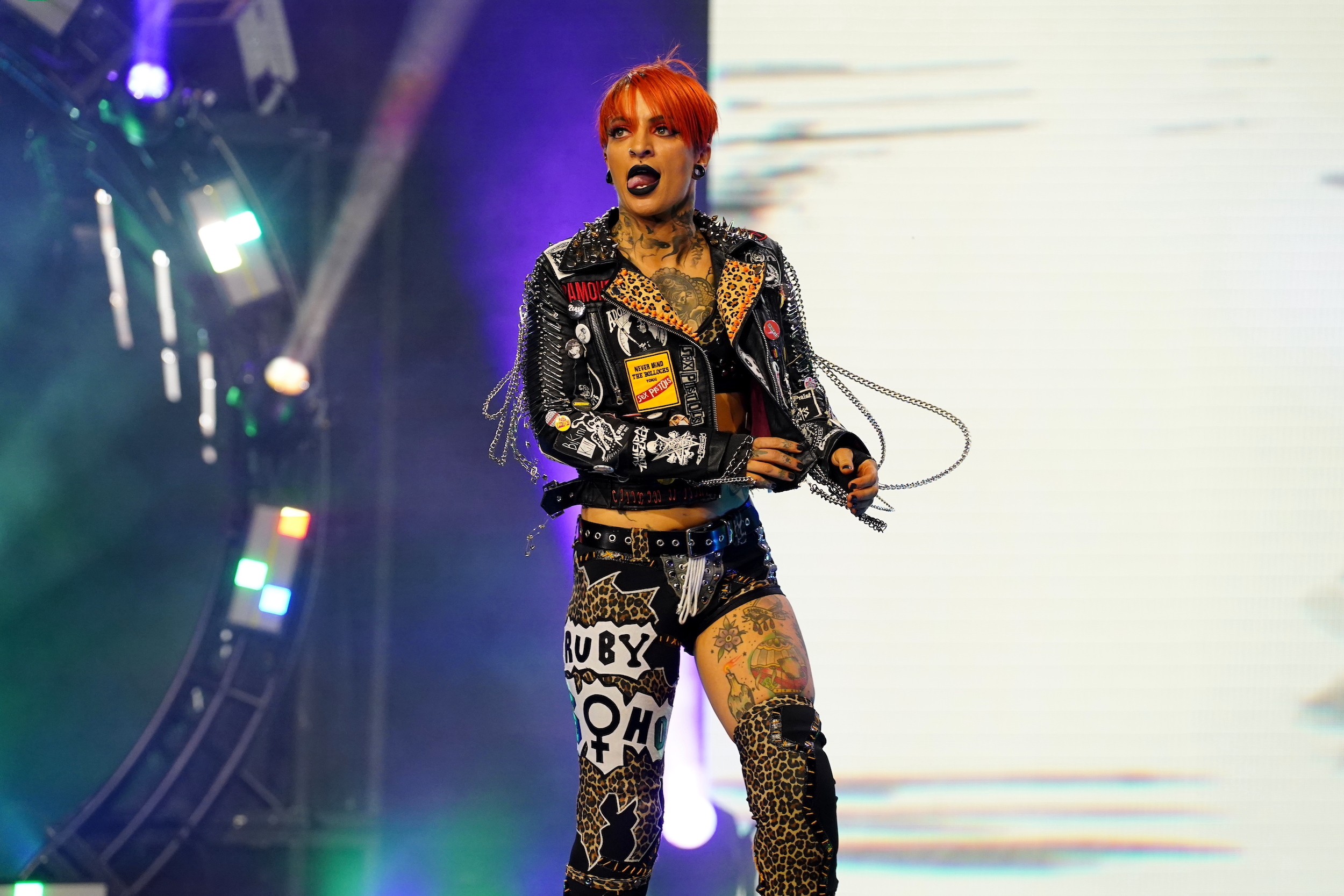 In her past life as a WWE Superstar, Soho was known as Ruby Riott, her chosen first name already a reference to Rancid, one of her favorite bands. When she was released from the company in June 2021, she took a brief period to mourn not being able to work with her friends. Shortly after, she appeared on a podcast hosted by another friend of hers, Rancid's Lars Fredricksen (yet another wrestling fan in the music world).
"I wasn't going to do any interviews during this time," Soho says. "I was asked to do a few of them, and I declined because I wanted to take that time to reset mentally, physically, emotionally. But when Lars Fredricksen asks you to do his podcast, you do his podcast." Ultimately, Fredricksen asked her why she didn't just use the name Ruby Soho, which she had no idea was even an option.
"If you're a wrestler," Punk says about the psychology of entrance music, "you have to approach every single time in front of an audience as if they don't know who the hell you are. Ruby Soho is using Rancid's 'Ruby Soho.' So if people hear that, they think it's gotta be a punk girl. It's one of her favorite songs so she can get into it. She gets to use the moment to be herself."
Orange Cassidy, the atomically lethargic AEW star who wears denim joggers and aviator sunglasses inside the ring. It's easy to get lost in how confounding Cassidy is at first character-wise, but that's exactly how he draws people in. He offers an extremely half-hearted thumbs up to the fans while Pixies' "Where is My Mind?" blasts through arena speakers.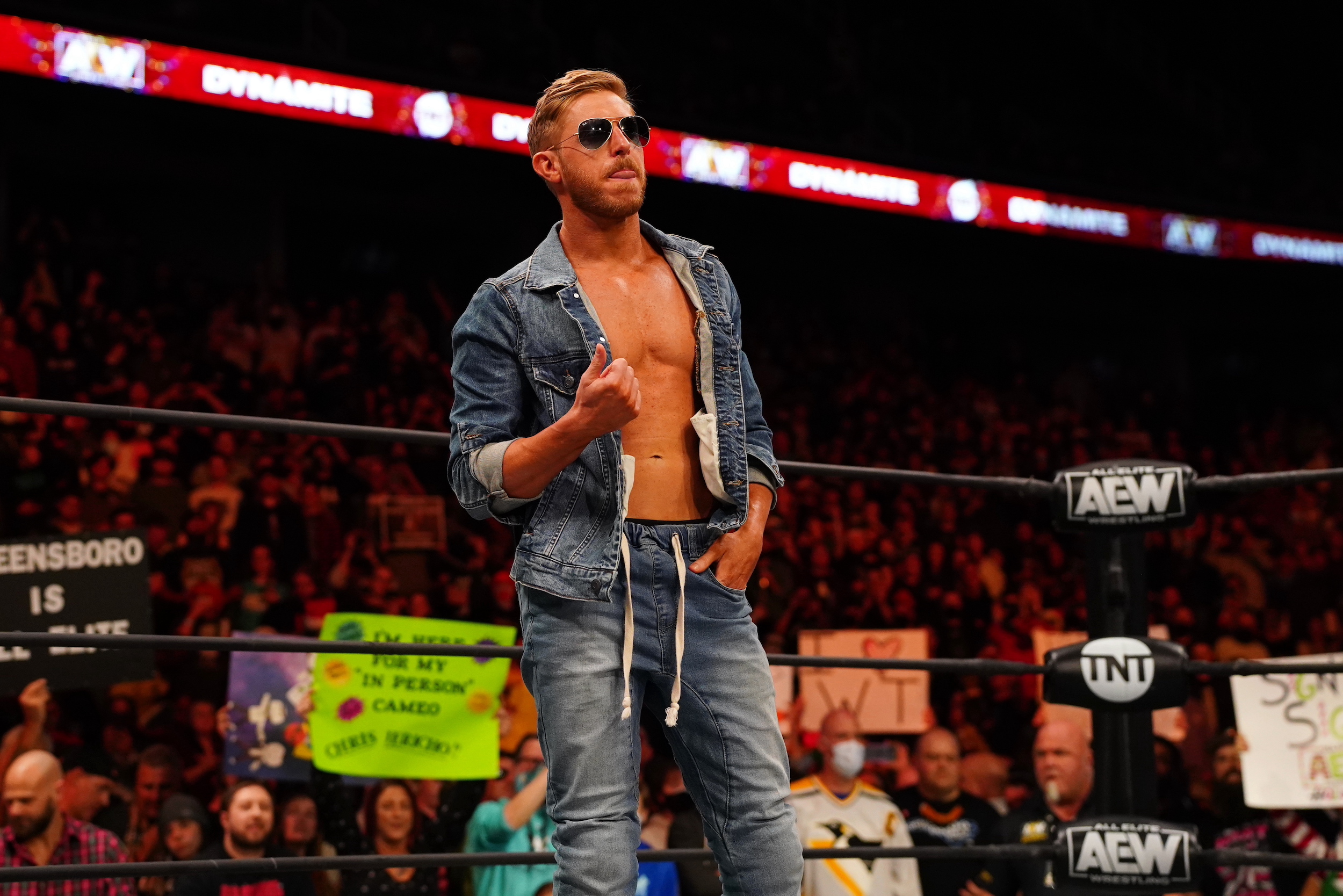 Khan speaks to why Cassidy's music fits the character perfectly: "You are often left to wonder what he might be thinking with these strange things that he does, the lack of effort he puts into things, and then when he does try. Why does he decide to try? What are these things that make him try in these matches when the switch flips and then he actually starts wrestling? Where's his head at? In addition to the lyrics fitting his character, it's just a kick-ass song that gets you excited to watch a wrestling match."
Punk notes that every wrestling persona is essentially an extension of the human being portraying that role. When asked how "Ruby Soho" the song enhances Ruby Soho the wrestler, she says, "This is the truest version of myself—a small-town, socially awkward kid who managed to find the worlds of professional wrestling and punk rock that is still socially awkward, but is the luckiest girl in the world to be able to work for the company she does."