It's not every day you get to chat with the Sports Entertainer of the Week.
When Chris Jericho joined SPIN for a video chat (we're over using the "Z" word) on a Sunday, he spent the previous week appearing on two of All Elite Wrestling's weekly shows, Dynamite (where he threw a fireball at a guy's head) and Rampage (where he gave himself the aforementioned award for doing it), as well as playing shows with his band Fozzy in Louisiana and Texas, with a gig in Austin a few hours away.
Jericho's current gimmick in AEW — he and his stable of toadies, the Jericho Appreciation Society, declare themselves "sports entertainers" rather than pro wrestlers — trolls AEW fans by invoking Jericho's former employer, WWE, which strenuously avoids the term "wrestling." It's the kind of self-aware shtick that's perfectly suited to an in-ring veteran of more than 30 years who's known for constantly reinventing himself, and pokes at the tribalism between fans of the two companies with surgical precision.
It's tempting, then, to imagine Fozzy's blend of fist-pumping metal, pop hooks, and industrial angst, with Jericho's over-the-top persona slathered all over it, as music engineered to appeal to pro wrestling fans, but Jericho bristles at the idea of one career influencing the other. "I didn't just wake up one day and go, 'I'm going to be in a rock band,'" he says. "I've been playing in bands since I was 13 years old. I didn't start wrestling until I was 19. I always wanted to do both."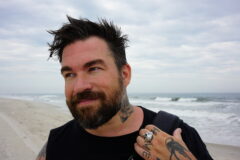 When talking with Chris Jericho, 51, about Fozzy's new album Boombox, a couple of things become clear immediately: He's extremely proud of the band he's fronted since 1999 — able to rattle off chart runs and video views from memory — and the guy genuinely loves music. Over our conversation, Jericho showed off new vinyl from German metal vets Helloween, praised hip-hop and EDM for their crowd-pumping energy, and speaks of The Beatles and Iron Maiden with equal reverence. He's also got a podcast, a cruise, and other ventures, but we spent most of our non-Fozzy time talking '80s KISS instead.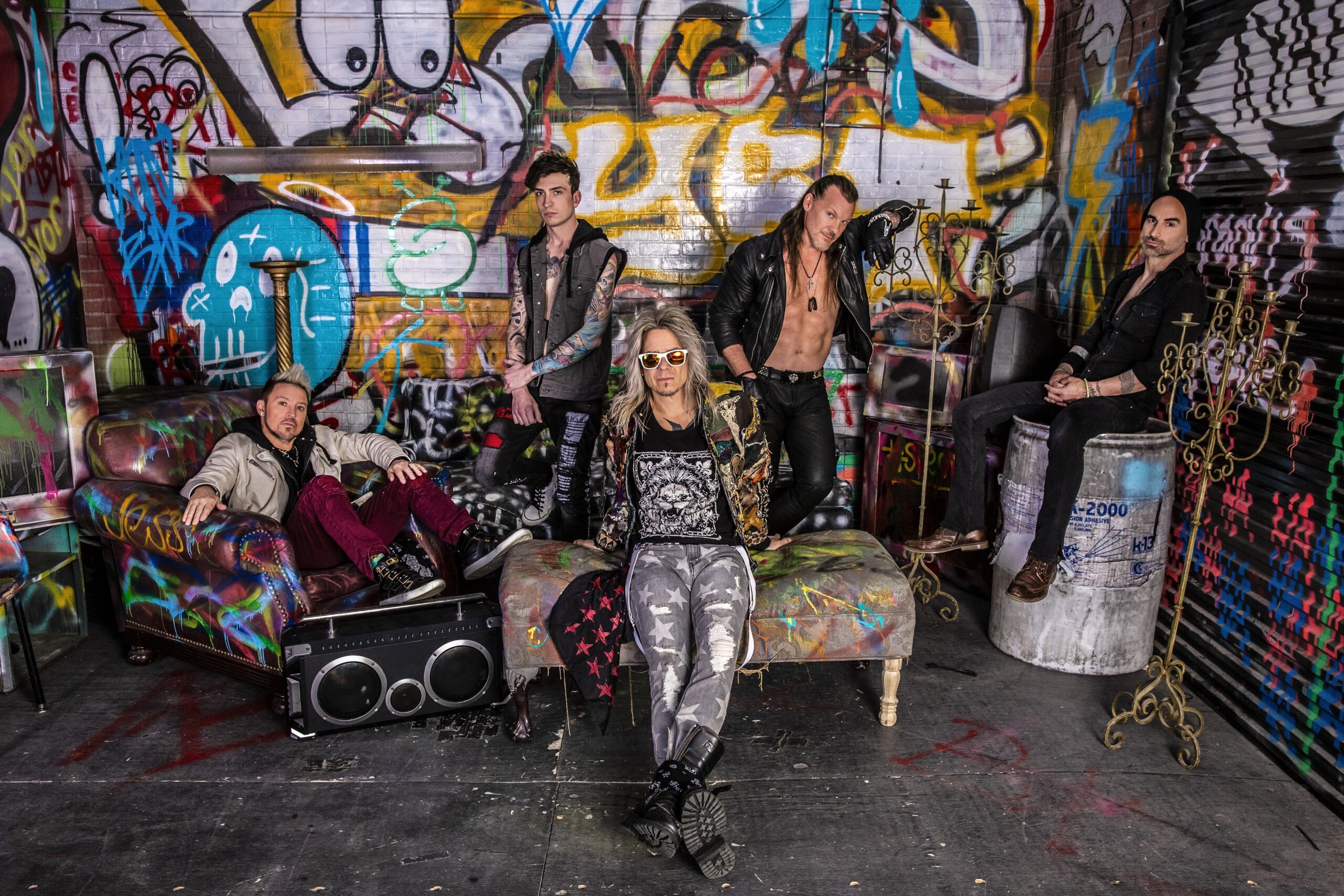 SPIN: The new album's titled Boombox; it starts off with the sound of a needle hitting a record. Are you much of a physical media guy these days? Do you even have time to sit down and listen to vinyl?
Chris Jericho: It's interesting. I never really put two and two together that it's the needle on the record, I thought it was just a cool sound effect. But to answer your question, I'm not huge as far as listening [to physical media]. I do like collecting some vinyl because I like holding the art in my hands. As far as listening to vinyl, I really don't, but I think it's very cool that the option is there.
Do you collect reissues of older music you liked? Or do you go for new bands?
There's certain bands [whose records] I collect just because I've bought every one of their albums for 30 or 40 years. So, if a new Iron Maiden record comes out, I'll buy it on vinyl; same with Metallica, or Helloween or AC/DC, those types of bands. As far as newer bands go, I don't really buy any vinyl because they don't do much with it.
We were talking about Helloween — their new record, they had a big boxed set that had like a scroll in it, a clock, and a medallion. If you're gonna have the trinkets, let's go back to the '70s and those old KISS records! Because for me it's more of a collectible.
Boombox is the first Fozzy album since the self-titled debut in 2000 that doesn't have a title track. So, what made this album Boombox?
We noticed that our albums always have dark and heavy titles, from Sin and Bones, to Do You Wanna Start a War, Judas, that sort of thing. And this record has a lot of darker subject material. But our live show is very upbeat and fun, energetic, crowd-friendly. I wanted to have an album title that matched that. Instead of calling the record Sane or whatever, I thought, well, let's go the opposite and call it something that has more of a vibe that fits our live show.
Boombox just kind of came to us. If you're from the generation we are that knows what a boombox is, there's a fun connotation with summertime and listening to music at the beach. I remember my mom's car when I was growing up; the stereo didn't work so the stereo was a boombox. That's what we listened to music on. And if you don't know what a boombox is, it sounds cool. Do some research on it. The imagery is cool.
A lot of Boombox was recorded before COVID locked everything down in 2020, right?
Kind of, yeah. We were calling the record Chinese Fozzocracy because it took so long to make it.
We started in May 2019 because we had a tour that was based around a big stadium show that we were doing with Iron Maiden. We wanted to put out a single around the tour. So, the song "Nowhere to Run," which is on Boombox, basically hit the [Billboard] top 10 three years ago. We were originally going to call the record 2020 — we wanted to mimic 1984 by Van Halen and release the record early in the year to tie in with the whole, "20/20 vision" and this year 2020 is gonna be so special. Little did we know how special it really became.
Most of the songs were done before lockdown, and this record has been done, mixed and mastered, for over a year. But we didn't want to release it during the lockdown. We didn't want it to get lost in the shuffle. A lot of great records were released during that time, and they came and went. We thought we'd wait until we could tour the record properly, until we could start doing radio, go into the studios and the different towns and interact with people face to face. It has been a long time, but we've been waiting for the right moment to release it, and here we are.
Fozzy's metal influences are worn on your sleeve, but there's definitely a pop element to the band. Who do you look up to as far as pop songwriting, just hooks and songcraft?
I'm really into The Beatles and The Rolling Stones, Iron Maiden and Metallica, KISS, AC/DC, Ozzy, that sort of stuff, and so is Rich [Ward, Fozzy's lead guitarist], but Rich also loves '80s pop music like Billy Ocean, Madonna, Duran Duran, and so do I. He also loves yacht rock, Chicago, Earth Wind & Fire. I dig those bands too. We have a lot of elements of that music in our band as far as hooks.
A lot of our songs have a triple hook, where you think, okay, that's the hook, that's the hook, that's it. That's one of the reasons we've had some great success at radio over the last five years. I mean, we've had six consecutive top 25 hits, and that's because of the hooks. A great song, Slayer could play it or Buddy Holly could play it — they can play the same song; the delivery is one thing but the hooks and what sticks in your head is what really matters most.
How long had you been planning to cover Frankie Goes to Hollywood's "Relax"?
We do a cover set on the Jericho cruise every year. Prior to the pandemic, January 2020, we were putting together the setlist. Rich had started to do a band in the downtime from Fozzy called Guardians of the Jukebox, which is an '80s tribute band focusing on '80s pop music. I said, "you got any songs Guardians do that would fit?" And he said "Relax" works great. We gave it a try, it sounds so heavy, it went over great with the crowd. And we're thinking, let's just cover it and put it on the next record if it fits. And it really does.
We've been playing it live for the past six months, and it goes over huge because everybody knows it. It really is one of the highlights of the set right now. And people don't even know that that's going to be on the record. I think it's gonna be a big cornerstone for Fozzy's set for years to come.
You're on tour now before Boombox is out. Are you playing the new original songs on these shows?
Absolutely. This album already has two singles that were in the top 10 in "I Still Burn" and "Sane." We've been playing basically half the record live for almost a year. Things have changed as far as how you release records now. Before, you would put a record out, and the single would come out a week before that. And then you'd have another single about a month and a half in and then you'd have six months to promote it, then it goes away.
Nowadays, it's all about the singles. You can release a single in 2019, then you can release another single in 2021, and then you can release the record that those two singles came from in 2022. It's a whole new world right now.
You talked a little bit about the triple hooks in Fozzy songs and having a crowd-friendly show. Pro wrestling also has elements of crowd control and playing to the audience. Do those instincts cross over at all in terms of how Fozzy arranges songs?
No. It's got nothing to do with wrestling. A great song is a great song. Maybe live there's a certain way to run a show as a frontman that's similar to how you might run a match as far as getting the crowd involved.
Writing a song, you don't think of anything other than what's best for the song. We're thinking about The Stones, The Beatles, and Def Leppard. The Weeknd or whoever's writing great songs right now. That's who you want to compete with.
Fozzy's song "Judas" became a plot point in your feud with MJF in AEW last year, when you weren't allowed to use it as your entrance theme, but the crowd sang it anyway. Do you ever look at new Fozzy songs as potential new themes if you were to change up your character?
Well, the thing about "Judas" is, it was a hit before I started using it [as entrance music], right out of the gate. We did the video, it did 1 million views in a week. Why? I don't know. Whatever reason, people gravitated towards that song. And that's why I started using it as my ring music.
I needed a new song because I had switched from WWE to New Japan [Pro Wrestling]. I thought, well, let me use "Judas," and maybe there'll be a promoter who hears the song and brings us over to Japan. And then I realized, this is a great entrance song!
So, when AEW started, I brought "Judas" over there, and then it became part of the show. For whatever reason, people just felt a real inspiration from that song and wanted to sing it as I came to the ring. Now, I did just change my character, I went from being a good guy to being a bad guy. We thought about not using "Judas" anymore. But then I thought, why? Why change it? And my boss [AEW president Tony Khan] agreed because we have a very unique, very cool moment in our AEW presentation, in that people love singing this song.
As a bad guy I could take it away, but then you're losing this really special moment. People singing "Judas" transcends being a good guy or a bad guy in AEW, it's just something cool that's part of the show. It's like going to a KISS concert and they don't play "Rock and Roll All Nite" because they're trying to be creative. It's like, fuck, we don't care, that's the song we want to hear!
The Jericho Cruise is back for 2023. What can people expect for this one?
Well, Fozzy did the KISS cruise in 2015 and the moment we got off the boat, I called my [business] partner and said, "Let's do a rock and wrestling cruise that has bands and has matches on the cruise, actually on the ship in the middle of the ocean." Took three years to figure out how to do that, but we did.
The first one was a money loser. Second one was a huge success. Third one was sold out, then that pesky pandemic came in and fucked everything up. But we finally did the third one in November of 2021, and it was another big hit. And now we're back, man, February 2023. It's just basically an extension of everything that I'm into: music, wrestling, comedy, the paranormal. everything in between. We got it down to a real science about how to have a great time on this cruise.
Your '80s KISS tribute band Kuarantine is playing the next cruise. You've name-dropped KISS a lot in this interview. I figured for our last couple of minutes I'd just let you soapbox for what's considered an uncool era of the band.
There's a lot of great material from that era. Paul Stanley was at his peak as a singer and as a songwriter. I think there was a prejudice against them from radio because they were from the '70s; they were probably looked at as dinosaurs, even though they were only in their 30s at the time. But there's some great music from that era that they don't play, and no one really knows. And so, during the pandemic, when we were looking for things to do, we basically started this '80s KISS, non-makeup cover band over Zoom.
Because nobody was really releasing new music, we put out a single from [KISS's] Crazy Nights record called "No, No, No" to rock radio; that became a top 25 hit. The highest-charting single from the Crazy Nights record ever is our version of "No, No, No." So, then we thought, "well, why give it up? Let's continue." We put out three singles, a fourth is coming out, played the Jericho cruise twice. We did a corporate party, now we're doing a big KISS convention called Creatures Fest at the end of May. It's Ace Frehley, Peter Criss, Vinnie Vincent, Bruce Kulick, and Kuarantine — and a bunch of other bands.
It's fun for me because it's great jamming with other musicians getting outside of the Fozzy box as a singer. There's not a lot of harder vocal parts than '80s Paul Stanley vocals; the guy's range was insane, the power was insane. It makes me a better singer and a better musician, going out and playing shows. And it reintroduces a lot of these great KISS songs that nobody knows back into modern rock. They're great songs that most people have never heard even if you are a KISS fan.