Wet Leg, the British duo of Rhian Teasdale and Hester Chambers, are set to unleash their debut. The duo shared that their self-titled debut will be out on April 8, 2022 on Domino Records.
To prepare us for next year's release, Teasdale and Chambers shared "Too Late Now" and "Oh No" from that upcoming collection.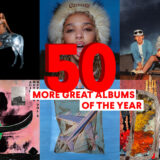 "It is about sleepwalking into adulthood," Teasdale said in a statement about the inspiration behind "Too Late Now." "I never imagined that my adult life would look the way it does and I guess this song reflects on some of the pressures and pulls of life. Sometimes I get really inside my head and everything can feel very overwhelming. I think this song is about accepting that life can feel a bit shit from time to time. Maybe don't indulge that thought too much though. Just take some time for yourself. Take a breath. Have a bath. It might make you feel a bit better."
The track's video, directed by Fred Rowson, is out now, with the pair fitted up in striped bathrobes while blinded by cucumber slices.
The album was recorded and produced by Speedy Wunderground's Dan Carey ("Chaise Longue" and "Angelica" were produced by Jon McMullen and Josh Mobaraki respectively). Having mostly recorded the album this April in London, Teasdale said that their lively focus during their sessions gave the record its dry sense of humor that trickles throughout.
"As a woman, there's so much put on you, in that your only value is how pretty or cool you look," Teasdale said. "But we want to be goofy and a little bit rude. We want to write songs that people can dance to. And we want to people to have a good time, even if that might not possible all of the time."
In what's left of this year, Wet Leg are performing already sold-out shows in New York, Los Angeles, and San Francisco, and even opening up three shows for Chvrches. Along with the album announcement, they detailed their North American tour beginning in March next year, following a string of shows in the U.K. and Netherlands in January and February. They are further scheduled to open for Idles for their first show of next year on January 16 at the Brixton Academy in London and on March 23 at Pabellon Cuervo in Mexico City.
Wet Leg Track List
1. Being In Love
2. Chaise Longue
3. Angelica
4. I Don't Wanna Go Out
5. Wet Dream
6. Convincing
7. Loving You
8. Ur Mum
9. Oh No
10. Piece of Shit
11. Supermarket
12. Too Late Now
Wet Leg Tour Dates
2021
1st December – Transmusicales de Rennes, Rennes, France
7th December – Mercury Lounge, New York, NY – sold out
8th December – Union Pool, Brooklyn, NY – sold out
9th December – Baby's All Right, Brooklyn, NY – sold out
13th December – The Echo, Los Angeles, CA – sold out
14th December – The Moroccan Lounge, Los Angeles, CA – sold out
15th December – Popscene @ Rickshaw Stop, San Francisco, CA – sold out
16th December – Bill Graham Civic Auditorium, San Francisco *
17th December – Hollywood Palladium, Los Angeles, CA *
18th December – Hollywood Palladium, Los Angeles, CA *
* = with CHVRCHES
2022
16th January – Brixton Academy, London, UK ^
19th January – Eurosonic, Groningen, Netherlands
20th January – Ekko, Utrecht, Netherlands
28th January – Yes Pink Room, Manchester, UK
29th January – The Louisiana, Bristol, UK
30th January – The Joiners, Southampton, UK
1st February – Elsewhere, Margate, UK
2nd February – 100 Club, London, UK
3rd March – Amsterdam Bar and Hall, Minneapolis, MN
4th March – Empty Bottle, Chicago, IL
5th March – A&R Music Bar, Columbus, OH
7th March – Horsehoe Tavern, Toronto, ON, Canada
8th March – Bar le Ritz PBD, Montreal, QC ,Canada
10th March – Music Hall of Williamsburg, Brooklyn, NY
11th March – DC9, Washington, DC
12th March – PhilaMOCA, Philadelphia, PA
14th March – Basement East, Nashville, TN
16th-18th March – SXSW, Austin, TX
23rd March – Pabellon Cuervo, Mexico City, Mexico ^
25th March – Wise Hall, Vancouver, BC
26th March – Sunset Tavern, Seattle, WA
27th March – Vitalidad, Portland, OR
16th April – Newcastle University, Newcastle, UK – sold out
17th April – The Mash House, Edinburgh, UK– sold out
19th April – Brudenell Social Club, Leeds, UK – sold out
20th April – Gorilla, Manchester, UK – sold out
21st April – Trinity Centre, Bristol, UK – sold out
23rd April – o2 Institute, Birmingham, UK – sold out
24th April – Norwich Arts Centre, Norwich, UK – sold out
26th April – Koko, London, UK – sold out
27th April – The Wedgewood Rooms, Portsmouth, UK – sold out
28th May – Neighbourhood Weekender @ Victoria Park, Warrington, UK
^ = with IDLES