Gorillaz weren't the only Coachella performers with some extra star wattage last night (April 21). Indie rockers Wet Leg also had a surprise in store, as Dave Grohl crashed its set in an apparently impromptu moment during the song "Ur Mum."
It came at the break in the track when the Grammy-winning indie rock duo's Rhian Teasdale and Hester Chambers typically engage the audience to let out their "longest and loudest scream" along with them. Obliging with the request was none other than Grohl, who emerged from the wings of the stage with several other guests and took over one of the microphones to unleash his trademark holler.
The band members definitely looked surprised to see Grohl, who was dressed like any other spectator in the crowd with his shorts, T-shirt, and safari hat. The Foos frontman has not been shy about his love for Wet Leg in interviews, including this one where he reveals some of his favorite new bands.
Up next for Wet Leg is supporting Harry Styles on his Love on Tour dates throughout the U.K. and Europe this summer, as well as performing at a few international festivals. As for Grohl, he appears to be enjoying some leisure time in the run-up to Foo Fighters' first tour and album since the 2022 death of Taylor Hawkins.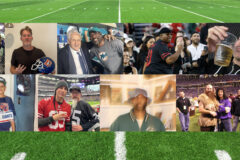 The longest loudest scream @wetlegband

Tune in to the @YouTube livestream from your chaise longue at https://t.co/gW7w2jV5nG pic.twitter.com/726P8hfAC7

— Coachella (@coachella) April 22, 2023