Amid the narrow aisles of a cramped video store in the Williamsburg neighborhood of Brooklyn, The Marías are in their happy place. Dressed entirely in black attire, producer/multi-instrumentalist Josh Conway and singer María Zardoya are peak summer goths in the city. They're a little intimidating at first — perhaps it's their sleek looks — but it's all for appearances. Their demeanor, in fact, does not reflect their choice of clothing.
"The sensation of opening up one of these tapes!" exclaims Zardoya on a sticky afternoon. The crowded rows of VHS in the shop are packed with early 2000s favorites like Blue Crush, Honey and The Sweetest Thing.
"It's totally our vibe," notes Conway as he scans through the shop's collection.
It's not long until Zardoya lets her inner film nerd loose. "Some of it didn't age well, but it just shows that we're progressing as a society," she says while picking up a DVD box set of Titanic. Eyeing a copy of Big Fish, she spits out "That was shot on a little island off the coast of Alabama — a goat island."
It's no coincidence we're here. Film exists at the very core of The Marías. The bilingual psych-pop outfit's debut album, released in June, is aptly titled CINEMA. Zardoya can trace her love of film back to her childhood.
"My dad introduced me to a director that I love called Pedro Almodóvar," the Puerto Rican-born singer recalls. "They were both raised in similar times of [Francisco] Franco Spain, and there was a huge creative revolution that happened post-Franco that Almodovar was part of."
Growing up, Zardoya wanted to be an Almodóvar girl. By high school, she began studying film. Spike Lee's Do the Right Thing and Hitchcock became a gateway for her. When she attended college, she continued studying film. "It's just in my blood."
When she began making music with Conway in 2016, it was because of TV and film pitches. Through a friend, they connected with a music supervisor who would send them a synopsis of a scene, and they'd have to write music for it within a couple of days. Not only did that teach them how to write songs together fairly quickly, it taught them how to think like filmmakers. They'd imagine sounds in their minds based on the synopses — everything from the colors in the scene to the lighting and set design.
"It just all just happened very serendipitously," Zardoya says, relocating to a park bench outside. "Where my love for film and cinema merged with us making music together."
Conway notes that they were "forced to visualize music" because of it, as a black lab named Indie runs up to the duo. "He's like, 'I'm with an indie band right now,'" Zardoya quips.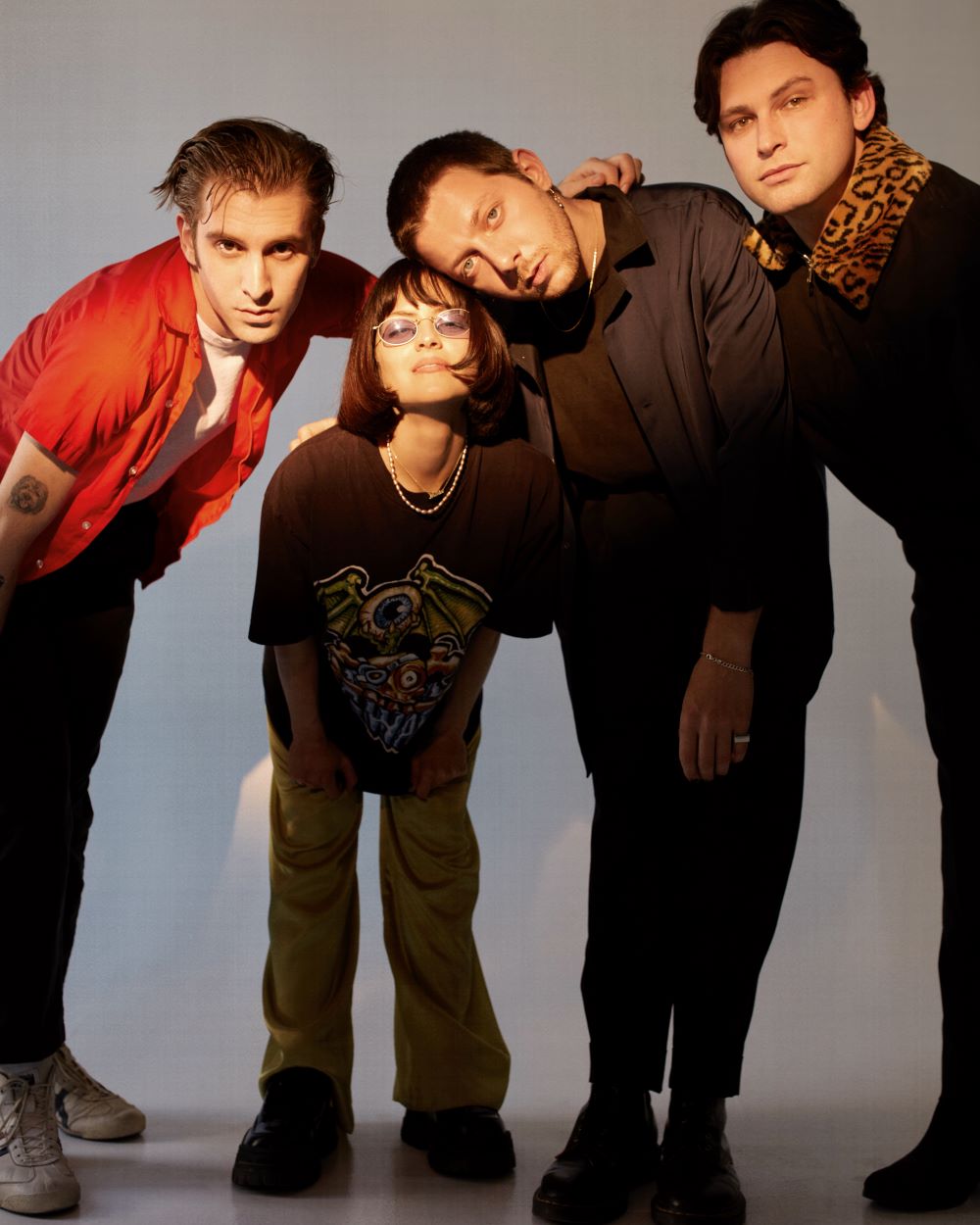 Before the pandemic, the Los Angeles-based band had already written their debut record. But when it started, they challenged themselves to re-do everything. "[We were] putting in a lot more attention to detail, maybe to a fault at certain times," Conway recalls. Only five of the original tracks made it onto CINEMA — the other eight were made during the pandemic. "Those five have been put through the wringer," he adds.
Their meticulous work ethic stems from never wanting to make the same thing twice. The band's Superclean EPs — which were released in 2017 and 2018 — featured a sleek sound and visuals. For their debut LP, they overhauled their previous work and built an ethereal noir soundtrack filled with lush synths and homages to classic film.
As always, they wrote from their apartment, but their mindset was different during the making of CINEMA. Following the murder of George Floyd and the continued racial injustice happening throughout the U.S. and the world, they found themselves needing to take a step back.
"From May to July, we literally forgot about the album," Conway says. "We didn't even touch the computer. It was really hard to write and do anything that felt like it wasn't helping."
They took the time to learn and attended the Black Lives Matter protests in Los Angeles. "It was like going to a show, and everybody's singing along to the same words of a song, but [it's] amplified because of the reason you're there," Zardoya says.
CINEMA also happens to be the band's first release on a major label.
"We'd been doing it ourselves for so long that we needed some extra support," Zardoya says. "We were just doing it all, paying for it all ourselves. We were ready for a bit bigger of a team to help support the visions that we had."
They wanted to feel independent, but still have that push of a major label behind them. "That's why we went to Atlantic/Nice Life," Conway says. "It had to be good people, and it had to feel like we were still kind of doing it ourselves."
But with CINEMA, it was integral for the band to capture their affinity for film scores — like one scored by Piero Piccioni in 1968. "There's this motif or one melody that's carried throughout the album, but just done in different ways," Zardoya points out. It's first heard as a lush string arrangement in the opener "Just a Feeling," and later as a trumpet arrangement throughout a handful of songs on the record.
Throughout the writing process, the pandemic's effects did seep into some of the songs. "All I Really Want Is You" details the claustrophobia of being trapped inside and the desire to escape. ("Don't see the light inside my head now/I need to see you in my window.") While "Heavy" addresses the inverse of that feeling — finding comfort inside and not wanting to leave. ("Can someone tell me it's alright to be covered/Underneath the covers?") Reality once again infiltrated their music in the album's dreamy closer "Fog Is a Bullet," which was penned the day after Kobe Bryant was tragically killed in Los Angeles. The band finds comfort in leaning into escapism but reflecting on the exterior world's events.
As for what's next, The Marías aren't quite ready to fully leave the CINEMA era just yet. "We have a large bank of songs that didn't feel quite right in the sequence of CINEMA that we have been revisiting and toying with as like a follow up," Zardoya says. "So, not like the end of CINEMA, but a continuation of it before the next era. There could be a part two."
But no matter what they decide, Zardoya believes fans should always be ready to expect something different from them to keep things interesting.
"I think being a supporter of The Marías means you've got to accept that you [can't] expect a certain thing, because we're gonna just try to change it."