Hulu is going back to the 1990s with the Wu-Tang Clan.
The streamer has handed out a 10-episode, straight-to-series order for Wu-Tang: An American Saga. The scripted drama series is based on one of hip-hop's most influential groups and is inspired by the philosophical books The Wu-Tang Manual and its sequel, Tao Of Wu, both written by Wu-Tang Clan frontman RZA.
Co-created by RZA and writer Alex Tse (SuperFly). The series will be exec produced by Imagine Television's Brian Grazer (Empire, Genius) and Francie Calfo alongside Wu-Tang Clan's RZA and Method Man as well as Tse. Imagine's James Seidman will oversee for the company.
Wu-Tang: An American Saga is based on the true story of the Wu-Tang Clan. Set in New York in the 1990s at the height of the crack cocaine epidemic, the series will follow the Clan's formation, a vision of Bobby Digs (aka RZA), who strives to unite a dozen young black men who are torn between music and crime but who eventually rise to become the unlikeliest of American success stories. The Clan has released five gold and platinum albums and has sold 40 million albums worldwide. Wu-Tang Clan members Ghostface Killah, Inspectah Deck, Masta Killa and GZA as well as the Estate of Ol' Dirty Bastard, will serve as consulting producers.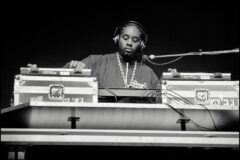 "I'm delighted to be partnering with Hulu and Imagine to explore the vast story of the Wuniverse. Wu-Tang, through our music, has always strove to inspire as we entertain. This opportunity to continue the Wu saga in a 10-episode series will exponentially increase our inspirational style of entertainment. In the immortal words of ODB, 'Wu-Tang is for the Children,'" RZA said.
Wu-Tang: An American Saga becomes the latest musical drama for Imagine, which also produces Fox's Lee Daniels hip-hop soap Empire and its sibling drama, Star. The company's credits include music-themed features 8 Mile, The Beatles: Eight Days A Week — The Touring Years and James Brown's Get On Up, among others. The company has Pavarotti currently in production.
"I've been a fan of Wu-Tang since the mid-'90s and recognized quickly how significant Wu-Tang and RZA were to the world of hip-hop music and culture. Over the years I've gotten to know RZA, and it's clear that he is the soul and storyteller of Wu-Tang. Working with RZA and Alex Tse on this series has been a highlight of my career, and Hulu is the perfect partner to bring this story to a global audience," Grazer said.
Added Calfo: "It is fitting that Wu-Tang: An American Saga is our first series to launch this new chapter as an independent production company/studio, as it embodies all of the elements we look for in a story: ambition, vision, imagination, community and the power of music to transcend our lives."
At Hulu, Wu-Tang: An American Saga will join a scripted roster that also includes The Handmaid's Tale, The Looming Tower, The First, Castle Rock, Little Fires Everywhere, Ramy, Shrill and Catch-22. The series will run alongside acquired content such as Empire, Power and Atlanta.
"The Wu-Tang Clan has made an immeasurable contribution to music and our popular culture," said Craig Erwich, Hulu senior vp originals. "Their unique musical form and authentic storytelling continues to speak to our times. This series is a conversation-worthy event that will bring their history and music to life in a way that hasn't been seen before."
Tse's credits include penning the screenplay for the SuperFly reboot as well as writing the script for 2009's Watchmen. He's repped by CAA, Lighthouse and Schreck Rose.
"Ever since I heard 'Da Mystery of Chessboxin' on the B-side maxi-cassette single of 'C.R.E.A.M.,' I've been a lifelong Wu fan. I'll be celebrating this by buying a pair of Clarks Wallabees," Tse said.
Added Method Man: "Imagine: Hulu and Wu-Tang — I'm thrilled with this collaboration. This is a major win for hip-hop."
This article originally appeared on the Hollywood Reporter.