If you know one thing about Ohmme, it probably has to do with their list of past and present collaborators. Singer-guitarists Macie Stewart and Sima Cunningham work at the nexus of several seemingly divergent streams in their Chicago hometown: They came together in the city's famously fertile avant improv scene, and their debut full-length Parts features a bit of guitar work by Doug McCombs of local post-rock godheads Tortoise. As a high schooler, Stewart sang and played guitar in a hip-hop-oriented group called Kids These Days, in which she shared the mic with Vic Mensa. She and Cunningham both contributed harmony vocals to "Same Drugs," a heartrending highlight from Chance the Rapper's Coloring Book. They've played with Chicago rock elder statesman Jeff Tweedy, and written string arrangements for younger torch-bearers Twin Peaks and Whitney.
The eclecticism of that roster might lead you to believe that Ohmme work in pastiche: offering neo-soul balladry one moment, say, and skronking noise rock the next. But Stewart and Cunningham are more interesting than mere chameleons. The appeal of Parts is not in the duo's ability to extend themselves outward to a multitude of sounds, but to pull those sounds inward to themselves. Ohmme's aesthetic universe has the cramped intimacy of a small rehearsal space, and they are its masters. Anything they can squeeze inside—swirling baroque vocal melodies, punchy punk power chords, three-minute rockers and dreamlike chamber-pop suites—ends up sounding like Ohmme.
The unifying sonic signature is the blend of Cunningham and Stewart's voices. The two sing almost every syllable on the album in tight rhythmic unison, as if from a single throat, shading each of their imagistic lyrics with a color that heightens its mood. On "Grandmother," they are closely intertwined, as if embracing their subject in a group hug. Later in the album, "a rapid tapping on the table" arrives with sudden urgency as their pitches wildly diverge. With their near-telepathic connection and painterly approach to harmony, Ohmme often resemble harder-edged descendants of the Roches, the beloved trio of folksinging sisters whose group vocals brought shimmering transcendence to songs of everyday whimsy and drudgery. As with the Roches, listening to Ohmme's songs can feel like being let in on a great secret.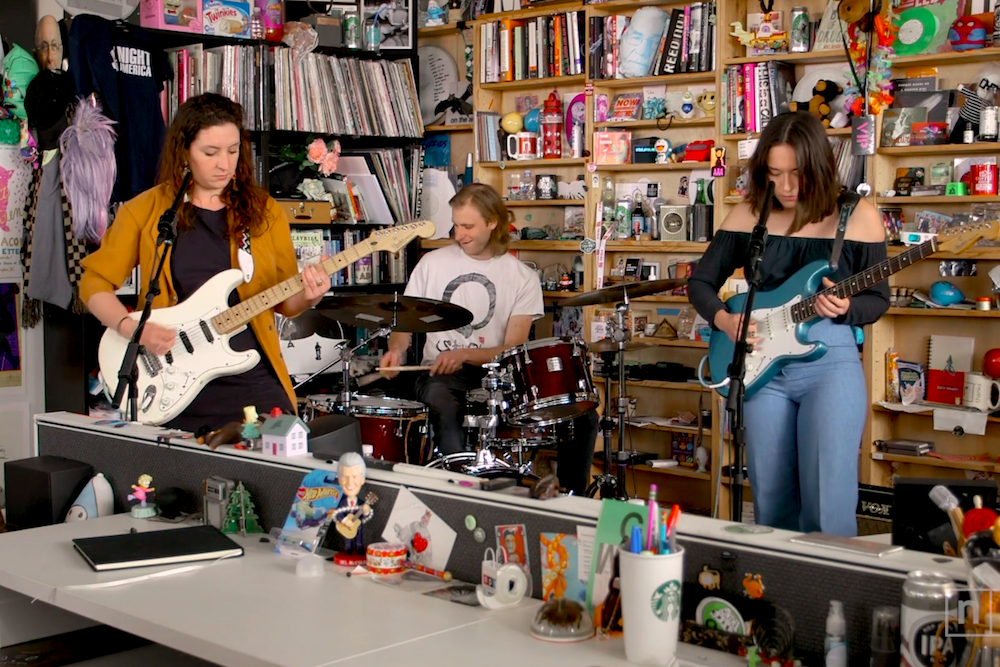 Touring through New York recently, Ohmme played a small room at the back of C'mon Everybody, a Brooklyn bar that usually hosts local bands performing to handfuls of friends and fellow musicians. Their performance had the feeling of a sold-out show, even if tickets were technically still available at the door. Spectators crowded the room wall-to-wall, and the output of a fog machine filled any space left between them. From the jerky opening chords of "Icon," it was clear that Ohmme would—or at least should—be playing bigger rooms soon. Though Parts is a dazzling album, it doesn't quite convey Cunningham and Stewart's magnetism, or the ferocity of their talent, the way their live show does. (Loose-limbed drummer Matt Carroll rounds out the core duo.) Onstage, neither singer or guitarist is easily identifiable as leader. They alternate roles in their semi-frequent instrumental breaks, one striking a patient ostinato while the other improvises a hailstorm of feedback and noise atop it. The dissonance, both sonic and cognitive, is part of the thrill. How do they sing with such composure and play with such abandon at the same time?
Ohmme have strong support in Chicago, and the makings of a cult following elsewhere, if the New York crowd's enthusiasm is any indication. Had they emerged 10 years or so ago, their debut might have launched them into a higher echelon of indie stardom. That's not to say their music sounds in any way retro. But the sensibility they are pursuing—as an indie band unabashed about its musical sophistication and fondness for experimentation, with songs that are tuneful and accessible while remaining divorced from the prevailing sounds of the mainstream—was highly rewarded in the late aughts. Dirty Projectors were hitting their stride, Animal Collective was headlining their album namesake Merriweather Post Pavilion, Grizzly Bear was finding new fans in Jay-Z and Beyoncé. Aside from the occasional Bitte Orca-style vocal hocketing, Ohmme don't sound much like any of these bands, but it's easy to imagine them sharing a lineup or space in a record collection.
If it's harder now for an idiosyncratic rock band to find a large audience, there are several factors that might help explain why: the absence of strong critical voices pushing for these sorts of artists; the homogenizing effects of Spotify playlists as mechanisms for discovery; the sense that rock itself, after generations of mostly white male musicians claiming a monopoly on perceived musical seriousness, has outlived its relevance. Certainly, in other genres, artists like Frank Ocean and Blood Orange have proved that it's still possible to approach or achieve marquee status while ignoring orthodoxies of style. But fashionable indie rock has been on a bit of a musical conservative streak since the halcyon days of 2009, even as the genre has opened its borders to welcome more women musicians and musicians of color than ever. The bands that break through now tend to write in reliably satisfying verse-chorus forms, with regular rhythms and straightforwardly strummed guitars, whether they're vibing out on a mildly stoned drive through the country like the War on Drugs or seeking fuzzy melodic catharsis like Snail Mail. There's nothing wrong with this sort of stuff—both of those acts made good records recently—but it would be nice if there were still room for oddballs like Ohmme, too.
Lighting up the room in Brooklyn, with a procession of equally gifted friends arriving periodically onstage to assist them, Cunningham and Stewart did not seem much concerned with the size of the audience. For their unearthly ballad "Sentient Beings," they summoned cellist Tomeka Reid, who peppered the song's verses with uncanny shivers and shrieks, sounds more akin to a George Crumb quartet than anything on the vinyl shelves at Urban Outfitters. In 2018, it's possible that this music, despite its obvious charms, is too purely itself, too uncompromising in its strangeness, to become more popular than it already is. You get the sense that Ohmme would be okay with that. In that case, those of us who are in on the secret would be happy to keep it.