For a while now, it's seemed like Kurt Vile might have a new record coming sometime soon, and now it's official. Today, the cosmically unbothered Philly songwriter announced his seventh solo album, entitled Bottle It In. To mark the occasion, he also released the single "Bassackwards," a nine-minute meditation on the feeling of forgetting how to talk straight.
Bottle It In follows 2015's b'lieve I'm goin down…, as well as Lotta Sea Lice, Vile's collaboration with Aussie songwriter and kindred spirit Courtney Barnett. According to a press release from his label Sub Pop, the new album features collaborations with Kim Gordon, Cass McCombs, harpist Mary Lattimore, drummer Stella Mozgawa, and others. The label previously teased Bottle It In with "Loading Zones," a song about the hazards of parking in Vile's native Philadelphia, as well as a series of faux campaign signs reading "Vile '18."
Bottle It In will arrive via Sub Pop October 12. Hear "Bassackwards" below and see the Bottle It In tracklist after that.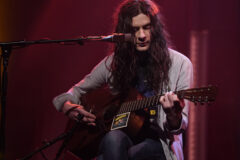 Kurt Vile – Bottle It In tracklist 
1. Loading Zones
2. Hysteria
3. Yeah Bones
4. Bassackwards
5. One Trick Ponies
6. Rollin With The Flow (Charlie Rich cover)
7. Check Baby
8. Bottle It In
9. Mutinies
10. Come Again
11. Cold Was The Wind
12. Skinny Mini
13. (bottle back)