Last week, Nine Inch Nails' Trent Reznor told The Guardian that Kanye West's most recent album ye "sucked," adding: "He has made great shit; he's not in a great place right now." Now, in a new interview with BBC Music, Reznor has taken Kanye to task again–this time, for imitating element of his band's live shows. In a clip from Reznor and Atticus Ross' BBC 6 appearance, Reznor discusses watching a stream of bands at Coachella that were using "screens and experimental production techniques" during their sets in a way that he believes Nine Inch Nails invented.
"Every band has a video playing behind them," Reznor said. "And every band is synced up with a convenient, polite lighting package, you know? And I saw Kanye West blatantly rip off–and the Weeknd rip off– our tours production-wise, which I'll say without any hesitation. And they know."
He goes on to lament the fact that more bands don't do shows that consist of just "smoke, maybe a color, a little bit of someone's hair, and real, real loud guitars." He uses The Cure and The Jesus and Mary Chain in the '80s as an example of this vague phenomenon.
As Pitchfork points out, both Nine Inch Nails and Kanye have worked with production designer Martin Phillips. Last year, The Weeknd's production designers for his Starboy tour also told Billboard that "we've always called [the Weeknd's] aesthetic the Nine Inch Nails of R&B" and claimed that Roy Bennett's "lighting designs for Nine Inch Nails and Prince have inspired me since I was in college."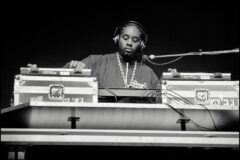 One wonders if Kanye West might be bothered to respond if his name comes up in one more Trent Reznor press tour interview. Read our review of Nine Inch Nails' new album, Bad Witch, here.
Did @kanyewest and @theweeknd "blatantly" rip off @nineinchnails' live show?

Weds, Noon BST: Nine Inch Nails' @trent_reznor and Atticus Ross spend some time chatting to @laurenlaverne.

💻📱 Listen worldwide https://t.co/Dd2jiILcDV pic.twitter.com/S7ChPCAwPG

— BBC Radio 6 Music (@BBC6Music) June 26, 2018