Six years after their widely acclaimed seventh album Sweet Heart Sweet Light, Spiritualized have announced their return with And Nothing Hurt. They've also released two new songs from the album, "A Perfect Miracle" and "I'm Your Man," the latter of which was debuted on BBC Radio 6 today.
"A Perfect Miracle" is a slow-burn reminiscent of the band's classic Ladies and Gentlemen We Are Floating in Space title track. "I'm Your Man" is not a Leonard Cohen cover, though the lyrical construction is pointedly similar in parts. It's a blown-out Britpop ballad in the grand Spiritualized tradition, with Stax-style horns soaked in reverb and a Beatles-y descending bassline in the chorus.
In a press release that went out with the album, Spiritualized mastermind Jason Pierce noted, not without some regret, that it is the first of the band's records he's recorded entirely on his own. "With a bit of trial and lot of error, I found ways of doing something that's quite simple, if you've got the resources…" he wrote in part. "But, if I'm honest, all I wanted was for someone to come and play the part and bring their own thing to the record." Last year, Pierce hinted that this album might be Spiritualized's last.
Hear "I'm Your Man" and "A Perfect Miracle" below. And Nothing Hurt arrives September 7. See the tracklist after that via Stereogum.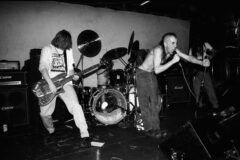 Spiritualized And Nothing Hurt tracklist

1. "A Perfect Miracle"
2. "I'm Your Man"
3. "Here It Comes (The Road) Let's Go"
4. "Let's Dance"
5. "On The Sunshine"
6. "Damaged"
7. "The Morning After"
8. "The Prize"
9. "Sail On Through"