In a new Independent profile, Jason Pierce—leader of psych-rock band Spiritualized and co-founder of '80s outfit Spacemen 3—has declared that the next Spiritualized album will be his last. This comes after a September announcement that a new album is coming next year, along with a pair of shows this week celebrating the 20th anniversary of their career-defining album, Ladies and Gentlemen We Are Floating in Space.
Pierce chalked the decision up to a feeling that too much ground has been covered:
"I'm a lot older now and in a weird way I think it's my last record…I've already covered so much ground and already done a load of ideas. There's no point doing something unless it's better than that. It's mentally and physically such a taxing and demanding year or so, and there's no point doing it unless it's really something else. I've never bowed to pressure and done anything I'd considered a bad move artistically. And I won't start for anybody."
Pierce is eager enough to preserve his best work as is that he turned down a proposed Spacemen 3 reunion and an offer of £2 million.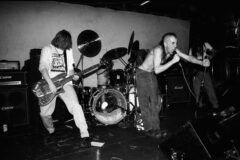 "It's a ton of money. But I think it's too important for that, I really do," Pierce told the Independent. "It's been my life's work to wave my small flag to show how important rock'n'roll is…Maybe I'm just stupid. I certainly need the money. Who doesn't need that? Who couldn't give half of it away if they did have it?"
Does this indicate Pierce's retirement from music altogether, or just his two most-beloved projects? Let's hope the latter.