Kanye West sat down with New York Times writer Jon Caramanica for a series of interviews around the time of the release of his ye album earlier this month. In Caramanica's new NYT feature, West discusses a huge variety of topics, including an intervention from motivational speaker Tony Robbins in his home in 2017 and his move to Jackson Hole following his bipolar diagnosis and time in U.C.L.A.'s psychiatric ward. He explained that he written none of ye's lyrics eight days prior to its posting, and mentioned that Drake had not only written the hook for ye's "Yikes," but that he'd also contributed a whole verse that didn't make the album. He also discussed the collaborative  process of ye in-depth, crediting certain lyrics to their individual writers.
Of course, he also spent a good deal of time discussing the controversial political comments he made around the time of the album's release. When asked about his public vocalization of pro-Trump sentiments, he explained his attraction to the President as a figure:
There were people who said Trump would never win. I'm talking about the it-will-never-happens of the world, people in high school told you things would never happen…I felt that I knew people who voted for Trump that were celebrities that were scared to say that they liked him. But they told me, and I liked him, and I'm not scared to say what I like. Let me come over here and get in this fight with you.
He continued later: "Having a political opinion that's overly informed, it's like knowing how to dress, as opposed to being a child — 'I like this.' I hear Trump talk and I'm like, I like the way it sounds, knowing that there's people who like me that don't like the way it sounds."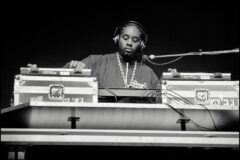 West also explicitly addressed his TMZ video interview, which culminated with his controversial assertion that 400 years of slavery "sound[ed] like a choice" to him. "I said the idea of sitting in something for 400 years sounds — sounds — like a choice to me, I never said it's a choice," he said. "I never said slavery itself — like being shackled in chains — was a choice. That's why I went from slave to 400 years to mental prison to this and that. If you look at the clip you see the way my mind works." He clarified that he always feel compelled to "push" to "the furthest concept possible" before "adjust[ing]" his argument.
Later, he discussed how he might have approached the subject differently if he had an opportunity to redo the TMZ interview. His response, ultimately, was unapologetic:
I wouldn't frame a one-liner or a headline. What I would say is actually it's literally like I feel like I'm in court having to justify a robbery that I didn't actually commit, where I'm having to somehow reframe something that I never said. I feel stupid to have to say out loud that I know that being put on the boat was — but also I'm not backing down, bro. What I will do is I'll take responsibility for the fact that I allowed my voice to be used back to back in ways that were not protective of it when my voice means too much.
He followed up to explain the concept of "protecting" his voice: "I believe that the black community wants to protect my voice. By me saying slave in any way at TMZ left my voice unprotected. So it's not a matter of the facts of if I said that exact line or not, it's the fact that I put myself in a position to be unprotected by my tribe." He expressed confidence that his black fan base would "never" abandon him. Later in the interview, however, he recalled being concerned that his wife Kim might leave him following his TMZ appearance.
Kanye also discussed his abandoned concept for the ye album cover, featuring a picture of the doctor who performed plastic surgery on his mother Donda West in 2007. Ms. West subsequently passed away from post-operative complications.
"I wanted to make my album cover the doctor that performed my mom's last surgery. I think that's pretty big on the cancel-culture territory. I'm starting saying, 'I'm not canceling him,' 'cause the world canceled him. I believe in the court of public opinion that that thought has to change."
If this seemingly pejorative reference to "cancel-culture" brings #MeToo to mind, Kanye's later reference to Louis C.K.–in the midst of a casual discussion of his propensity towards suicidal thoughts–might make one wonder more explicitly about his attitude toward it. "Oh yeah, I've thought about killing myself all the time," West said, "It's always a option and [expletive]. Like Louis C.K. said: I flip through the manual. I weigh all the options."
One line in the interview seemed to sum up the rapper's attitude toward his behavior around the ye rollout, and his approach to being a public figure throughout his career. "We need to be able to be in situations where you can be irresponsible. That's one of the great privileges of an artist. An artist should be irresponsible in a way — a 3-year-old."
Read the full interview here.