The Get Up Kids, once and ever the flag-bearers of turn-of-the-century emo and pop-punk, announced a return to the studio and stage this morning. Via a teaser video posted to their Twitter account, the Kansas-formed band revealed a new partnership with esteemed Illinois label Polyvinyl.
The label confirmed the news to SPIN.
"So pumped to share that we've signed with [Polyvinyl]!" the band wrote on Twitter. "New music coming soon!!!" The news arrives with a teaser video, hinting at the band's new recordings.
As the adage goes, a rising tide lifts all ships: The Get Up Kids return in the midst of what's been dubbed the "emo revival," joining American Football, Jawbreaker, and a grip of other bands who defined the genre, broke up, and have reformed in recent years. While the Get Up Kids already went through the breakup/make-up drama back in the mid-aughts (with founding member Rob Pope even joining Spoon) today's news heralds the band's first new music since the 2011 album There Are Rules.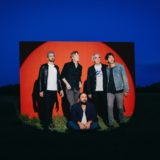 Further information about the anticipated new album has not yet been announced.