Laurie Anderson hates musicals. She claims to have left the theater halfway through a performance of Hamilton, griping to The Atlantic: "It's history lite, and musical lite, and it's just … It's horrible…Maybe I should be more open-minded. I just hate it." Of course, much of Anderson's output, and especially her 21st-century work, could easily be characterized as music-theater, though not in the Broadway tradition. Often, Anderson's projects–indebted to her beginnings in the downtown performance art scene in NYC in the '70s–are multimedia-augmented stage productions, art installations, and films. As in Lin-Manuel Miranda's show, Anderson's work blends speech and song in unusual ways. She brings out the inherent musicality of speech, making the transition in and out of pitched material feel fluid or non-existent. Her refusal to limit or codify her vocal experiments has prevented her from ever becoming a full citizen of the worlds of pop-rock or experimental music, though she has long been welcomed as a guest in each.
Electronic processing used to be Anderson's primary tool for blurring vocal modes–listen to her surprise hit of a debut album, 1982's Big Science, to see where that precedent was set. These days, though, Anderson seems to be interested in the sound of the human voice–almost always, hers–at its more naturalistic. In her most successful compositions, Anderson's deftly permuting vocal choreography is the center of the action. It invests the music with an absolute aesthetic power which works apart from the content of the text.
In recent years, Anderson has moved away from the more abstract performance art tradition she grew up in toward the realm of more explicitly narrative works, but the visceral, extratextual charge remains. Landfall, her newest collaboration with veteran crossover experimentalists Kronos Quartet, is topical and full of storytelling. The point of inspiration is the devastation of Hurricane Sandy in 2012, which ruined Anderson's own Manhattan home. But the music has a discrete function: it's a concerto for Anderson's voice, violin, samples, and effects, with Kronos' own byzantine counterpoint and noisy discord.
Both Landfall's movement titles and segments of Anderson's narration–close against the mic, dry and booming in headphones, perfect for an audiobook–deal directly with the fallout from Sandy. Anderson makes observations both specific and more cosmic ("From above, Sandy looked like a huge swirl, like a galaxy"). But the suite is most engaging when Anderson veers off-topic. The diversions are like natural bits of free association; perhaps Anderson's narrator is willing herself away from being consumed by memories of chaos and devastation.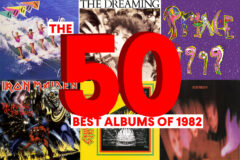 "Dreams" is one of the record's most immersive moments–an extended complaint about how boring it is when people recap their dreams in conversation. Of course, it results in Anderson herself doing exactly that. Often, one point of musical catharsis sends Anderson's thoughts skittering off in a seemingly unrelated direction, like someone drifting off mid-conversation. "I was in a Dutch karaoke bar trying to sing a song in Korean…" she begins on "We Learn to Speak Another Language," over a pinging electronic echo of the ominous, muscular string theme that begins the section. Later, it seems to be directly representing the karaoke machine glitching out.
Like Anderson's other work, Landfall scrambles genres and moods within every section. The piece falls into and out of loping, processed grooves, often constructed out of manipulated samples of Kronos' themes. Notable diversions include the reversed and malfunctioning pulsations of "The Electricity Goes Out and We Move to a Hotel," the spy-thrillery backbeat"The Wind Lifted The Boats And Left Them On The Highway," or the overdriven industrial tattoo in "Never What You Think It Will Be." The quartet's music, though, always returns to the chaotic trajectory of the storm. The players' rich understanding of the woody, squelching textural capabilities of their instruments helps create new moments of sonic interest throughout the piece. In context, their most potentially outsized experiments feel like compelling diversions–often, teeming expressions of nature's brutalism, or imitations of the sounds of bicycles, helicopters, bells, and dysfunctional motor vehicles. Their orchestrations are full of ear-catching melody as much as programmatic noise, however, like the fragment of Romantic string melody which opens the album and recurs throughout to give the project a necessary sense of unity.
Despite the resourcefulness of Kronos' contributions, though, Anderson is Landfall's most crucial actor and its saving grace; the humility, naturalism, and humor of her recitations justify the scale of the project. Once her narratives and music begin to grow dense, chilly, or too obvious in their topical function, Anderson's instinct is to veer back toward intimacy and pithiness. New space opens up in the music behind her. The control which makes these pivots possible allows Landfall to feel like much more than a rote realization of its in memoriam elevator pitch, while still maintaining gravitas. The piece plays like an uninterrupted stroke of imagination, steeped in a noble, cryptic formal logic. "Being in your head is like being in a huge drafty barn, with a wind blowing through," she observes on "Dreams." On Landfall, she is unafraid to follow the wind.