Flea has understandably learned quite a bit about drugs, dependency, and temptation during his time as a bassist for the Red Hot Chili Peppers. In the latest entry of Time's ongoing photo series, "The Opioid Diaries," he candidly reflects on his own struggle with drug abuse over the course of his 30-year career. He started, he says, rather early.
"I started smoking weed when I was eleven," he recalls, "and then proceeded to snort, shoot, pop, smoke, drop, and dragon chase my way through my teens and twenties."
While the musician did "cut them out" at the age of 30, the essay focuses on the ways addiction prevails through a lingering temptation even decades afterward. He puts it plainly: "Temptation is a bitch." But all national crises have a systemic origin and Flea makes no bones about how opioids have directly contributed to the highest death rates in young people since 1995 at the height of the HIV/AIDS crisis. For Flea, the impulse to use painkillers and other opioids is complicated by the fact that the drugs are often first prescribed by trusted professionals. "Many who are suffering today were introduced to drugs through their healthcare providers," he writes.
While Flea offers little in the way of actually solving the larger institutional problem of addiction from prescription medicine, he does believe it will take a concerted effort from the medical community as well and the federal government to "offer help to all those who need it." But on a more individual level, Flea writes that true healing begins with appreciating the humanity in personal suffering.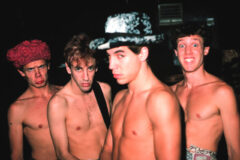 "What I've learned is to always be grateful for my pain," he says. "That mindset has helped me stay away from the temptation of drugs."