Ah, a new No Age album. Time to take a big sip of coffee while I check the LA Weekly for the latest happenings at the Smell.
Jokes aside, it's nigh impossible to assess No Age's emergence as indie A-listers in the late 2000s without leaning on you-had-to-be-there for context: their emeritus role in LA's buzziest DIY spaces; their comprehensive, multimedia approach to record-making; and, perhaps most importantly, a period amenable to workmanlike indie rock bands whose politics were largely couched in principle—"with passion it's true," they sung on 2008's Nouns. For that reason, No Age were the goddamn truth. But An Object proved that context can only take you so far. Although the 2013 release was an admirable attempt to shift the meaning of "ambient punk" towards the former side of the term, the minimalism left them sapped in sound and spirit, worn down by the machinery they seized. The five years since An Object have vaporized No Age's context, but judging from Snares Like a Haircut, context and the expectations borne of their unexpected success were a burden they are happy to be rid of.
Hopping from Sub Pop to the venerable but curmudgeonly Drag City is symbolic and instructive; while No Age likely have no interest in seeing Snares Like a Haircut on Spotify, it bears by far their highest ratio of "songs" to "ambient drift," with several that could conceivably crash playlists worded to appeal to people who still associate indie rock with "guitars." Besides restoring the muscle lacking on the emaciated An Object, the opening trio on Snares presents No Age as everything they've been (gritty, propulsive, atmospheric, a motorcycle taking on a sandstorm head-on) and the immediately accessible rawk band they've never been: Dean Spunt's vocals confidently leap to the fore, Randy Randall changes chords in discernible, tab-able ways, ones that could be bashed out without a daisy chain of effects pedals.
Nouns' "Eraser" and Everything in Between's "Glitter" proved No Age had a way with anthems despite having little in the way of riffs, choruses or even melodies; let's not forget they were once a reference point for an emerging Japandroids, and not just because they were also a two-man operation. And perhaps they still are; they're indie rock lifers who write songs that sure seem to be about that very thing. "Two cups that can't be filled/until they take a needed rest," Spunt sings, whereas lead single "Soft Collar Fad" boasts, "Maybe this is progress/it's not for you to say."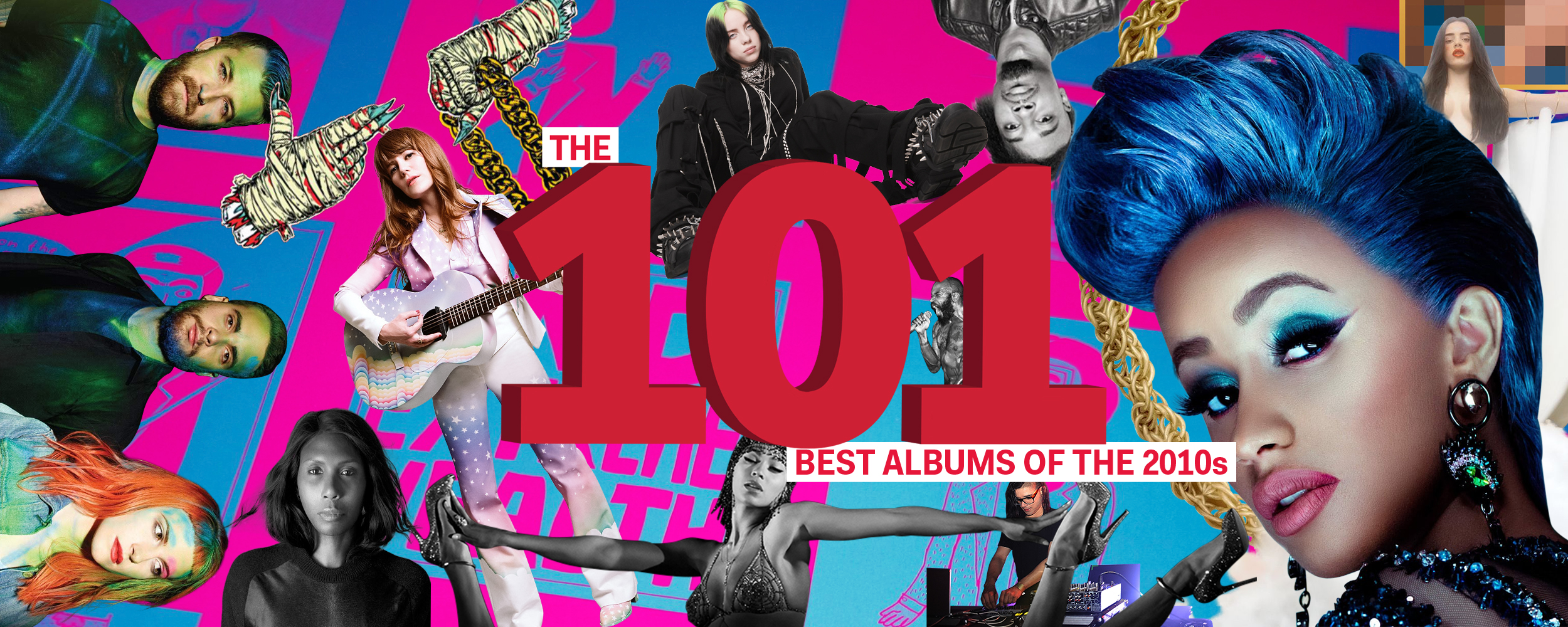 But there's still a utilitarian uplift to Snares Like a Haircut. When Spunt sings, "Send me/where should I go?," it's about as arena rock as No Age can possibly get, in both the surprisingly expansive production and implacable yearning. The video treatment of "Send Me," however, is an office tragicomedy: Spunt and Randall play a couple of middle managers leading a painfully boring meeting on proper appliance usage, while just out of view, a woman builds a time machine, an unsightly but effective means of escape from a life she seems all but consigned to for the interminable future.
Like much of Snares Like a Haircut, the visual metaphor at play here is no less powerful for being obvious; in fact, it's more so, given how No Age are likely speaking to an audience that's grown with them in the past decade and perhaps out of the overt lifestyle choices that signify punk rock. "The future belongs to the cockroaches," reads the band's mission statement, "…the disparate band of misfits that 2017 couldn't kill." Underemployed office drones, punk exiles, indie rock fans wondering when the zeitgeist passed them by, LA Weekly readers—who's not feeling like a misfit if they made it out alive? Misery loves company, of course, and Snares Like a Haircut is No Age making a shrug big enough to pass for a group hug.