The move from pop songwriter to pop star can be a tricky one. For every Julia Michaels—currently one of pop's most in-demand songwriters, who scored her own smash this year with "Issues"—there is a Bonnie McKee, who co-wrote a half a dozen of Katy Perry's most well known songs but has never been able to get her own solo career off of the ground. In the shadow of Michaels, at the moment, is Brittany Hazzard, who goes by Starrah. This year alone, Hazzard has co-written Nicki Minaj's "No Frauds," Halsey's "Now or Never," Perry's "Swish Swish," Calvin Harris' "Feels," Camila Cabello's "Havana" and Maroon 5's "What Lovers Do." Last week, she released her first solo project, an EP made with Diplo that creates its own little world instead of striving to dominate our own.
Though Starrah has recently been upstreamed into the upper echelon of pop, she first made her name working with rappers and R&B singers, artists like Kid Ink ("Be Real"), Kevin Gates ("2 Phones"), Jeremih ("Pass Dat," "Drank"), Drake ("Fake Love"), and Travis Scott ("Pick Up the Phone"). As such, her writing flows like rap music but has the melodicism of R&B, a skill that one figures has served her well at a time in which the delineation between the two has essentially been erased. On the "Pick Up the Phone" demo, in which Starrah handles the parts that were eventually handed to Scott, you can hear her delivering the verse in short staccato bursts, as if she was rapping in between gulps, but there is also a clear melodic underpinning which blooms in the chorus. The same thing can be detected on "Fake Love" (which shares not just a songwriter with "Pick Up the Phone" but two producers (Frank Dukes and Vinylz), with Drake sing-rapping in a way that would help the song sit comfortably next to Migos on a playlist, but also in the manner of someone performing to themselves very passionately in a mirror.
As a songwriter, Starrah is more of a stylist than a lyricist. She seems to write as if words are meant ultimately to connect together in a chain that snakes in and around a beat. This gives her writing an alluring, tipsy quality, like when you get to the kind of drink where a shoulder bop conveys more than words can. In places on the EP, which is simply titled Starrah X Diplo, you can see how her mind has been molded to write for an artist like Scott, where verses function as sloganeering at best ("Last night we had this bitch lit / last night we had your bitch lit") or placeholders at worst.
Still, the song ("Zoo") where that line comes from has all that matters: a melodically sticky chorus with a lyric that puts a slightly new twist on familiar imagery. "Last night me and my squad went zoo," Starrah sings. "Cliqued up and multiplied by two." The second time around she adds a slight "woo" to the end, which is punctuated by a pin-prick drum fill from Diplo that nods at his and Skrillex's work with Justin Bieber. The song is placed in the universe of contemporary pop, but still feels small and unique, a moon far out in the distance.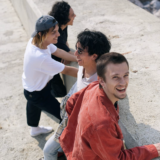 The rest of the EP goes on like this. You can pick up strands of what we hear on the radio now—tropical keyboard tones, drums that hit with a narcotic thump, sampled vocals that coo in the background—but the songs are insular, with Starrah's vocals congealing to the beats, as if they came fully formed a place unto itself. Still, there is a line or two in every song that is a fresh and catchy expression of our emotions, namely devotion. "You mine and you know it, fine and you know it," she sings on "You Know It." "They can keep they two cents, cuz you a dime and you know it." Or on "Imperfections": "You can cancel out your ex, and let him know I'm next."
There is nothing here that is going to push Starrah towards solo stardom, but that also seems to be the point. Instead, the EP is something special in a different kind of way: a record that interacts with the sounds of now but is modest and personal, the sort of thing that feels minor at first but eventually becomes addictive.