This past March in Amsterdam, Oddisee—a D.C. rapper whose music often wrestles with sociopolitical themes—had a surreal experience. During a performance, he spotted a white man rapping along to his music, but between songs the man shouted something that startled the rapper. "He just yelled out, 'Yo, I love you nigga.' And I'm like, 'What?'" Oddisee recalled, his voice mimicking the bewilderment. "It was just weird to me."
An incident like that is uncommon, but as streaming has helped rap regain its foothold in pop, the genre is again permeating the mainstream. One place where this has been evident is the large-scale music festival, the market that was once dominated by tentpole events like Coachella and Lollapalooza but has now become increasingly crowded. Festivals like Governors Ball, Panorama, Made in America, Firefly, and Outside Lands have all popped up in the past 10 years with corporate backing, helping to turn festivals into arguably the dominant form of live music entertainment in America.
When some of those festivals started, rappers scarcely appeared on the bills. The first edition of Coachella in 1999, for instance, had just one prominent rap act, Jurassic 5, who played a stage otherwise populated by electronic and experimental musicians. But this year's lineup featured at least 15 rappers, including headliner Kendrick Lamar. Of the festivals mentioned above, A Tribe Called Quest, Jay-Z, J. Cole, Chance the Rapper, and Childish Gambino were featured headliners, with rappers like Lil Uzi Vert, Schoolboy Q, Tyler, the Creator, and Kamaiyah appearing slightly lower down the bills.
Naturally, with streaming helping to properly register the popularity of rap, its stars should appear with more frequency and in larger numbers on the lineups of festivals, the number of which are increasing themselves. But if the increasing popularity of rap means more rappers getting booked to play festivals, those acts may still be playing to the same audiences. According to data from Nielsen's 2016 Music 360 Report, 75 percent of the festival audience is composed of white people.
***
Oddisee stopped using curse words in his music years ago, including the term "nigga," but as a black artist he can never completely disconnect from it. And despite what he experienced in Amsterdam, it's still clear that there are rigid boundaries surrounding that word, even in rap. For example, white rappers would undoubtedly face severe backlash if they ever utter "nigga," so they don't. But a white fan might not if he or she is one of thousands in a festival crowd of other white people. 
"I've been touring for over a decade and it's futile," Oddisee said. "It's way too much of a history lesson to consolidate into a conversation with everybody for who I'm signing that autograph. So what I do is I don't respond to it and I don't use it back. And I hope the person realizes that because you don't hear me using it, you don't need to be using it."
Though rap has been blamed by many for the proliferation of the term, rap, of course, isn't solely responsible for the way "nigga" is currently used. Comedian Richard Pryor freely used the word in his stand-up well before Sugarhill Gang's "Rapper's Delight"—a song absent of any profanity—became hip-hop's first Top 40 hit in 1980. But as hip-hop moved its lens from the dance floor to the streets by the late '80s, the word became part of its vernacular.
In 1993, well after Ice-T and Niggaz Wit Attitude shocked the nation, the New York Times published a piece that examined the ramifications of the term's popularity. The feature honed in on themes that still recur in current conversations: Some were reminded of its heinous origins, while others argued that it's been reclaimed by the streets. KRS-One, a pillar of both street and socially conscious rap (and the fourth rapper to ever play Coachella's main stage), gave a bleak forecast. "In another five to 10 years, you're going to see youth in elementary school spelling it out in their vocabulary tests," he said. "It's going to be that accepted by the society."
That prediction, of course, turned out to be alarmist. In 2007, the NAACP hosted a symbolic funeral for "nigga" in Detroit, a stunt that had no effect. But in 2017, it still hits a dissonant note when it's chanted in unison by a white crowd.
"I personally don't use the word often, and haven't for two decades," renowned producer Just Blaze, who backed Jay-Z during his headlining Made in America set last weekend, said in an email. "When I'm in places that don't have a large population that consist of people of color, and sometimes even when I do, I do my best to do live edits removing it. Sometimes it really hits you hard when you have a crowd of 10,000 screaming it back to you while you're playing, even though they don't know any better or don't understand the history of the word. That said, I understand why some artists wouldn't be bothered. We all come up differently and have different examples around us."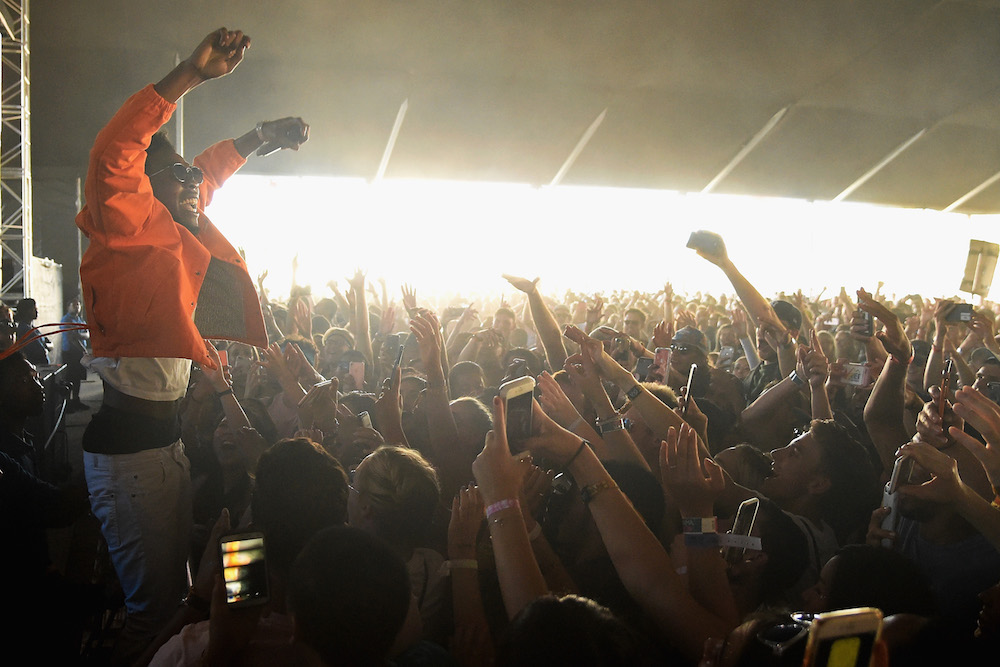 That said, it seems like Oddisee and Just Blaze, who count as older among hip-hop artists, are outliers when it comes to outright sidestepping "nigga." For instance, Chicago rapper G Herbo believes that it's a simple lingo, telling SPIN that "if a white person says nigga and he's saying my lyrics, I don't take it for nothing but that." ScHoolboy Q has made a similar argument. In an interview with the Fader he said that white fans are "the reason I can wear these nice clothes. They're the reason my daughter's straight. So yeah, you can say nigga in my concert."
While rapper Denzel Curry shares G Herbo's belief in the innocuousness of "nigga" within a show's confines, he does acknowledge that those confines are very strict. (G Herbo: "Sometimes there may be a situation where I call a white person a nigga."). In any other context, it's still a toxic signifier to Curry. "My parents had to go through that racism," he said. "Even I have to go through that."
A performer could interrupt his set to accost every white fan who steps out of bounds, but that seems unrealistic. Thus, a larger portion of the rappers interviewed for this piece appeared trapped somewhere in between their awareness of the word's trauma and its unavoidable prevalence. There's only so much the star can do at his own show.
"I'm sure kids have said it during one of my performances," says rapper Royce da 5'9", "but it's not like I'm going to stop the show and say something. For me, there's a time and place to have that conversation and during a performance or after a show in a crowded dressing room probably isn't the best place."
Still, "nigga" may not always carry an ancestral pain. When Maryland's Chaz French grandmother came to one of his shows, white fans using the word turned out to be a comedic case of things coming full circle.
"After the show, she was like, 'Man, it's so crazy to see all these white people say 'nigga' like it's nothing,'" Chaz said. "But she laughed at it. She was almost like it's amazing to see that. I feel like they're saying it because they're like, 'Shit, maybe this is my one free time to say it without getting getting looked at.'"
Rapper Talib Kweli intentionally places himself in the crossfire between the word's venomous and communal derivations. Kweli routinely engages with racists on Twitter who throw the term with a hard "er" at him, and the word appears with an "a" on his songs, though rarely with singalong-ready repetition.
Kweli doesn't have to deal with white fans using "nigga" to the degree acts like Rae Sremmurd and Migos do because his music is rooted in social awareness, so it stands to reason that his fans are aware of the word's complexities. But he does spot an errant white attendee every now and then. It's not his job to correct them.
"If you want to stop white kids from going to concerts and saying 'nigga,' stop racism and poverty," Kweli reasoned. "It's not on me, unless someone is going to directly saying it to me—like the white boy who's on Twitter, racially harassing me—if that's what you're doing, then I'm going to address it. But it's not my cause." He adds: "If the question is, 'Then why even put in a song?' Because I can. I'm me, nigga. I do what I want."