The singer throws up lyrics about pursuit and desertion. A snare drum lightly skips across a series of bass pinpoints, an organic foundation unthinkable before techno. The song's called "Hunter," and it may actually involve archery. Cellos advance and violins carve out a clearing. High-pitched synthesizer chords flutter through the forest, applying a final hair-spray touch. This could only be Björk.
Recorded on the Spanish Riviera, the 31-year-old Reykjavik native's new album delves deeply into hip hop, flies in orchestras, and proves that the electronic generation will yield much more than a strong of dance epiphanies. Esoteric yet blunt, Homogenic is an eerily sustained work that ambitiously shares the methods and auras of contemporary design, film, and theater; and it represents progress on nobody's terms except Björk's admittedly fanciful own. She's now the Western world's hungriest, most commercially successful art-pop boss, compelled equally by the minimalist epics of Philip Glass and the communication shorthand of the Nike swoosh.
Critics who complained that she didn't rock after the Sugarcubes dissolved and Björk entered clubland on 1993's Debut, will not hoist lighters into the hair. Some will still dismiss her singing's raw naturalism and soprano elasticity as "affect." Fans of the "elfin chanteuse" will continue to consider her height very important. And those who take their genre-girls straight—whatever the generational provenance, and more guitars, please— may find that Björk doesn't measure up to Sheryl Crow or Courtney Love.
Oh, no. The Björk of Homogenic is the Björk of Debut and 1995's Post, but now she's discovered a finer strategy for her emotional obsessions and formal concerns. The age-old duel between technology and nature has fascinated her since 1993's "Human Behaviour"— the song's video still governs perceptions of her even though she has leaped beyond it into the 4,000 other images that swirled through Post and its 1996 remix companion, Telegraph. Yet Björk, unlike so many before her, doesn't demonize the artificial and assign innocence to the natural. Instead, she keeps refining her more comfortably developed view, a vision that's neither tormented by machines nor too squished-up by hippie dogma. She senses cutting-edge sophistication in trees and hears a lovably daft awkwardness in drum machines. Björk constantly mixes it up, less out of perversity or cleverness than an abiding faith in how things strike her. In the process, she's managed to make anxious, everyday life glitter.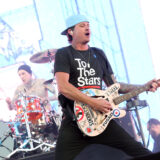 The Icelandic String Octet—scored by Björk with Brazilian disco maestro Eumir Deodato, and recording with flowing edges—acts as Homogenic's operatic chorus, playing, more or less, the role of Nature. On "Joga," Björk thanks someone for pushing her into a "state of emergency" (a condition she relishes), while the Octet saws away calmly. Then on the chorus, the strings soar into quickly voiced affirmations as Björk explores the fuller, more womanly tone she unveiled on Post. But underneath, with a quietly firm destructiveness, a hip-hop track bristles, distorts, and whistles. There's not much integration—a certain disjointedness is the point. The song depicts one woman's emotional agenda in the presence of luxurious modern architecture: exaggerated corners, nonexistent ceilings, and beautiful doors. It's a track that wants to sound as active as the chaos it embraces.
Other songs reverse the billing, as rhythm tracks give Technology, not Nature, the instrumental arias. On "All Neon Like," a descending five-note synth figure repeats against a subtly moving, starry-toned orchestral backdrop—gaining, losing, and regaining its bright prominence in the mix. "Don't get angry at yourself," Björk sings, "I'll heal you." But that's about it, poetry fans: Like an electronic artist, Björk is now suspicious of lyrics as the sole carriers of meaning (there are none of her bent sitcoms—Post's "Hyper-ballad," for instance—on Homogenic). Hearing "All Neon Like" is like wordlessly ushered into a hypnotically proportioned room. On "Dare," a tricky denunciation of a former lover, and "Immature," a more sarcastic variation, Björk turns up the motion, relying on theatrical grooves that sound like, respectively, watermelons dropped on a sidewalk from the roof of a ten-story building and a clock symphony performed on an ocean liner. Only with the funky "Joy" and the industrial-strength "Pluto" does she concentrate on genre. But boy, does she have a gift for ignoring it.
Three times on Homogenic, Björk dips a toe into the warm lake of tradition, but she always proceeds according to her own notions of disjointed space and passion. On "So Broken," accompanied by only a flamenco guitar, she lays out the pieces of her heart. But the world-historically lush "Shape Shifter," a ballad shot in Cinerama whose rousing transitions would do any Indian soundtrack proud, and "All Is Full," whose rockish minor-key verses traipse off into gospel-Björk, are Homogenic's old/new masterpieces. They make the album, not because they demonstrate a mastery of fundamentals, which they do, but because they underscore how Björk, apart from other female artists right now, has stared down the hip-hopped, electronicized, written-out present. Amid all the premillenial tension, she has this great idea: Why not something new?
https://open.spotify.com/embed/album/0HMsmYvoT1h2x1C4di5faf