In a Colorado courthouse today, both sides are expected to give opening statements in the civil trial of David Mueller v. Taylor Swift, which pits the world-conquering country pop star against a local radio DJ. The trial involves lawsuits from both sides, and centers on a meet-and-greet before a 2013 Swift concert in Denver, during which the singer alleges that Mueller slipped his hand into her dress and grabbed her buttocks while the pair were posing for a photo. If you haven't been following news of the case closely, here's what you need to know.
The claim
Mueller, who goes by the name "Jackson" on the air, sued Swift first, in September 2015. In his suit, he claimed that he was attending the meet-and-greet as part of his job at the Denver radio station KYGO, and that Swift made the accusation against him more or less immediately, while they were still at the event. He says that security escorted him and his girlfriend Shannon Melcher outside of the venue, and that KYGO subsequently fired him from his $150,000-a-year job at the urging of Swift's camp.
Mueller claims that he never groped Swift. "The contention that Mr. Mueller lifted up Ms. Swift's skirt and grabbed her bottom, while standing with his girlfriend, in front of Ms. Swift's photographer and Ms. Swift's highly trained security personnel, during a company sponsored, VIP, backstage meet-and-greet, is nonsense, particularly given that Ms. Swift's skirt is in place and is not being lifted by Mr. Mueller's hand in the photograph," his lawsuit reads in part. He filed the suit under tort claims of interference with contractual obligations and prospective business relations, hoping to recoup his lost income. The jury will decide what damages, if any, he is awarded.
The counterclaim
Swift filed her own lawsuit against Mueller a month later, for assault and battery. Her team has said in court documents that while they alerted KYGO to Mueller's alleged actions, they did not specifically urge for him to be fired. In a publicly available deposition, she strongly rebuked the idea that she was falsely accusing Mueller. Here's her version of the events:
Mr. Mueller and his friend, girlfriend—he and a woman walked in. I said "Hi, thank you for coming to my show," introduced myself. He was very adamant in letting me know that he was with KYGO and that he was with radio. And I said, "Well, thank you so much for coming. Thanks for everything. Would you guys like to get a photo?" And so then we get in a photo formation with me in the middle, and that's when right as the moment came for us to pose for the photo, he took his hand and put it up my dress and grabbed onto my ass cheek, and no matter how much I scooted over it was still there. It was not an accident, it was completely intentional, and I have never been so sure of anything in my life.
Swift is suing for just $1 in damages, a symbolic amount that she hopes will serve "as an example to other women who may resist publicly reliving similar outrageous and humiliating acts," her lawsuit reads.
The photo
In November 2016, TMZ published the photo itself, which Swift's team had asked the judge to keep under seal. Mueller's hand certainly is hovering in the general vicinity of Swift's butt, but it's tough to know whether anything is going on beyond that. Both sides have attempted to use it as evidence for their cases: Swift's camp called it "damning," and Mueller's noted that Swift's skirt "is in place and is not being lifted by Mr. Mueller's hand," as noted above. See it for yourself below.
M-C: GropeGate: Taylor Swift vs Mueller Trial Starts Monday https://t.co/bXlwgdyvqF pic.twitter.com/sJgmwNTQRT

— Tom Benson (@Tombenson1) August 4, 2017
Will Taylor Swift take the stand? 
She's expected to. Reuters reported that she and her mother Andrea Swift were in the courtroom for juror selection on Monday, having managed to dodge the media on their way in. The star "attended Monday's proceedings, turning to face the prospective jurors when introduced by the judge, then taking notes on a pad of paper during the selection process," according to the newswire's report.
Are teenaged Swifties hanging outside of the courthouse, hoping to show moral support for their hero and perhaps catch a glimpse of her in the process?
You bet they are. Getty Images published the following silly series of photos that photographer Joe Mahoney snapped outside of the building yesterday morning.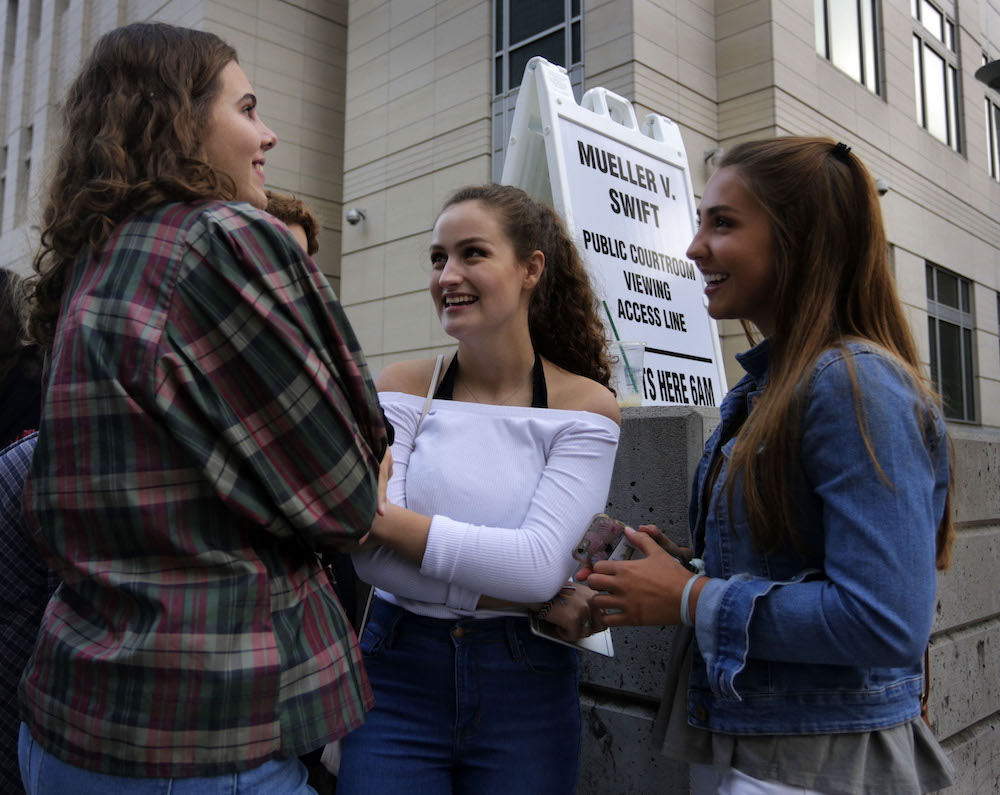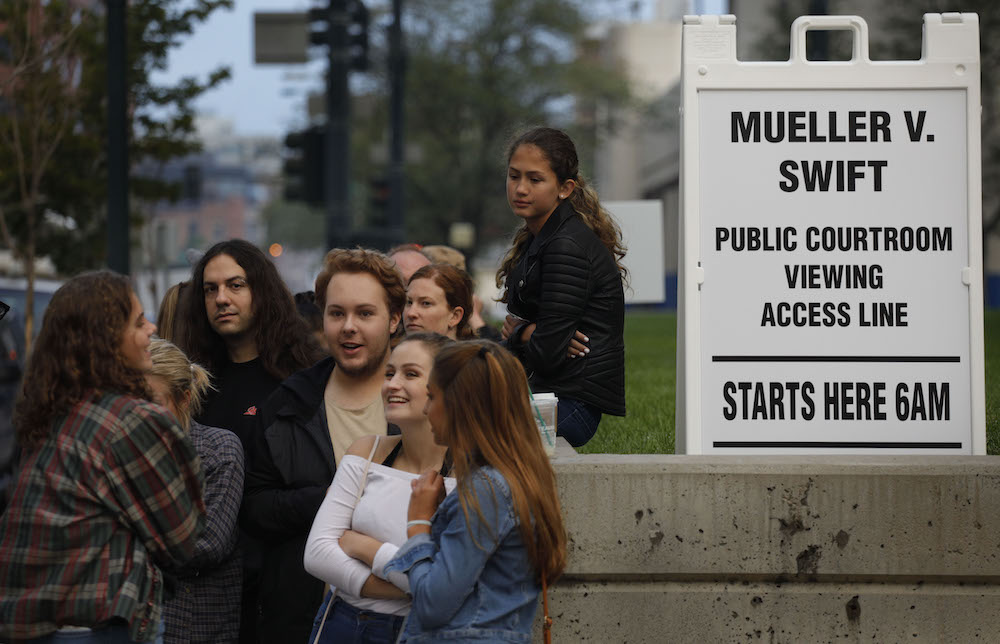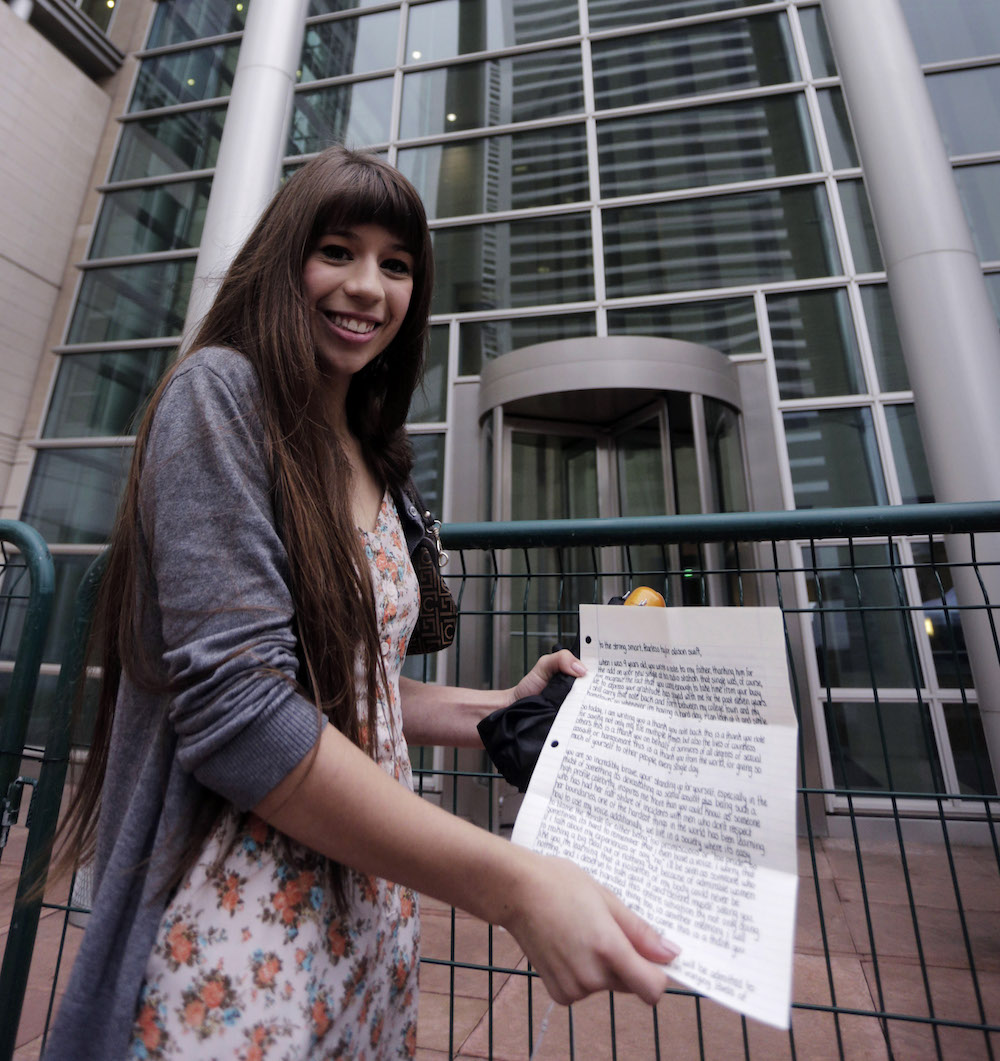 We wish them the best of luck.