Jay-Z and Linkin Park will, of course, be forever intertwined because of their collaborative 2004 Collision Course mash-up EP. Last night, at his first show since Chester Bennington's death last month, Jay-Z paid tribute to his late collaborator by performing "Numb/Encore" at the V Festival in Staffordshire, England. Check out video via Pitchfork below.
He also performed some 4:44 tracks live for the very first time, including "Kill Jay Z," "The Story Of O.J.," "Family Feud," and "Smile."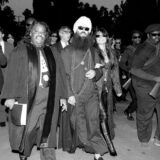 This article first appeared on Stereogum.