Baby Driver has been a commercial smash. Writer-director Edgar Wright's film has also led to talk how it might rewrite the rules of soundtracks in Hollywood. But according to a copyright lawsuit filed Thursday, Sony Pictures and other producers failed to clear the use of the T.Rex song "Debora."
The lawsuit comes from Rolan Feld, the son of the band's frontman Marc Bolan.
Three years ago, Feld brought a lawsuit to reclaim his father's works. He aimed to leverage an old rule vesting rights to an author's heirs when the author dies during the intial copyright term. Marc Bolan died in 1977 in a car accident. His son was still an infant when this happened, but decades later, he looked to obtain ownership. And he was successful. A 2014 settlement gave Feld the rights to 144 works.
Now, he's on a new legal war path against Sony, Media Rights Capital, Bambino Films and others behind Baby Driver.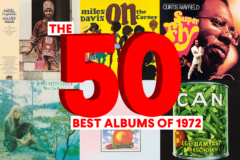 "Inexplicably, Defendants failed to obtain — or even seek — the permission of the composition's U.S. copyright holder Rolan Feld," states the complaint (read here). "In the six weeks since Feld brought this infringement to Defendant Sony's attention, Defendants have done little more than point fingers at one another — and they have neither apologized nor offered to pay Feld a reasonable license fee.
"Feld says he learned of the use of 'Debora' when a representative of Sony Music contacted his lawyer requesting a license for the movie's soundtrack.
"In other words, at least one division of Sony had no trouble determining Plaintiff was the rightful owner of the U.S. copyright in the composition," continues the complaint. "Plaintiff promptly informed Defendants (through communications with Sony) that the use of the Composition in the Film was unauthorized."
According to the plaintiff, Sony then responded with "conflicting explanations," blaming other parties and requesting more time to investigate. But Bolan says Sony has now ceased communications.
Represented by attorney David Erikson, Bolan is seeking disgorgement of profits and punitive damages. He's suggesting the use of the song has damaged opportunities to issue synch licenses in the future. He's also demanding an order that Sony be permanently enjoined from engaging in improper exploitation.
This article originally appeared on The Hollywood Reporter.