It's 3 PM on a Friday afternoon and a "spiritual guru" is telling me to "just go with it, man." He says to breathe deeply, to focus on the warm red color at the heart of the mind's eye and let out a deep, resonant sound, the sort of bellowing heave you might expect from a grizzly bear mid-hibernation. The room forms around me as gym full of sweaty t-shirts and billowing harem pants stare blankly at each other, struggling to determine whether or not this is all some sort of elaborate YouTube prank. Eventually we oblige, imitating the instructor in five bursts of willfully cringey energy and soon enough, the strange pangs of deep-seated embarrassment are gone. It's hot and sticky against the barren floor of a goofy "sacred sound bath" just north of Durham and Moogfest is now in full-swing.
Over the next few days, I will make noise music with a classroom of 2nd graders, draw protest signs with new parents, watch a room full of femme and queer folks rip it on Moog semi-modular synths. I'll see Google engineers lecture on AI synth building with the company's Magenta project, listen as local activists unpack the ways in which music can be used to fight mass incarceration, hear RVNG Intl. go on about the ecological impact of their record label, and watch Moor Mother perform in the conference room of a Google coworking space. If liberalism is defined by contradiction, then Moogfest wears this paradox on its sleeve, tapping into the cloying, frustrating heart of what's left of this flawed democracy with one of the strangest blends of musical programming in existence.
Though Moogfest has been around since 2004, this year's festival included a "protest stage" in firm opposition to North Carolina's House Bill 2. The bill was repealed this past January, but HB2 left an ugly aftertaste in the mouths of the many touring musicians who were scheduled to perform in the state. While many took the opportunity to boycott their scheduled performances in the state last year, Moogfest 2016 suggested fans perhaps "synthesize love" instead, with the festival hosting a series of talks and community-building exercises around Durham with organizations like Southerners On New Ground and the LGBTQ Center of Durham, as well as selling t-shirts in partnership with Urban Outfitters to raise money to fight the bill.
Continuing last year's emphasis on social change, Moogfest 2017 saw the inclusion of a festival-wide "protest theme," one seeking to organize "agents of change in this world." "We are the artists, activists, and innovators who can raise consciousness and organize resistance to redesign our future," the festival shared in a press release. "So how can we use our resources to synthesize change? How do the musical and scientific instruments we dream of in our beds and tinker with in our homes light the way to future and better worlds?" Though its aims seemed intentionally broad and speculative, the festival had more than enough work cut out for them in a state still dominated by conservative rhetoric.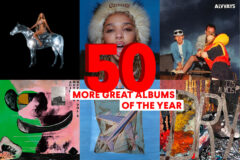 Despite its recent surge in visibility, the politicized mass consumption of music is not new. Long after Woodstock's anti-war ethos has seeped into the popular imagination as an effective means of dissent, a number of increasingly-elaborate events have since sought out change through activism. In 1985, Prince Charles and Princess Diana officially inaugurated a number of concerts under the name Live Aid. In addition to their presence in London and Philadelphia, the event sparked a number of nationwide performances in Japan, Australia, and the Soviet Union, gave rise to the much-satirized singles "Do They Know It's Christmas?" and "We Are the World," and raised $125 million to benefit the ongoing famine in Ethiopia. In 2005, U2's Bono revived the benefit under the name Live 8, which, partnering with his Product Red brand, set out to Make Poverty History throughout the Global South.
But central to the rise of such events was always the abstraction of aid into something a lot more commercial. As Bono himself once put it, "Philanthropy is like hippy music, holding hands…[Product] Red is more like punk rock, hip-hop, this should feel like hard commerce." Organizers' assumption that, as music critic Mark Fisher once wrote, "capitalism is the only game in town" turned aid into something of a managerial task to be mitigated through elaborate bureaucracy. In short, philanthropy can get complicated—especially across international lines, where political and economic interests can be especially difficult to untangle.
More recently, festival fundraising efforts like the Bonnaroo Works Fund (dedicated to advancing the arts, education, and environmental sustainability) and DC's Landmark Fest (which donates ten percent of the two-day festival's entire revenue to fund the continued existence of the National Mall) have continued this tradition of political action. But after Pepsi's disastrous forays into the political and Red Bull's increasing attempts to co-opt the underground, the idea that a sprawling corporate-sponsored event can merely don some outfit of activism, pour money into heavily-branded 'protest' events and position itself as progressive can feel pretty slimy. But Moogfest and other similar events operate on a more local level.
In 2016, the festival relocated from Bob Moog's native Asheville to Durham, with many speculating the Research Triangle's entrepreneurial investment as the source of such relocation. For a festival that took $1.4 million in losses in 2014 and held no event at all in 2015, the relocation was seen as a clear attempt to lay roots in the city's tech community, which has dramatically reshaped the area's downtown districts over the last decade. Writing in the city's alt-weekly IndyWeek, Allison Hussey and our own Brian Howe note that the festival "errs on the side of money," "[treating] the fact that more than half of its attendees have an annual household income of $100,000—nearly double the city's median household income of about $52,000—like a selling point, not a missed mark."
Like Sónar, Mutek, and of course SXSW, electronic music festivals have a longstanding relationship with technology and the sustained investment it provides. SXSW has long since reshaped downtown Austin in its own image, leveraging the city's associations with counterculture into a booming entrepreneurial hub unprecedented in a city as small as Austin. Bridging this gap between technology and electronic music, Moogfest seems eager to position itself as a progressive tech center, an important part of which means 'resisting' North Carolina's deeply conservative political roots. When HB2 passed in 2016, the state reportedly lost record business from billion-dollar entities like Apple, eBay, and AirBnB, and upon its repeal, Democratic Governor Roy Cooper made a point to stress the "great economic harm" the bill had caused to its many diverse communities. For Moogfest, the political posture is doubly met with a clear financial incentive set on its own expansion in Durham and beyond.
At the same time, it's hard to be cynical about an event helping fund the city's LGBTQ center, and the festival has succeeded in winning over some of the smartest, most forward-thinking acts. About a month before the festival, organizers reached out to Camae Ayewa of the experimental noise-poetry project Moor Mother to invite her to curate a number of the festival's Black Quantum Futurism events. "They came to my studio in North Philadelphia, one of the worst places on the planet," Ayewa shared. "They brought me in to make me feel like I was a part of the family and told me that my voice was important and what I'm doing is important. They gave me what I didn't know I needed."
Aside from making music as Moor Mother, Ayewa hosts regular talks and workshops at Community Futures Lab in Philadelphia and is one half of the literary and artistic collective Black Quantum Futurism with her partner Rasheedah Phillips, which helps bring ideas on Afrofuturism to those in the local community "cut off from the art and punk scenes." After curating the Afrofuturism Now! festival in the Netherlands last year, Moogfest became Ayewa's first chance to curate a major festival in America, where she hosted events like the Future Memories With Sound workshop dedicated to helping newcomers get comfortable toying around with Moog's knotty modular synths. "You feel as an artist that no one gives a shit about you, especially not a company [like Moog]," she said. "They're definitely better than I dreamed them to be."
Though her music has always been more about internal than external conflict, Margaret Chardiet of the festival act Pharmakon echoed a similar sentiment. "You can be political in who you invite to play, you can be political in the way you run your festival," she shared. "You can be political in the way that you live and the way that you write your music." For many causes, things don't always look like grassroots protest and music has its own unique ability to keep heads high even at the most absolute hopeless of times.
As much as the pressing issues of the present helped guide this year's programming, many events also prioritized progress toward speculative future. Lectures like NEW INC.'s "Utopia Challenge" and Elizabeth Traina's "The Future Is Now" highlighted an important link between the present and future, considering the ways design and engineering help define the problems and solutions of tomorrow. As the festival's Creative Director Emmy Parker shared via email, "Moogfest is a conversation about the future of music and technology, and we can't explore the future without discussing the problems we face today…By incorporating the concept of protest into the celebration of arts, technology, and future thought, we can go beyond the basic format of a music festival and encourage participants to envision and ultimately help design future communities that work better for everyone."
Despite its inherent paradox, Moog at the very least has the right intentions. A company funding thoughtful, innovative thinkers on a scale of this size feels welcome at a time with historic lows for arts funding. Their approach to activism is lightly handed: "Protest, in the sense of a positive instrument for change, is one of the most vital functions that music, art, and technology can serve," Parker told me. But as counterculture becomes a tool increasingly in service of the highest bidder, questions of whose interest does such protest serve feel increasingly important and one wonders what's left for grassroots movements outside of the scope of glossy marketing. With music and art central to the broader rebranding of tech in Durham, Austin, and beyond, maybe art-making is no longer the most effective means of activism. Maybe resistance needs more than a shiny rebrand.
Correction: An earlier version of this article stated that Camae Ayewa of Moor Mother coordinated the festival's protest events, when in fact Emmy Parker curated the Protest Events/Stage and Ayewa instead organized events with her collective Black Quantum Futurism. The article has been updated to reflect this change.