Over the past three years, people have taken to the streets to demonstrate against police brutality, to stand up for immigration and women's rights, and call for Donald Trump's removal from office. The revitalized civil rights movement hasn't impeached Trump just yet, but it's become a catchy enough trend in the eyes of advertisers to sell us Pepsi by the truckload.
Today, America's favorite empty-calorie beverage has released an expensively produced ad that features Kendall Jenner, and takes place at a protest. According to the video's YouTube description, which also calls it a "short film," the clip centers around "capturing the spirit and actions of those people that jump in to every moment and featuring multiple lives, stories and emotional connections that show passion, joy, unbound and uninhibited moments."
The commercial—a simulacrum of the revolution—is just as inane as that description. There's a frustrated Muslim artist marking up photographs with, of course, a can of Pepsi on the table. There's a brown-skinned celloist whose burning intensity is only quenched by some Pepsi. How inclusive! There's protest in the streets, and poor Kendall Jenner in a blonde wig, her routine interrupted by the energy. There's even the presence of "Lions," a misguided wannabe anthemic song from Bob Marley's grandson Skip, of  "Chained to the Rhythm" fame.
Although the scenes aren't explicitly anti-Trump—which makes sense because PepsiCo CEO Indra Nooyi is a member of his business council—it's clearly aware that human rights are part of the zeitgeist… and the zeitgeist sells. The whole sequence climaxes when the procession of protesters grab Kendall's attention. Suddenly, she rips off her blonde wig, and struts with the protesters to lead them to liberty. She even gets the sought-after affirmative fist bump from a dude in cornrows.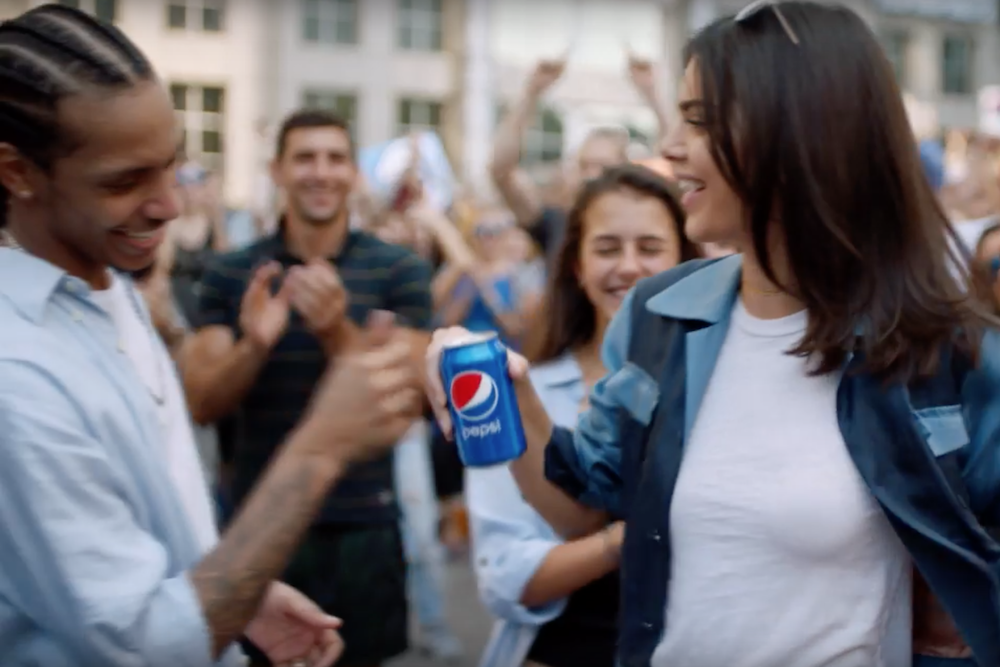 After all that, the model-turned-activist kindly gives a police officer a Pepsi can. The message is clear: struggle against the powers that be, but make damn sure you remember to buy soda. Watch and be inspired below.
https://youtube.com/watch?v=PCEm21aTh5Q%3Fecver%3D1