Katy Perry is in Anna Wintour's good graces right now. She's on the May cover of Vogue, and she co-hosted last night's Met Gala, the kind of party invitation you only get if Anna Wintour likes you. Anything Perry wore was going to be closely scrutinized, which is why I'm sad to report that I believe she's wearing album promo on her face: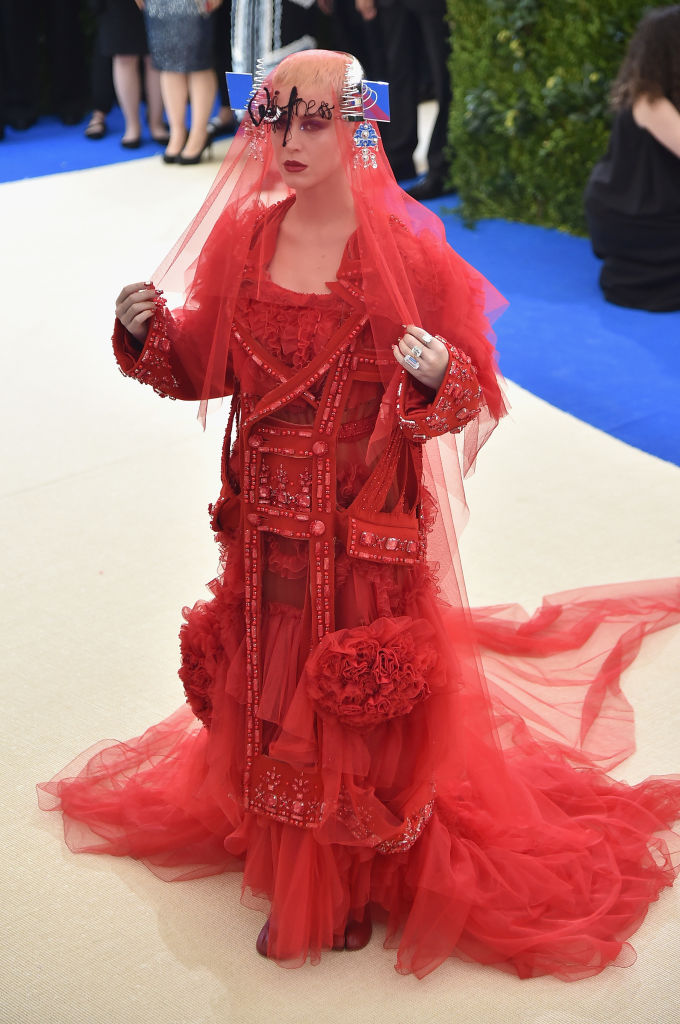 The safest outfit choice, of course, would've been something from Comme des Garçons by designer Rei Kawakubo, whose work is the subject of the Costume Instute's new show and the theme of last night's gala. Perry's actually wearing Maison Martin Margiela designed by John Galliano, whose once-untouchable reputation was only somewhat tarnished by his 2011 conviction for racist and anti-semitic insults in France (prompting an incredible TMZ headline, "KATY PERRY ROCKS UGLY RED OUTFIT By Jew-Bashing Designer").
Red is one of Kawakubo's signature colors, and the silhouette on this thing kind of resembles a suit of avant-garde samurai armor, which could be a point for or against it, really. More importantly: What does Katy Perry's mask say? It looks like "Wotness," and like it's made out of pipe cleaners. Twitter was quick to joke about the self-anointed queen of "purposeful pop" showing up for "Wokeness":
Nigga does Katy Perry's headpiece say wokeness??????

— Coonfucious (@Blike_Dante) May 1, 2017
Ha, if only it were that funny. Perry's mask actually says "Witness," the title of a song demo that leaked months back and the widely rumored title of her upcoming fourth LP. Before the release of Perry's single "Bon Appétit" last week, some fans received a flyer headlined "témoin"—French for, yep, "witness."
thank you so much @katyperry and @CapitolRecords ?? i can't believe it's signed!! AHHH!! ( i'll post my reaction soon ) 🙈 pic.twitter.com/v05ypP1Wbw

— devin ? (@DevinTheKatycat) April 27, 2017
I can't prove anything, but it sure looks like Katy Perry wore album promo to the Met Gala. On her face. Maybe those reflective square attachments over her ears are the cover art, ha h—oh fuck, maybe they actually are.
#PHOTO | Details of @katyperry's "Witness" pic.twitter.com/6Ab87dHi2G

— Katy Perry Pics (@katyspics) May 1, 2017
Still looks like pipe cleaners.