This album originally came out May 20, 1997. In honor of the album turning 20 this year, and our feature on the Best Alternative Rock Songs of 1997 that includes Foo Fighters "Everlong," "Monkey Wrench," and "My Hero," we've republished it here.
It's hard to view something like this new Foo Fighters record and not reference some history–namely, prior band history of one Mr. Dave Grohl. Yes, Mr. Grohl's first record as a frontman did have a heavy Nirvana, uh, "influence," but unlike all the other suspects who constantly get compared to Nirvana, he was actually in the band, so we gave him a break. Ahem.
So let's move on and address the now. Key thing to note is that Dave, having more distance from the legacy of Kurt Cobain, has come into his own. Specifically, his vocals are a far cry from previous full-bore replications of Kurt's raspy scream and tuneful drawl. Dave now sounds like Dave–nice, normal, plainspoken. Another factor is that, unlike the first album, he made this record with other, truly making the Foo Fighters a band. And it shows. Ex-Germ/punk-guitar legend Pat Smear shows off his infamous love for Queen and, consequently, the first of The Colour and the Shape is a furious dialogue/duel between old-guard stadium rock and DIY guitar bashing. Plus, former Sunny Day Real Estate bassist Nate Mendel adds artful dimension, throwing in hooks and anchoring Pat and Dave, so they don't venture too far into the land of guitar wank.
But wait, the differences don't stop there! There are calming ballads with bits of Beatles-y psychedelia and wistful crooning. "Walking After You" and "See You" are so straightforward and palatable you wouldn't be surprised to catch your dad whistling along while he mows the yard. On "Enough Space," Dave's vocals start out eerily like Steely Dan's Donald Fagen (that's what multi.tracking can do for you) before taking off into a charring, I-drink-Drano scream backed by a short, smashy punk-out. Other times, the Foo Fighters come off as some dorky band hired to play a high school homecoming dance with a penchant for abusing distortion pedals. They also pull a couple of new wave skeletons out of the closet and reanimate them with happy-sounding riffs that might not sound out of place in a car commercial ("Everlong," "New Way Home," and the soulless keyboard bleeping of "My Poor Brain").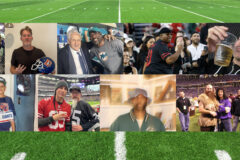 The Colour and the Shape is unashamedly modeled after a classic '70s pop-rock album. You've got your painfully sincere power ballads, your open-hearted love songs, your alienated anthems, and your obvious radio hit (the insistent "Monkey Wrench"). Which is not that surprising if you remember that the Foo Fighters have been known to cover Journey live. But the real gem here is "My Hero," which musically pledges allegiance to the emo-punk nation with its subtle guitar build and stop-start wall of textured beauty and passion. Even though it's not meant to be autobiographical, the chorus concisely sums up the Foo Fighters' appeal: "There goes my hero / He's ordinary." That's Dave Grohl, a simple rock guy in a simple rock band who occasionally manages to write some really good songs. He'll probably never come up with a godhead masterpiece, but then again, he already played drums on one.