Recently, a TMZ cameraman caught up with Rae Sremmurd's Swae Lee at LAX. The interviewer asked him a fairly run-of-the-mill question for what's supposed to be a fairly run-of-the mill interview, but Swae is a black Beatle who doesn't do run-of-the-mill things, as you'd see from the exchange below (emphasis ours):
Interviewer: Who would you want to write for as far as, like, an artist?

Swae Lee: I want to write for Adele or with Adele. I want to do some crazy shit I never did before and break some boundaries, you know? Hell yeah. Malia Obama, I'm telling you, get at me. I know you're on vacation.
This isn't the first time Swae spoke about his crush on Malia; what's notable here is how Swae just randomly namedrops the former Commander-in-Chief's daughter. The interviewer gave the only appropriate response to the answer: "WAIT! WHAT?"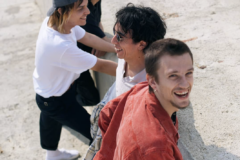 Swae still had the wherewithal to explain himself when the cameraman asked for a date pitch: He'd take Malia to a 5-star restaurant, go to the beach ("might go on some jet skis"), and then take her home. Since this is Barack Obama's daughter he's talking about, Swae Lee ensured he'd do the date "like a gentleman." Watch him charmingly break down the hypothetical scenario below.