It's clear by the end or middle of the pilot of HBO's Big Little Lies that the show operates in comfortable territory for the production company. Unlike the extended art film it replaced on the channel's lineup–The Young Pope— the wheel is in no way being reinvented here. Lies features a collection of interwoven domestic melodramas united around a central murder mystery, and finds resonances with various stripes of past soap operas with threads of intrigue–anything from Bloodline to How to Get Away With Murder to even WB programming circa Dawson's Creek. Writer and creator David E. Kelley, of Ally McBeal and The Practice fame, was skilled with carefully patterning conventional character arcs and dramatic complications for primetime of another era, and Lies feels like a perfect show for aging fans of his watercooler-ready style in an age when TV drama, across the board, is expected to feel more high-end. The show's director Jean-Marc Vallée–most famous for Dallas Buyers Club and Wild in the States–is accustomed to lending weight and atmosphere to soap-opera-esque situations, making him the perfect candidate to spin and elevate Kelley's script.
Even more crucial in accomplishing this jump, however, is the show's stunningly adept and expensive cast, led by Reese Witherspoon, Nicole Kidman, and Shailene Woodley. Their story takes place in Monterey, the affluent seaside California town whose nuclear families are constantly caught up in each other's business despite the isolation of their waterfront mansions from one another. In the town, small and insignificant incitements can start mini-civil wars: depleted attendance at a first-grade birthday party, a controversial piece of community theater (Avenue Q, hilariously), showing up to the wrong yoga class. But thanks to a choppy opening flash-forward and cutaways to scenes of police interrogation throughout the show, we know that these seemingly low-stakes events are rising action to a murder (subject and perpetrator unknown) and it invests them with a sinister energy.
The show feels, at first, almost too easy to imagine in its novelistic form. You can picture the interrogation scenes of side characters–school administrators, local shopkeepers, and nosy PTA members–making sense on the page; in the series, however, they feel awkwardly interpolated, and don't contribute much to building drama. The viewer doesn't need their hand held to direct their focus: Who, among this seemingly well-mannered ensemble, would actually be capable of whacking someone?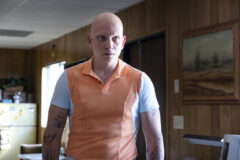 Like any good drama exploring a seemingly peaceful town's seedy underbelly, Lies is padded with some pulpy, heavy-handed plot elements–Woodley's character's slo-mo flashbacks of sexual trauma, primarily. But Kelley and Vallée's techniques are often redeemed by the incredible salesmanship of their cast, who deliver stark portrayals of troubled human beings left unchecked for too long, enabled by extreme privilege and beaches in their backyard to escape onto for private reflection or tantrums. Madeline's gradual shift from neurotic divorcée to vindictive loose cannon is something to see: a testament to Witherspoon's ability to combine the comic and the emotionally resonant in just a couple of lines, a look of outrage, or an appropriately screamed "Get fucked!" outside the wine bar. Laura Dern inhabits her side role as overworked, resentful mom Renata–also, Madeline's rival. Shailene Woodley is at once warm and enigmatic as the new (twenty-something, single) mom in town, Jane.
The show proves its mettle when it spins its most controversial plot thread–in typical HBO style, a matter of abusive sexual behavior–into something that feels like more than sloppy sensationalism. Any perceived slight can incite affluent, ever-traveling businessman Perry (Alexander Skarsga?rd) to grab his wife Celeste's (Nicole Kidman) wrist or even slap her; as the series progresses, bruises mount. Celeste suspects Perry incites fights because it turns him on, and it remains unclear for some time exactly how she feels about that fact, though she rails against him for the physical abuse. "Do you want me to hit you, Celeste?" Perry taunts during one of the several fight-turned-sex scenes in the show's first few episodes. "Sometimes I wonder."
There's a large margin for error in dealing with this subject, to be sure. But a series of marriage counseling scenes–realistic rather than overwrought–saves the story. In these, Skarsga?rd and Kidman's characters discuss, obliquely, their late-night interactions, and their contentious dynamic, where, as Perry offers, "passion" and "rage" often blur. Kidman's Celeste, luckily, gets the lion's share of the explanation time, detailing recurring feelings of shame. But Kelley's script also convincingly plumbs Perry's fear of abandonment without absolving him for his behavior: "I think I'm constantly looking for evidence that she doesn't love me anymore," he concludes.
So, what begins as merely another premium-cable-ready plot device involving violent sex morphs into a well-considered portrait of two characters, realized and shaped by two controlled and intense performers. Celeste and Perry can serve their purpose in the noir-ish plot (full of "dark little secrets," as Celeste puts it) while also remaining psychologically cogent. Plenty of shows and films do not manage to also clear the second hurdle; before you write off Big Little Lies as stock, line it up next to the messy and problematic likes of last year's The Girl on the Train or the most recent season of The Affair.
Sure, Big Little Lies feels like an #HBOSoWhite punchline waiting to happen: Hip young wife Zoe Kravitz's exotic-outsider status in the community feels weirdly written, and there's a litany of coffeehouse-Pandora music cues that stop just short of Cameron Crowe. It's not always clear if Kelley is implicitly critiquing or earnestly fretting over the first-world crises of his main characters. And most noticeably, the show is, in style and form, absolutely nothing new. But as far as high-end soap operas with a whodunit thrown in goes, this one is intelligently rendered: committed to getting human nature as right as one possibly can in a context like this.