A little-known fact about the Statue of Liberty: she was born a Muslim peasant. The iconic maiden in the bay currently holds up  a torch to the ideal of American liberty and tolerance, but the original design, by French sculptor Frederic Auguste Bartholdi, was made for Egypt. When Bartholdi couldn't sell the statue he had made of an Egyptian woman to the country for the opening of the Suez Canal, a slight redesign and a trip across the Atlantic cemented the bronze colossus in the New York harbor.
It's fitting that the Statue of Liberty, inscribed with its famous declaration of inclusion—"Give me your tired, your poor, your huddled masses yearning to breathe free"—was in full view of thousands who came out to protest Donald Trump's refugee ban in Manhattan's Battery Park Sunday afternoon. The diverse crowd was there to demonstrate against Trump's executive order banning U.S. entry from seven Muslim-majority states, and indefinitely barring entry to refugees from war-torn Syria. Many signs could be seen featuring the Statue of Liberty and her words, including one where a hijab was drawn on to her head. Others read things like "Refugees Welcome Here" and "We Are All Immigrants." The park's walkways couldn't hold all the demonstrators, and fence gates were opened so the crowds could spill onto lawns.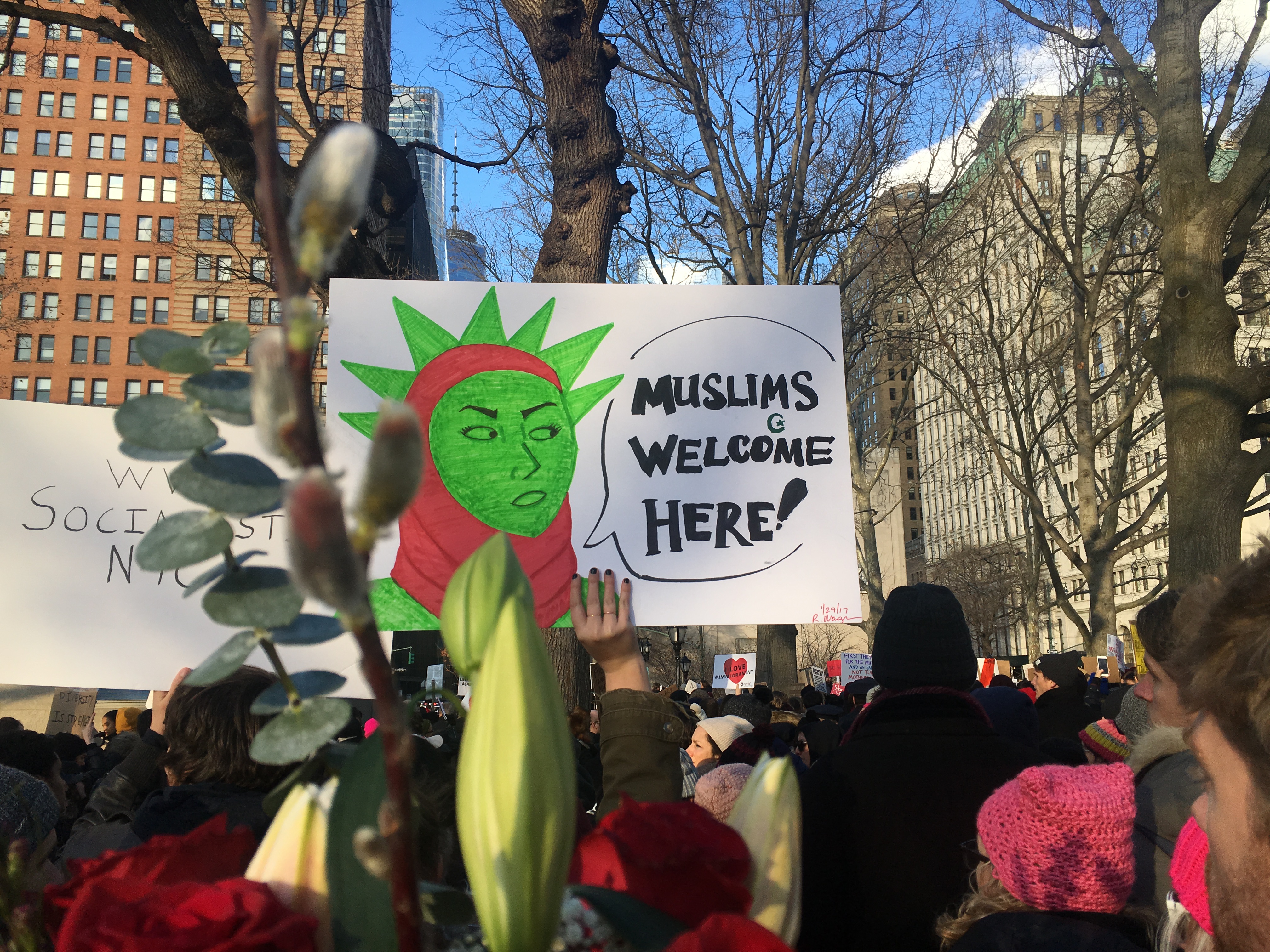 "We are here to deliver a vociferous 'no' to the president and those horrible executive orders," Sen. Chuck Schumer said over the loudspeakers. "They're bad for America. They're bad for humanity. They're bad for our national security. And they are against everything that is American."
Schumer joined a lineup of politicians, including New Jersey Sen. Cory Booker, New York Mayor Bill de Blasio, New York Sen. Kirsten Gillibrand, New York City Comptroller Scott Stringer, New York Public Advocate Letitia James, Rep. Jerrold Nadler, Rep. Nydia Velazquez, and Rep. Carolyn Maloney, all of whom addressed the crowd, vehemently opposing Trump's open disregard for immigrant communities.
Activist Linda Sarsour, a Palestinian-American and one of the key organizers of this and the previous weekend's Women's March on Washington, delivered an address. "What we're talking about is not in the abstract. These are human beings who are being impacted by this racist, white-supremacist, white-nationalist administration," she said to the crowd.
But it was the thousands of people in the streets who delivered the loudest messages, chanting mantras like "No ban, no wall, make America work for all," and "Refugees are not the enemy, end white supremacy."
Samar Nowar, 49, wore a red, white, and blue hijab while carrying a sign reading "I am Muslim and I am proud." Nowar immigrated from Egypt in 1998, where there is no democracy.
"We are here to support each other," Nowar told me. "Me and you and everybody, shoulder-to-shoulder, to love each other, to give each other a new purpose for everybody. A new hope for everybody. A new love. The love is very, very important."  
It was indeed shoulder-to-shoulder that the crowd watched the rally and began, slowly, to head out of Battery Park and onto the streets. Any sense of claustrophobia was undercut by the sense of purpose, and while palpable anger could be felt, the protest was peaceful and unified. As the march finally started to flow from Battery Park out towards One World Trade Center, capitalism managed to find an avenue in. An enthusiastic rep for a snack bar company climbed a light post, with a tote bag full of snack bars. "There's a lot of love and hate out there. Who's hungry?" the rep yelled. People went wild for the snack bars, and the man threw them ungracefully into the crowd, hitting at least one woman in the head.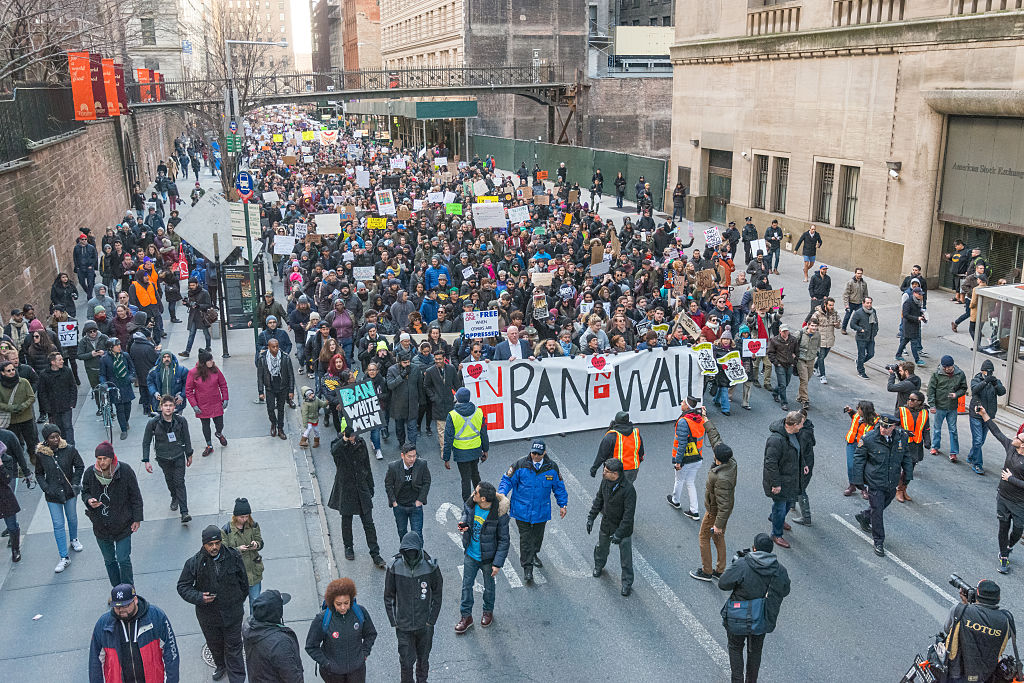 At least ten thousand people headed slowly north on Greenwich Street, and the energy electrified as music and chants increased in frequency and volume. We marched past Zuccotti Park, where the Occupy protests first began—a drum circle took root there. A huge cry of "Fuck white supremacy!" went up in front of a Brooks Brothers store. Protestors took photos at the foot of the World Trade Center, where the Twin Towers were felled by terrorists, none of whom came from countries on Trump's banned list. Trump's ban extends to the Muslim-majority countries of Iraq, Syria, Iran, Libya, Somalia, Sudan and Yemen—it reportedly does not include Muslim-majority countries he does business in (or the countries where most of those hijackers came from, which Trump's way of publicly qualifying his executive order).
Chris Christodoulou, 20, a student of political philosophy, carried an Iranian flag. "I think it's only logical that he wouldn't effect the countries that he personally profits from," he said. "It only makes sense."
A pair of New Jersey teens—Sean Judge, 17, and Ethan Heine, 16—carried wireless speakers, blasting YG's cult hit "FDT (Fuck Donald Trump)". The song brought visible joy to the people around them. "It's kind of a rally cry," Judge said. "It's a very simple message, but it gets the point across. I just couldn't sit back and let this go."
Marching a few yards in front of them, Ionut Gitan, 27, held a sign referencing a recent M.I.A. single. "Borders: What's up with that?" his placard read, taking the words from her song "Borders." Gitan immigrated from Romania, through a refugee camp in Greece, much like, he noted, many refugees fleeing Syria.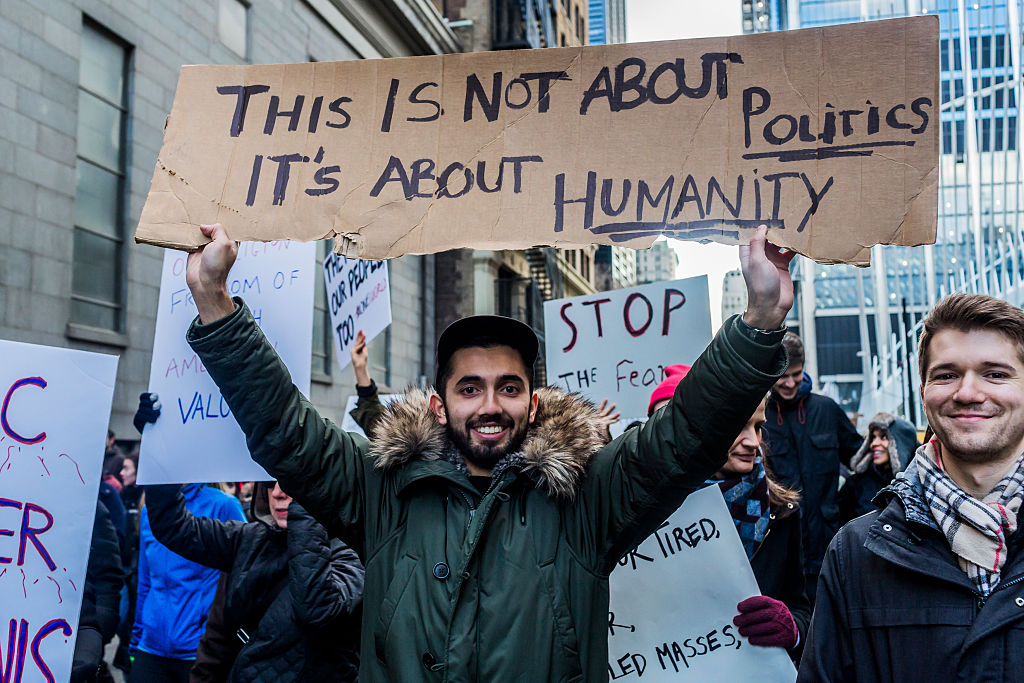 "It's a shame to see what's going on in this country," Gitan said. "I'm glad to see there are so many people in the streets of New York. I think we got into this mess by being really complacent. So I think anything, like calling [elected officials], to walking in the streets like this is to empower all of us against this administration, against an attack on our values as Americans."

A man named Robin held a sign reading "KICK OUT THE JAMS," itself a rallying cry of the '60s countercultural spirit, and the title of the debut album from Detroit proto-punk heroes The MC5.
"I think the fun of MC5, the spirit of the '60s," he trailed off briefly as a woman screamed the words on his sign back into his face. "See? People love it. We need to remember how much fun it is to get in the streets and express ourselves. Dope, guns, and fucking in the streets. It was their manifesto. It may be a little ridiculous, a little out of date, but there's a spirit of fun and activism and we need to tap into that again. These things are supposed to be fun."
As the crowd moved east on Reade Street, the energy only intensified, spilling the protestors into Foley Square. Things began to peter out as the sun set behind the World Trade Center. Signs were ditched against the wall of a subway station, waiting to be picked up and used again, or simply trashed. One read "We will not back down." It felt like a reminder of what is to come. After all, this is just week two of Donald Trump's presidency.