Maybe 2017 will be a slightly better year than this one … well, let's not count our chickens. At the very least, it will yield a new Run the Jewels album, which the group announced today. According to El and Mike's press release, the hip-hop duo's anticipated third album, RTJ3, is due out as a free download on January 13. It gets a CD/LP release on January 13 in North America, and on January 20 (Trump's inauguration day!) internationally. Today, they've shared the album's cover, the full track list, and a brand new track, "Legend Has It," produced by El-P, Little Shalimar, and Wilder Zoby. Listen to it below.
The lineup of collaborators is formidable and typically musical diverse, including saxophonist Kamasi Washington, turn-of-the-millennium Miami rap legend Trina, Beyoncé-famous producer and songwriter BOOTS (also featured on RTJ2), TV on the Radio's Tunde Adebimpe, and Danny Brown.
Here's what RTJ had to say about the cover art, which includes a photo of a sculpture of their now-iconic pistol and fist symbol, with one important change made:
"For us, the RTJ1 hands were about 'taking what's yours' – your world, your life, your attitude. The RTJ2 hands were wrapped in bandages, signifying injury and healing, which for us represented the growth in ideas and tone of that album. For RTJ3 the bandages are off, the chain is gone and the hands have been transformed into gold. For us this represents the idea that there is nothing to take that exists outside of yourself. You are the jewel."
We are the jewels, folks. Check out the cover art and track listing below. Then, preorder the album, and buy tickets for RTJ's upcoming tour, which kicks off December 17th in Houston, via RTJ's site.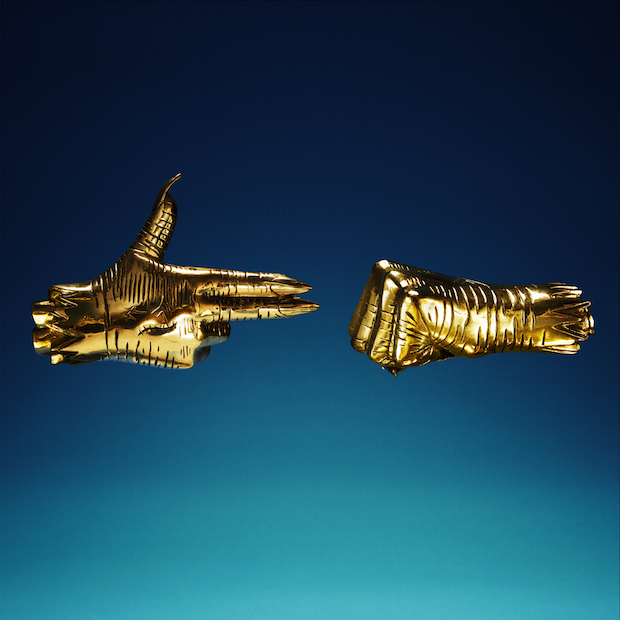 RTJ3, Share New Song "Legend Has It"" title="rtj3__COVER" data-original-id="218071″ data-adjusted-id="218071″ class="sm_size_full_width sm_alignment_center " /> Courtesy of Biz3
Run the Jewels – RTJ3
1. Down (feat. Joi Gilliam)
2. Talk To Me
3. Legend Has It
4. Call Ticketron
5. Hey Kids (Bumaye) (feat. Danny Brown)
6. Stay Gold
7. Don't Get Captured
8. Thieves! (Screamed the Ghost) (feat. Tunde Adebimpe)
9. 2100 (feat. BOOTS)
10. Panther Like a Panther (Miracle Mix) (feat. Trina)
11. Everybody Stay Calm
12. Oh Mama
13. Thursday in the Danger Room (feat. Kamasi Washington)
14. Report to the Shareholders/Kill Your Masters