In the promo press for his second solo full-length, 1990's Listen Without Prejudice Vol. 1, George Michael announced he'd no longer be granting interviews. He said that he was focusing on his songwriting–"I didn't need the celebrity," he told the L.A. Times–and that if he had it his way, he "would like to never step in front of a camera again." Back then, after spending much of the '80s as a global pop icon–"every little hungry schoolgirl's pride and joy," is how he put it– George Michael, who died on Christmas at age 53, was ready to throw most of it away.
Stars complain about fame all the time, but few organize their gripe into artistic statements, and even fewer actually do anything about it. Michael did for a period, and it was badass. He released a downcast, not particularly catchy guitar-focused sophomore album mostly devoid of the synthy sheen and tenacious hooks that maniacally refused to be ignored, which had defined his work up till then. He didn't appear in any of Prejudice's videos, though this sort of backfired on him–his David Fincher-directed "Freedom! '90" clip, featuring the time's most famous supermodels lip-synching the song's lyrics, is probably his best-known video now. Iconography flowed from the guy's pores and there was no professional antiperspirant to block it. For a while, at least.
Michael was mocked in the press for being the pop star who dared to declare, "There's something deep inside of me / There's someone else I've got to be." But to hear him sing was to know this was a reasonable claim. His voice was honey-thick, heavy beyond whatever words they delivered, vapid or profound. To look at him was to behold an obviously cultivated image, as it is to gaze upon popstars, period. The difference between Michael and them is that he was open about it. In his 1990 memoir Bare, Michael wrote, "I created a man…that the world could love if they chose to, someone who could realize my dreams and make me a star. I called him George Michael, and for almost a decade, he worked his arse off for me, and did as he was told." He told the L.A. Times that he'd been aspiring to fame since he was 7, back when he was Georgios Kyriacos Panayiotou. He wrote in Bare about calculating success with his partner in Wham!, Andrew Ridgeley by tailoring their act for MTV. The idea struck them gold and then platinum and then multiplatinum.

Decades before social media maintenance became a key part of celebrity, Michael was demystifying the experience of fame. He wasn't afraid to make it look ugly, either. "I wanted to compete with Michael Jackson and Madonna and did everything I could to get there," he reflected in Q in 1998. "I was 24 and thought, Fuck, this isn't very much fun. I was at an incredible low. I was so lonely." If only the world were ready to heed the words of an expert—instead our culture's obsession with celebrity has only blossomed.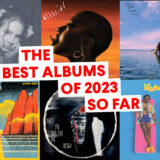 The spotlight was ultimately irresistible to Michael, though. He would step in front of a camera again—several, in fact. He'd grant more interviews and craft more hits, some of them as bubblegum as his Wham! output. Turning his back three-quarters of the way to fame while promoting Prejudice was a power move—only those with a certain tier of fame are allowed to renounce it. It was his costume in 1990, mostly invisible save that jacket in flames–and even if Michael caved to the glow of the spotlight, he was more honest in that one year than most artists will be over the span of their entire careers. "You can't become an innovator," he told Q that year. "You are or you aren't. I'm not. That's why I have to concentrate on being a songwriter." Years later, in advance of his 1998 greatest hits album, he summarized the "two sides" of his musical appeal as "fuck-off pop songs people can't resist and songs that make you feel."
Maybe it was another calculation to endear himself to the public, but Michael's willingness to revel in his multitudes made him scan as more human than the average pop star. Years before Kanye, here was a man whose narrative was rife with contradictions. "Explore monogamy," he wrote in lipstick on the back of a model in his 1987 "I Want Your Sex Video," only to become a champion for cruising for anonymous sex in his 30's. He sued Sony for their handling of Prejudice—which sold 8 million records worldwide, compared to Faith's 25 million—and vowed to never work with the label after finally getting out of his contract, only to re-sign with Sony for his 2004 album Patience. He was a master of subtle irony, too—"Fastlove," his 1996 new jack swing paean to strings-free hook-ups was based on a string-laden sample of Patrice Rushen's post-disco ode to forever, "Forget Me Nots."
[featuredStoryParallax id="221023″ thumb="http://static.spin.com/files/2016/12/GettyImages-50383452-1482862803-300×199.jpg"]
Michael spent over a decade not answering questions about his sexuality, questions that arose in part because of his flamboyant presentation that found even his butchest hour—the leather jacket and Top Gun glasses of the "Faith" video—accented by pearls. Michael was also a longstanding donor to AIDS charities, years before he ever discussed his sex life with any specificity. "Never state what you can imply," he said was his favorite motto. He told NME in 1985 that he liked the ambiguity his image struck. Even after dedicating his third solo full-length Older to Anselmo Feleppa "who changed the way that I look at my life" and who it would be revealed later, was Michael's boyfriend until 1993 when he died of AIDS-related complications, Michael still refused to discuss his sexuality. He even went as far in the other direction as to tell The Big Issue, "I think if every gay pop star and actor in the world came out it wouldn't make any difference at all to the gay community."
But he couldn't hold onto coyness forever, not with his hands full, at least. On April 7, 1998, Michael was arrested for masturbating in front of an undercover police officer in the bathroom of a Beverly Hills park. Michael claimed it was a setup, that the cop had initiated their brief encounter. In the rash of press following his arrest, Michael repeated that he was unashamed of what had happened, and he often recounted it with humor. "They only need a quick flash to arrest, so he was off quickly. I stood there thinking, Hmmm, that was weird. I assumed he was unimpressed," he told Q.
Michael, who wasn't so much outed as he was led out of the closet in handcuffs, was rendered a radical gay public figure overnight. "I'm not interested in the views of homophobes or people's perceptions of me outside those who like the music. I have nothing to apologize for," he said. His rare caveat related to how his work reflected his life. As he told CNN, "I do want people to know the songs that I wrote when I was with women were really about women, and the songs I've written since have been fairly obviously about men. So I think in terms of my work, I've never been fairly reticent in terms of defining my sexuality. I write about my life and I want people to know, especially people who loved the earlier stuff, especially if they were young girls at the time, there was no bullshit there."
Life's contradictions are one thing–pop music is a serious matter. Michael was a scholar of the form, audibly influenced by the likes of Elton John and Motown. He knew of its healing powers, which is to say that he recognized the public-service aspect of his job. "When you've gone through the shit I have, you understand the value of pop music, of how fantastic it is to whack on a great record and go where it takes you," he told Q in 1998. "I fucking needed that plenty in the last couple of years. I really understand what it is to be able to do that for people."
And do it he did. He sold more than 100 million albums, netted two Grammys and three Brit Awards, and scored 10 No. 1 singles on the Billboard Hot 100–two with Wham!, six solo, one duet with Elton John, one duet with Aretha Franklin. Like Madonna in her pop reign, Michael was more a perfector of existing genres than a true musical maverick–he rocked a number of styles convincingly from Princely weirdo sparse funk ("I Want Your Sex") to blue-eyed Soul II Soul midtempo dance ("Freedom! '90") to bright-eyed rockabilly-ish strummed pop ("Faith)" to electronic post-disco boogie ("Everything She Wants") anguished power balladry ("One More Try") to sweeping Elton John-esque dirges ("Praying for Time"). He knew what people liked, he crafted hooks to make them like it more than they even knew, and he sang the fuck out of all of it.
https://www.youtube.com/watch?v=lu3VTngm1F0
After a brief stint as a living god in the '80s, Michael's message of his own humanity became increasingly resonant to the point of drowning out his music. By society's measure, he fucked up a lot while only intermittently (and internationally) scoring hit records in the '00s and '10s—multiple arrests involving drugs and driving under the influence, and yet another public sex arrest in 2006. "People want to see me as tragic with all the cottaging and drug-taking," he told The Guardian. "Those things are not what most people aspire to, and I think it removes people's envy to see your weaknesses. I don't even see them as weaknesses anymore. It's just who I am."
In 2007, George Michael lamented his inability to sabotage his own career to the BBC. His album sales spiked after an interview with BBC1 about his bathroom incident, and his 25 Live tour, which took place between 2006-2008, well past Michael's hit-making prime, is said to have made him $100 million alone. "I've spent almost 10 years trying to convince myself and the world that I was something really special," he said. That idea would prove tenacious over the following two-and-a-half decades. It was one of Michael's very best.