Observers have often lamented a lack of spontaneity or surprises surrounding the Rock and Roll Hall of Fame induction ceremonies, particularly since HBO began broadcasting the event in 1995. However, the 38th annual event was streamed live by Disney+ for the first time on Friday, adding an unpredictable charge to the festivities. In the days leading up to the show, it was unclear whether inductees like Kate Bush or Rage Against the Machine would appear in person, and announced performer Brandi Carlile had to cancel at the last minute due to COVID. Also, nobody was sure if or when the September ouster of Rock Hall co-founder Jann Wenner would be acknowledged. 
Ultimately it was lyricist Bernie Taupin, one of this year's recipients of the Award for Musical Excellence, who made some pointed references to Wenner without actually saying his name. Less than two months ago, the Rock Hall board voted to eject Wenner after he implied in a New York Times interview that African-American and female artists weren't "articulate" enough "on an intellectual level" to be included in his new book The Masters.
After calling Wenner's words "a slap in the face" and urging for his resignation in a September letter to the Rock Hall board, Taupin said last night, "I'm honored to be in the class of 2023 alongside a group of such profoundly 'articulate' women and outstanding, 'articulate' black artists along with all the other music 'masters' here tonight."
The actual night of music at Barclays Center in Brooklyn, N.Y., kicked off with inductee Sheryl Crow playing her 1996 hit "If It Makes You Happy" with Olivia Rodrigo, who was born seven years after the song was released. Later, actress Laura Dern inducted Crow, who performed "Every Day Is a Winding Road" with Stevie Nicks and Peter Frampton. Crow, who'd previously said that she intended 2019's Threads to be her final album, announced hours before the ceremony that a new project, Evolution, will be released in March.
As the only recently active band with all its original members being inducted this year, Rage Against the Machine should've been a shoo-in to give one of the night's best performances. Instead, there was no performance at all, and only guitarist Tom Morello stepped onstage after an induction speech by Ice-T. "My name is Tom Morello and I am one quarter of Rage Against the Machine," he said, acknowledging his bandmates. "Like most bands, we have differing perspectives on many things, including being inducted into the Rock Hall."
Indeed, despite embarking on a reunion tour in summer 2022 and Morello's longtime involvement in the Hall, Rage saw its induction overshadowed by intraband acrimony, an issue that has previously plagued the enshrinement of acts such as Van Halen, Guns N' Roses and Kiss over the years.
British art pop icon Kate Bush was one of this year's most anticipated inductees after the Stranger Things-fueled 2022 chart resurgence of her 1985 hit "Running Up That Hill," but expectations were low for a performance from the artist, whose only touring activity in the past 40 years was a 2014 London residency. On Friday afternoon, Bush confirmed via her website that she would not attend the event in person, saying, "the real honor is knowing that you felt I deserved it."
Outkast rapper Big Boi, who has frequently called Bush his favorite artist, provided the induction speech. "Obviously our music is very different. But in important ways, we're exactly the same. What I love about Kate's music is that I never know what sound I'm gonna hear next," Big Boi said. "No matter how many times I look to albums like The Dreaming or 50 Words for Snow, they sound fresh and surprise me every time." St. Vincent's Annie Clark took the stage clad in black to perform a dramatic rendition of "Running Up That Hill" in Bush's absence.
Willie Nelson, who turned 90 in April, is the oldest living artist to accept their induction in person. After a speech by Dave Matthews, Nelson noted that half of his supergroup the Highwaymen was now in the Hall of Fame, and suggested that the rest of the group join them. "Now that Johnny [Cash] and I have been inducted, I wanna give a plug for Waylon [Jennings], who played with Buddy Holly, and Kris [Kristofferson], to be inducted too." Nelson was joined by Matthews, Crow, and Chris Stapleton for a set featuring "Whiskey River," "Crazy," and "On the Road Again."
The Award for Musical Excellence, previously known as the Sidemen category, has been used in recent years to recognize artists who've been repeatedly nominated without being inducted, including Nile Rodgers and LL Cool J. This year, Chaka Khan received the Musical Excellence award after a total of seven unsuccessful nominations between her solo career and her band Rufus. Jazmine Sullivan gave an emotional induction speech for Khan, who performed with Sia, H.E.R. and Common, and brought her Rufus bandmate Tony Maiden onstage during her acceptance speech.
A few artists were not alive to receive their flowers in person. George Michael was inducted by his Wham! bandmate Andrew Ridgely, and the tribute performance included Miguel, Carrie Underwood, and Maroon 5's Adam Levine. Jimmy Page presented the Musical Excellence award for the late Link Wray, who he called "my hero," and performed Wray's iconic 1958 instrumental hit "Rumble." New Edition performed a medley of the Spinners' hits to induct the Detroit soul group. The only living member of the group's classic lineup, 85-year-old Henry Fambrough, retired from performing earlier this year and attended the ceremony but did not give a speech.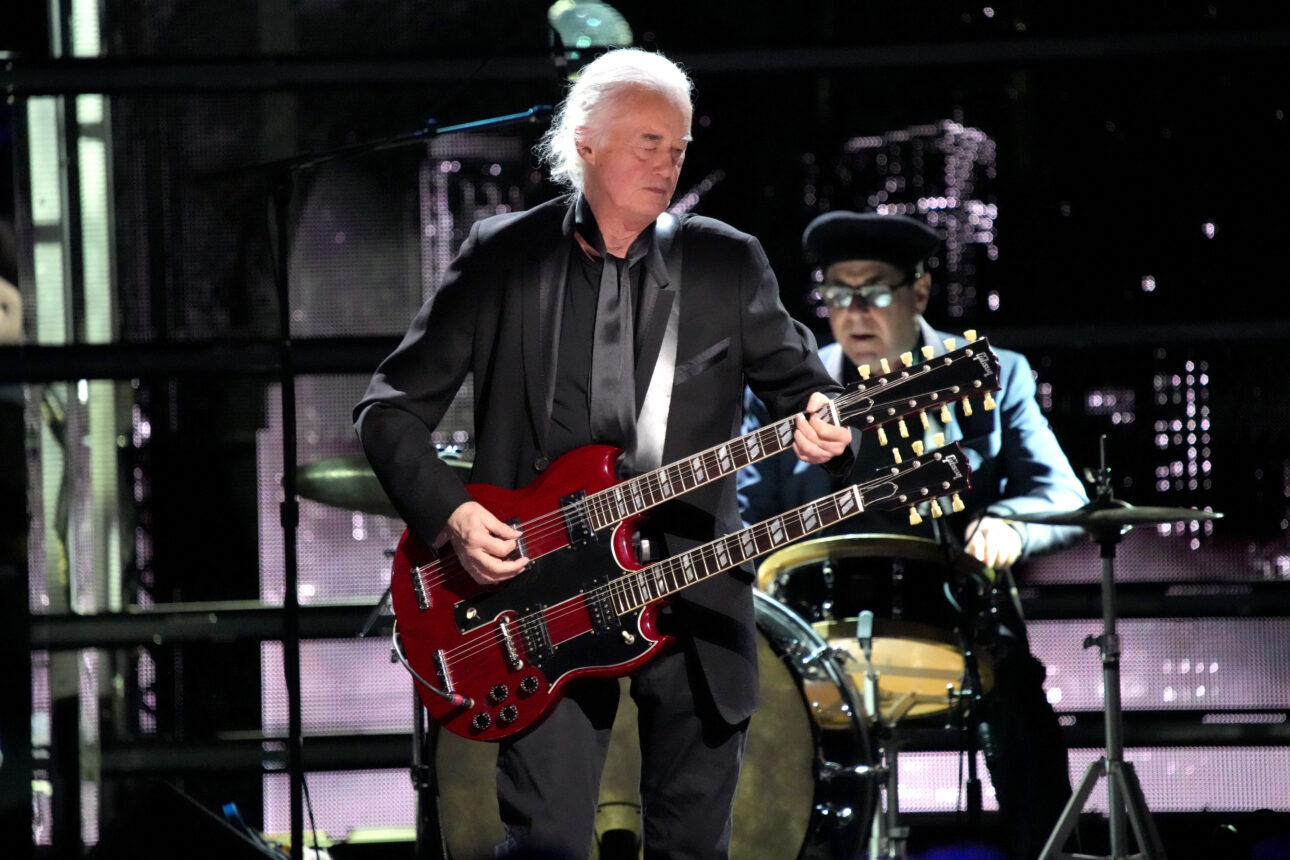 The In Memoriam segment saluted past inductees including Tina Turner, Christine McVie, David Crosby, and Jeff Beck, as well as some lesser known alternative rockers who passed within the past year such as Jeremiah Green of Modest Mouse and Van Conner of Screaming Trees. The montage concluded with Robbie Robertson, followed by a performance of The Band's "The Weight" by Elton John, Crow, Stapleton, and Brittany Howard.
Given that the ceremony was held in New York during hip-hop's 50th anniversary year, the genre took on particular significance last night. LL Cool J inducted the genre's founding father DJ Kool Herc in the Musical Influence category, and the night ended with the induction of the first female rapper in the Rock Hall, Missy Elliott. After an induction speech by Queen Latifah, Elliott lit up the stage with a dazzling set full of choreography and sci-fi special effects for hits like "Get Ur Freak On" and "Lose Control." "This is the 50th anniversary of hip-hop, and so this is deeper than me just being up here," she said before pausing to collect herself. "To be standing here, it means so much to me."
The 2023 Rock and Roll Hall of Fame induction ceremony is streaming on-demand on Disney+ now, and will air on ABC at 8 p.m. on Jan. 1, 2024.