Drake has been the de facto softest man in hip-hop for a strong seven years. This is not a person you'd criticize for "taking it too far" in diss record, a sub-genre wrought with the homophobia, misogyny, and attacks on masculinity that likely would've excluded him a decade ago. Yet, a day after his 30th birthday, here we are.
This week, Drizzy announced More Life, a new project, and shared four songs from the upcoming release. But the new songs aren't a discussion point just because "Fake Love" is a surefire hit or 21 Savage is featured. It's because of "Two Birds One Stone," where the target is so flagrant, it's a wonder why it's being referred to as a subliminal.
You were the man on the moon
Now you just go through your phases
Life of the angry and famous
Rap like I know I'm the greatest
Then give you the tropical flavors
Still never been on hiatus
You stay xanned and perced up
Drake, of course, is talking about Kid Cudi. And according to Drake, it's only because Kid Cudi started it: He called out Drake and Kanye West during an angst-ridden series of tweets back in September. Since then, however, Cudi's checked into rehab due to "depression and suicidal urges." With the context that Cudi wasn't just ranting on social media, but was actually in need of professional help to save his life, Drake's shots read as cruel and unwarranted.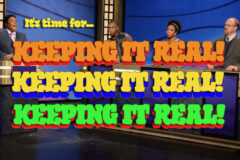 But the Boy doubled down. When an Instagram commenter pressed him on why he's going after Cudi, Drake responded with a shrug. "Mans need to stop mentioning my name when they get geeked," he wrote, "supposed to be all love out here word to my bro Pablo." (Find the screenshots of the interaction below.)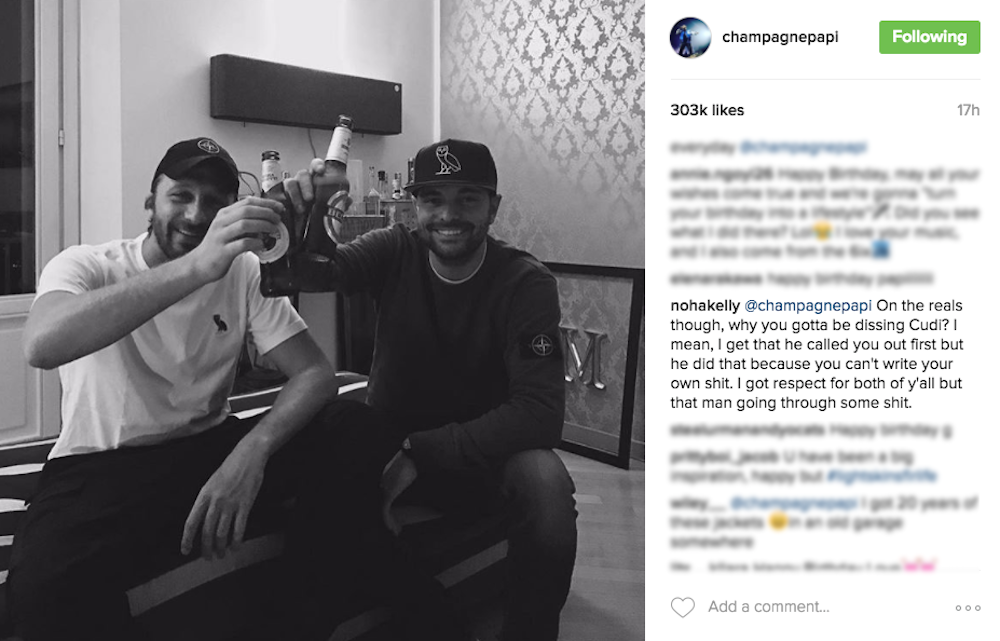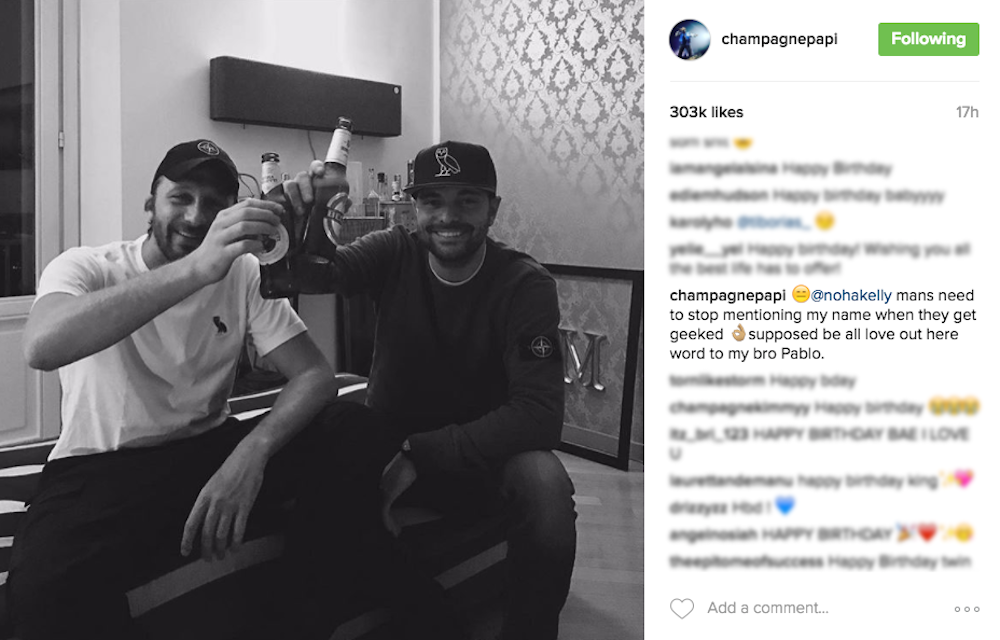 Drake didn't use the "keep my name out of your mouth, and I'll keep my name out of yours" defense in "Two Birds One Stone," though. He exploited Cudi's long struggles with mental health, which has historically been a taboo topic. Although there's a high rate of depression amongst African-Americans, just 7.6 percent of the population sought treatment compared to 13.6 percent of the general population in 2011, according to a CDC study.
One of the most commonly cited reasons are the mantra "toughen up" and the belief of the communal and spiritual cleansing of the church, neither of which signal for clinical treatment. Hip-hop is a microcosm of that disregard. It's a culture that, regardless of its toxicity, values competitiveness and individualistic achievements. Drake's diss reinforces that ethos.
What's a bit ironic about this particular beef and all that it represents is how Drake and Cudi's appeals intersect. These are both artists who rose to fame making mercurial songs about depression, isolation, and vulnerabilities. In another irony, "My demons visit me every night" is a line that appears in in "Two Birds One Stone"—another sign that Drake empathizes with Cudi more than he knows.
But Cudi is fighting a personal battle in a public lens with no clear benefit besides the catharsis of disclosure, and the possibility of inspiring others to seek treatment. For Drake, vulnerability is a commodity. He's grown from an artist to a brand, and that characteristic is something he can mold and package as he pleases millions of fans watching. Say what you will about the lackluster Views and his branded partnership with Apple, but he's very much an ambassador of hip-hop. He can detach himself from that "softness," and unapologetically indulge in hip-hop's masculine bravado.
In the end, he's only echoing rappers before him. Tupac Shakur's "That's why I fucked your bitch, you fat motherfucker" is part of cultural canon. Nas referred to Jay Z's record label as "Cock-a-Fella" in all seriousness, during what was hailed as his comeback. Black mental health has finally become a serious discussion point, but the brutality that preceded this beef can't be disregarded. It also can't be disregarded how there's a strength in Kid Cudi's public mental health struggles; he's saved lives doing so. But crucifying Drake for exploiting life-threatening's demons feels like an incomplete critique. He isn't right, but in hip-hop, enemies are rarely spared.