The War on Drugs really ended up being a war on African-Americans in impoverished communities. Jay Z elucidated this fact in a new op-ed video for the New York Times, which you can watch below.
The animated video was drawn by Molly Crabapple, and features Hov breaking down how the infamous campaign criminalized a generation of African-Americans. During the brief history lesson, which spans from the Nixon administration to present day, Jay Z notes how the U.S. prison population is larger than countries like Cuba and China—countries denounced as repressive by patriots—and how black people were arrested more often for drug-related offenses, even though stats show white people were more likely to use and sell drugs.
"Crack is still talked about as a black problem," Jay Z says. "The NYPD raided our Brooklyn neighborhoods while Manhattan bankers openly used drugs with impunity."
Jay Z goes on to note that while states like Colorado are getting economic boosts for legalizing marijuana, other states are giving out mandatory sentences to black and Latino men for drug cases. Former felons can't open dispensaries, either, so white men profit as convicts are prohibited from taking part in the rapidly growing economy.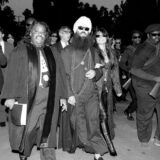 "The War on Drugs is an epic fail," Jay Z concludes.
Listen to Jay Z state the facts below.
https://static01.nyt.com/video/players/offsite/index.html?videoId=100000004642370