Touché Amoré's music and their fanbase can be described in almost the exact same terms: fierce, blistering, intense, and, above all, hardcore. Since their incendiary 2009 debut …To the Beat of a Dead Horse, this acute connection with their core audience (and the ability to stretch beyond it) has helped the Burbank quintet — frontman Jeremy Bolm, guitarists Nick Steinhardt and Clayton Stevens, bassist Tyler Kirby, and drummer Elliot Babin — surpass the life expectancy of 99.9 percent of the groups in their realm. "If you get to a third record, it's pretty unheard of," Bolm jokes a couple of months before the release of their triumphant fourth LP, Stage Four, out September 16 on Epitaph Records.
The band's primary creatives — Bolm and Steinhardt — both grew up in Los Angeles and met each other in high school while cycling through punk bands the way kids do. They've remained friends ever since, though their respective dress codes signify their divergent individual interests. On an oppressively hot July day in L.A.'s Highland Park, Bolm wears a T-shirt featuring Moss Icon, a short-lived, fiercely beloved Maryland band that was a profound influence on both post-hardcore and emo. (Touché Amoré has been tagged as both.)
Meanwhile, the CalArts grad and graphic designer Steinhardt frequently sports eye-popping, patterned button-down shirts in contrast to the band tees worn by the rest of Touché. While his personal credits include design and art direction for k.d. Lang, Christina Aguilera, Britney Spears, Pink, and Selena Gomez, he's also responsible for the cover of Deafheaven's Sunbather, the typeface of which was in such high demand that it's actually being sold for $30.
The duo represents the opposing pulls of hardcore orthodoxy and art-pop influences that are currently bringing Touché Amoré closer to the mainstream. On the opening track of their 2013 breakthrough album, Is Survived By, Bolm screams, "I don't know what my legacy will be." Three years later, the 33-year old has answered his own question. "Our bio could be 'Token aggressive band at pop-culture event,'" Bolm cracks. "That's consistently us."
He's joking, but Touché Amoré have put Bolm in situations that prove to his high-school friends he's actually doing something with his life. They've played in front of thousands, albeit opening for acts like Circa Survive, Rise Against, and AFI — exceedingly popular post-hardcore acts who are roundly ignored by the tastemakers who've embraced Touché Amoré. They also played Coachella in 2015 and, in September, they'll be at the Jay Z-created Budweiser Made in America Festival alongside Coldplay, DJ Khaled, and Rihanna. In fact, that upcoming gig is kind of like an office outing —  Touché Amoré are now a client of Roc Nation Management, after their manager was picked up by the conglomerate. They still haven't figured out how to properly throw up the Roc. "There's a picture of us doing it wrong," Bolm says, laughing. "Is it a diamond or a triangle?" Steinhardt asks, not at all rhetorically.
The importance of the fans who got them here isn't lost on Touché Amoré; Is Survived By ended with its title track, dedicated to everyone who took the trouble to listen ("This is survived by who held me up / This is survived by who sang the song"). But Bolm also recognizes that their faithful might be too invested in the band, incapable of giving a truly objective opinion on new songs. So he reveals the secret weapon in Touché Amoré's quality-control process: his older brother, who joins Jeremy in the car for real-deal test drives with new material. "He doesn't know, and he doesn't care, what the cool music websites are — he likes Reddit and video games," Bolm says. "I take [what he says] to heart because it's so outside of what others might consider cool."
This time, Bolm admits he was too nervous to be in the same car with him. It's not just that being on a new label and following up a beloved LP has raised the stakes. The issue is that Stage Four may hit too close to home — it's a record whose narrative revolves entirely around Bolm's mother dying of cancer at the age of 69.
That doesn't necessarily make Stage Four more personal than Touché Amoré's previous albums, most of which centered around topics germane to the Serious, Thoughtful Hardcore Person — questions of ethics in art and relationships, social anxiety, family, setting goals, keeping said goals. Besides, Bolm had already explored his complicated relationship with his father in candid detail on Is Survived By's "DNA."
"My father is a helper / But my father made mistakes / I see myself in him, as I'm a product of his ways," Bolm yells on the track, elaborating during our conversation that his father's on his fourth marriage (Jeremy's mother was the first). The two maintain a good, supportive relationship and when his dad saw Touché Amoré during the Is Survived By tour, they played "DNA." But Bolm admits he couldn't quite deliver that line, intentionally pronouncing "father" as "furrrrrber." "Not that I think he'd understand a word," he deadpans.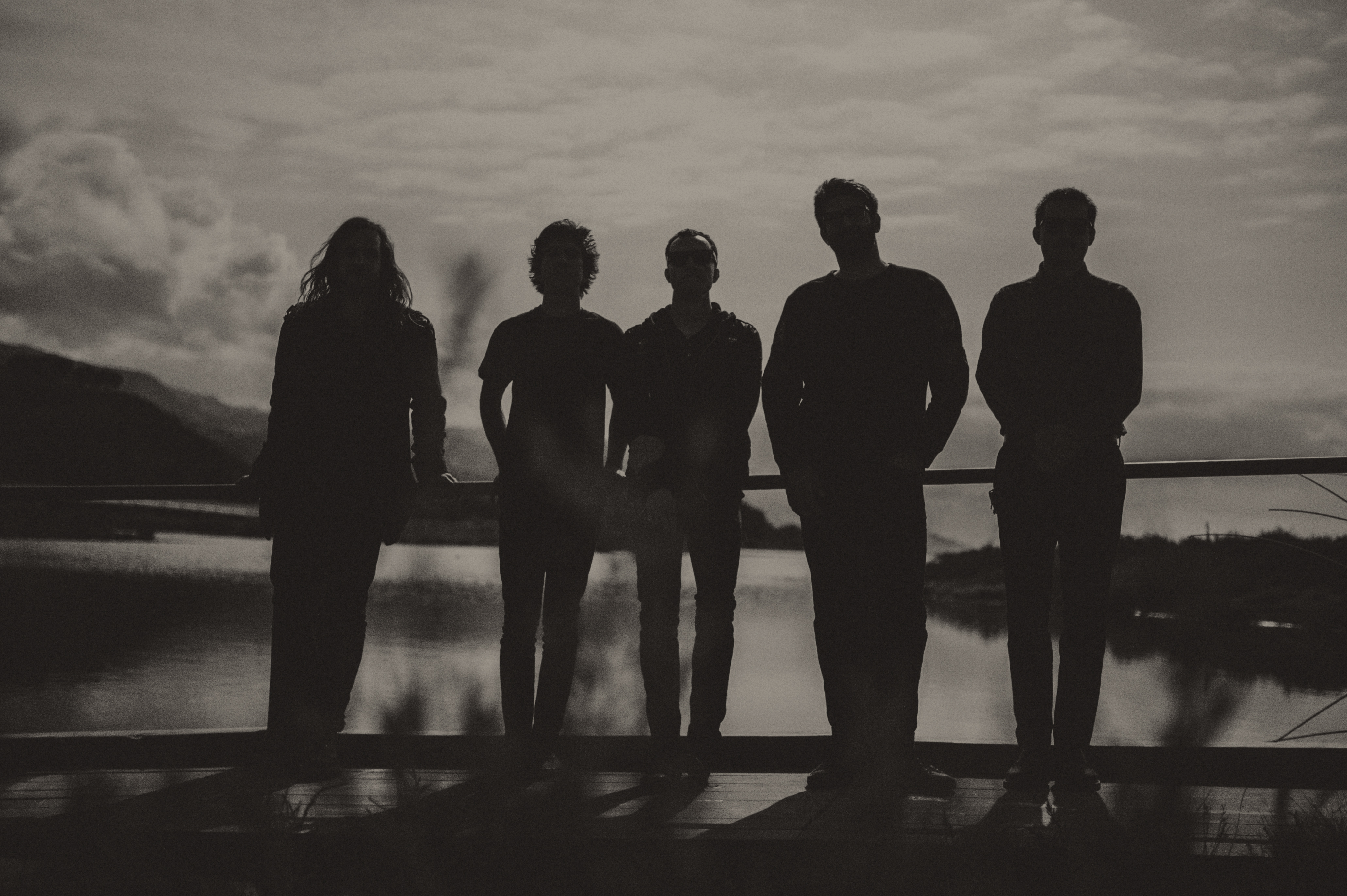 Bolm feels people who've followed Touché Amoré to this point will see Stage Four as a natural progression: "You get to your late-20s, early-30s, people start passing away." There's also the inevitability of fans hearing songs out of context; tilt your ear a certain way and sure, some of these songs speak to loss and guilt that could be about relationships.
And while death looms as the most common of all denominators, Stage Four is packed with unmistakable biographic detail — Bolm's mother Sandy died on Halloween of 2014 while Touché Amoré was onstage at Fest 13 in Gainesville, Florida. The exact moment where Bolm finds out is detailed in "Eight Seconds," where the frontman gets a text saying, "We need to talk when you have a chance." Rather than following through, he shakes hands with fans and talks shop. When he finally works up the nerve to call back, Bolm is told, "She passed away about an hour ago / While you were onstage living the dream."
Yet, one song later, Bolm realizes his mother had ambitions of her own. Sorting through her belongings on the first single, "Palm Dreams," he wonders, why did she move to California from Nebraska? Did Los Angeles seem as dreamlike from a distance as "going 65 on the 5 at 5"? (Sidebar: That kind of cruising speed is an impossibility in Burbank's rush-hour traffic, constituting not only the funniest Touché Amoré lyric ever written, but probably the only funny lyric.) "If this song inspires anyone to ask the questions they've never asked their loved ones, I'd call it a success," Bolm stated in a June interview with NPR.
The bulk of Stage Four finds Bolm trying to process the guilt, and whether it's even necessary to carry it. "I was told that you would not know, I was told that I was where you'd want me to be," he croaks on "New Halloween," written a year after his mother's passing. "But it's not that easy." At the song's end, he admits to being too scared to listen to the last voicemail she left him, which is played at the end of Stage Four's closing track, "Skyscraper," premiering today at SPIN. "I view it as closure," Bolm muses, explaining the tough decision to include the voicemail.
"Skyscraper" is a Touché Amoré song unlike any other — a dusky, gorgeous duet with the devastating folk artist Julien Baker (a former labelmate on 6131 Records and tourmate) that builds to Steinhardt and Stevens unleashing an all-consuming blast of blackened shoegaze catharsis. It's also a full disclosure of Bolm's love for the National and Leonard Cohen; Touché Amoré covered the former's "Available" for a charity compilation, and Bolm can be spotted at L.A. punk shows with a denim jacket adorned with a Songs of Love and Hate patch. It's not the subject matter that's most risky on Stage Four, but rather the method of delivery.
Though there's more than enough of Bolm's typical hoarse vocals, this is where Touché Amoré cross the threshold of singing, running the risk of serious blowback from fans who feel they've gotten too polished over the past two records. (Is Survived By and Stage Four are produced by Brad Wood, who helmed such '90s alt touchstones as Liz Phair's Exile in Guyville, Sunny Day Real Estate's Diary, and Smashing Pumpkins' Adore.)
Bolm feels the evolution shouldn't take anyone by surprise. His singing voice is a dour mutter with a bit of Kurt Cobain's serrated howl — Touché Amoré covered "Lounge Act" on a 2015 tribute to Nevermind. Meanwhile, the trailer for Stage Four foreshadowed a significant sonic departure with a clip from its penultimate track, "Water Damage," featuring clean, phased guitars, and no vocals at all, let alone screaming.
In spite of the heaviness, Touché Amoré are in a more positive mindset than usual on the verge of a record release. Steinhardt says all five members spent their downtime in the past few years "getting into fitness and general wellness" and Bolm felt they had total artistic freedom after the pressure-packed release of Is Survived By. Moreover, unlike the previous record, he believes that all of Stage Four's songs are fair game to make it into their live set. "I'm hoping it's more of a cathartic thing," Bolm says.
But how excited can someone be to play the same songs, night after night, about his mother dying? "Once you play a song a certain number of times you sort of become numb to it — I don't know if that's healthy," Bolm wonders, reflecting on whether he'll be able to channel the same knee-buckling intensity that went into making Stage Four. "But then, there's always going to be the moment you see the look on someone's face in the crowd as they're losing their mind. And it brings you right back."