Last month, Interpol's Paul Banks and Wu-Tang Clan's RZA confirmed that they were teaming up as a new duo called Banks & Steelz. They also released a new single called "Love & War" featuring Ghostface Killah.
Now, the pair have confirmed that they're putting out a collaborative album called Anything But Words featuring more big names like Florence Welch, Kool Keith, the aforementioned Ghostface Killah, Method Man, and Masta Killa.
Banks and RZA also revealed the album's track list and a series of tour dates, which you can check out below. They premiered the album's second single, "Giant," on Beats 1 with Zane Lowe earlier today. Listen below.
Giant #WorldRecord + Interview on @Beats1 w/ @ZaneLowe | Today 9:30am PT | https://t.co/N4vblZcJqt 🔪 pic.twitter.com/XPvlY5nfHJ

— Banks and Steelz (@banksandsteelz) June 9, 2016
Anything but Words track list:
1. "Giant"
2. "Ana Electronic"
3. "Sword In The Stone (Feat. Kool Keith)"
4. "Speedway Sonora"
5. "Wild Season (Feat. Florence Welch)"
6. "Anything but Words"
7. "Conceal"
8. "Love and War (Feat. Ghostface Killah)"
9. "Can't Hardly Feel"
10. "One by One"
11. "Gonna Make It"
12. "Point of View (Feat. Method Man and Masta Killa)"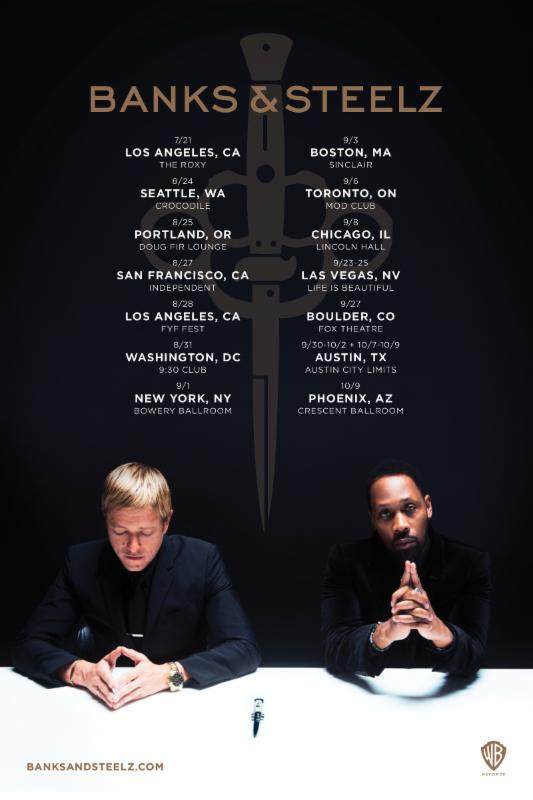 Banks & Steelz tour dates:
July 21 – Los Angeles, CA @ The Roxy
August 24 – Seattle, WA @ Crocodile
August 25 – Portland, OR @ Doug Fir Lounge
August 27 – San Francisco, CA @ Independent
August 28 – Los Angeles, CA @ FYF
August 31 – Washington, DC @ 9:30 Club
September 1 – New York, NY @ Bowery Ballroom
September 3 – Boston, MA @ Sinclair
September 6 – Toronto, ON @ Mod Club
September 8 – Chicago, IL @ Lincoln Hall
September 23 – 9/25, Las Vegas, NV, Life is Beautiful Festival
September27 – Boulder, CO @ Fox Theatre
September 30 – October 2 – Austin, TX @ ACL
October 7-9 – Austin, TX @ ACL
October 9 – Phoenix, AZ @ Crescent Ballroom