Now that all my friends are gone / I walk these streets, but don't belong / I'd keep the faith but I'm not that strong / There's so much I don't know
As I walk into the homey Inner Richmond apartment of Vetiver singer Andy Cabic three days before Christmas, the first thing I notice are the boxes lining the walls — an all too familiar sight in San Francisco these days. When asked about the changes the city has faced over the last five or so years, Cabic sighs and looks out the kitchen window toward the Presidio, a view that he soon would no longer be able to enjoy. "Artists would not be able to live here if it wasn't for rent control," he says. By New Year's Eve, his apartment building will change ownership and Cabic will be forced to say goodbye to the railroad-style apartment where he and his partner Alissa have lived for more than a decade. Everything was still uncertain when I spoke with him, echoing a refrain that the displaced San Francisco band Two Gallants used as the title of their 2015 piano ballad, "There's So Much I Don't Know." 
This scenario has gone from regular occurrence to cliché; evictions in the Bay Area have become the norm when they were once the exception. As rents have risen to the highest in the country — skyrocketing well past New York City, according to Zumper's National Rent Report from May 2016 — it has become increasingly expensive to live in San Francisco. The creative class has been hit hard, getting pushed to the outskirts of the city — most notably, the far western suburban Outer Sunset and southern Excelsior neighborhoods, both a considerable distance away from downtown. Many have crossed the San Francisco Bay to Oakland, where rents have been rising at an equal or faster rate over the past few years, now cracking the list of top-five most expensive cities in America. As a result of rent increases, Oakland has lost a quarter of its African-American population in the past decade alone. Many people have left the Bay Area altogether, journeying south to Los Angeles, north to Portland, or in some cases, across the country to New York. 
It's easy to focus on how the city itself has changed (just walk down the tree-lined and wine-bar-littered Valencia Street in the Mission), but hyper-gentrification has manifested itself in more subtle ways, cutting deep into the psyche of many musicians who once called the area home.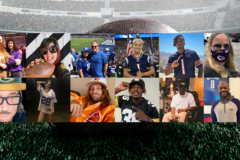 "It makes me really sad and, honestly, I try not to think about it because I love it so much," explains singer-songwriter Jessica Pratt, who moved to San Francisco from Redding, California, in 2007, when she was 18. "It's my home and it always will be, but I feel like I got kicked out." She's just one of the many musicians that have left San Francisco for Los Angeles, almost 400 miles down the long and desolate Highway 5. 
Though the timeline and rapidity of change is up for debate — Sonny Smith of Sonny & the Sunsets argues, "It's been hard to make rent as a musician since 1996 and it wasn't that it just happened three years ago" — the fact that the city has transformed into a playground for a young, wealthy startup class is not. The success stories of Facebook, Uber, and Twitter have been praised by our nation's leaders, immortalized by filmmakers. But as the region's tech industry grows at an exponential rate, its music scene is trending in the opposite direction. The creative class that put the City by the Bay on the map is quickly being squeezed out.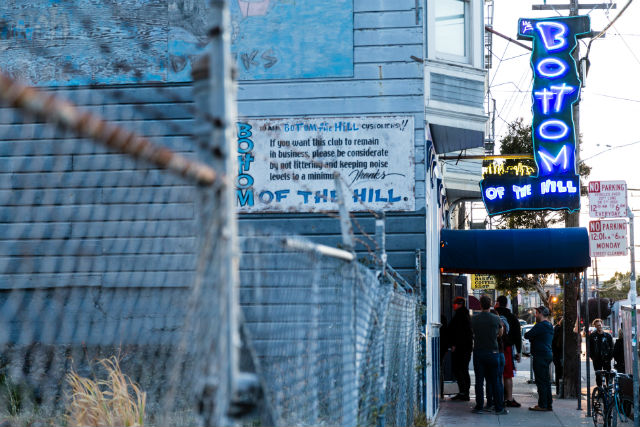 And nothing left makes sense to me / Why must they change what they came to see? 
San Francisco has always been a boom-or-bust town; the legacy of the Gold Rush of the mid-1800s is omnipresent, whether you're looking at the street names or listening to Silicon Valley's business leaders (substitute gold flakes with apps and semiconductor chips). And just as prospectors trekked to California in hopes of finding treasure in the mountains, so too are tens of thousands of recent college graduates. 
The cities surrounding the headquarters of the biggest tech companies — San Jose, Mountain View, and Palo Alto, to name a few — are suburban with well-regarded schools, little-to-no public transportation, and nice houses. The area is great for raising a family but, quite frankly, boring for millennials. (On a 2014 episode of HBO's Silicon Valley, one character, while driving past rows of cookie-cutter, single-story houses in Palo Alto, remarked, "Jesus! Why is it so expensive here? Look at this place; it's a s**thole!") 
Since the South Bay lacks the nightlife and cosmopolitan feel of nearby San Francisco, tens of thousands of tech workers decided not to live near their places of work, making them the highest concentration of "mega commuters" in the country. These people have consciously chosen to put up with one of the worst commutes in America — one that easily exceeds an hour each way — in order to live in one of the trendiest cities on Earth. Whereas most long commutes are born out of necessity, due to lower housing prices outside a major metropolis, this is the exact opposite. 
"Developers, who make up a large percentage of what's driving the culture and a large percentage of who's moving [to San Francisco], wake up at 10:30 a.m., get to work at 11:30, and stay until 7, 8, 9 or 10 p.m. — super late," says Brett Goldstein, a business strategy analyst at Google and musician on the side. "That's show time, when people are supposed to be going out and having fun." Though his daily travel time varies between an hour and forty minutes and two hours each way, his commute to his previous job, in San Jose, was much worse; Goldstein would have to take a train and three buses, which constantly broke down. As tough as these commutes prove to be, he estimates that 80 percent of the people under 30 at Google live in San Francisco. 
"I made it my priority to put normal sleeping hours aside and normal social life aside," says rapper Hoodie Allen, a former AdWords Account Manager at Google whose most recent album hit No. 1 on the Billboard Top Rap Albums Chart in February 2016. "I got on that bus at eight in the morning and worked there until six or seven [in the evening]. Oftentimes, I'd take a different bus to the Mission where I found someone to record my mixtape with from 7 to 11 p.m. and then grab a taxi or BART back home." He'd often work on his music until two or three in the morning. "It was like having two jobs." 
Because of long hours at work and, at times, an unbearably long, traffic-filled drive, fewer people can find the time to go out during the week. For the most part, the nightlife that attracts these young men and women to San Francisco is only available on the weekends. Lately, local venues across the city have been forced to go dark during the week more often than not. Fell Street between Van Ness Avenue and Franklin Street is now an ordinary block on most Sundays and Mondays; you'd never know that the Rickshaw Stop, one of the city's most beloved hole-in-the-wall venues, even exists on those nights. 
But even as smaller venues increasingly shutter their doors for the majority of the week, it's become harder to find bands to fill concert bills. Mission DIY staples like 12 Galaxies and SubMission have shut down, the latter of which was open for almost two decades. Café du Nord — which famously hosted residencies for singer-songwriters Joanna Newsom, Devendra Banhart, and Vetiver in the early 2000s — transformed from a raucous music hall to a restaurant that advertises half-priced champagne and oysters at midnight. There are still a number of places in which to play, though, including small rooms like Amnesia and the Make Out Room and the larger Slim's and Great American Music Hall. Smaller DIY venues like the ones that were commonplace about a decade ago in the Mission have begun popping up in Oakland. 
And, yes, there is new talent coming out of the Bay Area, including surf-rock band Hot Flash Heat Wave, math-rock/jazz experimentalists Feed Me Jack, chillwave quartet Air Surgeon, and Afrosoul artists Bells Atlas. But the overall number of acts seems to be down significantly, making it harder to fill a venue, according to Ramona Downey, booker and owner of Bottom of the Hill, a legendary 250-capacity venue in Potrero Hill. Other artists, like rappers Nef the Pharaoh and IAMSU!, R&B singer Kehlani, and tech-house DJ J.Phlip, are all up-and-coming local stars in their respective genres, but all venues, regardless of the genres they book, are feeling the sting of having fewer musicians in the area. Michael O'Connor, owner of multiple venues like the Independent and Brick and Mortar, says, "The bane of my existence right now is finding support acts to be on a bill — it's like pulling teeth. There are so few bands, so they're being way more selective."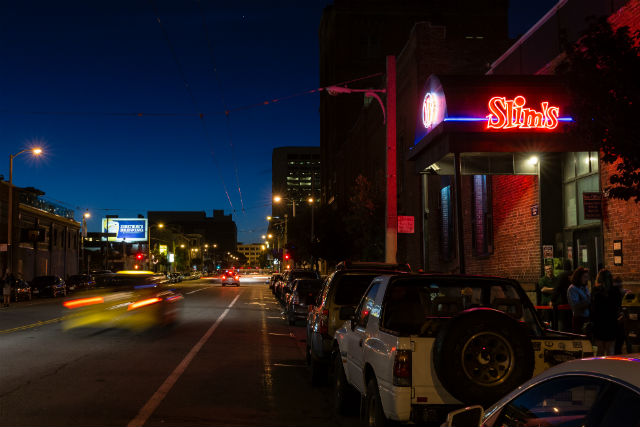 But I know you are special / Each so damn unique / If you weren't always talkin' / You might hear me speak
The Bay Area's musical history is as rich as it's varied. Nearly half a century ago, the Summer of Love blossomed with the Grateful Dead, Jefferson Airplane, and Janis Joplin, all of whom played the Monterey Pop Festival, just an hour south of San Francisco. About 25 years later, Mac Dre, E-40, Keak Da Sneak, and Mistah F.A.B. led the Hyphy Movement, one of the biggest regional hip-hop scenes of the late '90s, gaining national attention in the mid-'00s. The new millennium saw an explosion of electronic talent, including Kaskade, Tycho, and Dan the Automator. And with a tradition of mainstream success stories — Creedence Clearwater Revival, Journey, and Green Day, among them — the Bay Area's music scene has always been nationally recognized. Most recently, though, in the past decade or so, the city has been the site of a garage-rock eruption. 
Singer-songwriter John Vanderslice — along with the prolific Tim Bluhm, leader of psych-country band Mother Hips; garage wizards Kelley Stoltz and John Dwyer; and the cantankerous Mark Kozelek, of Sun Kil Moon and Red House Painters fame — helped lead the way for 21st-century San Francisco indie rock. Vanderslice owns and operates Tiny Telephone Studios, one of the most renowned analog recording studios in the country, responsible for albums by Death Cab for Cutie, Spoon, Sleater-Kinney, and hundreds more. Though many big-name acts have recorded in the cozy, wood-paneled, and trailer-esque building underneath an overpass of Highway 101, Vanderslice has given loads of local bands the chance to work in the same studio as their heroes. 
But he's felt the sting of the Bay Area's housing crisis, too; Vanderslice almost lost the studio two years ago when his landlord planned to build on the property. The 48-year old was lucky, though: San Francisco's complex zoning laws interfered and Vanderslice was allowed to stay. In January 2016, he opened a Tiny Telephone outpost in Oakland.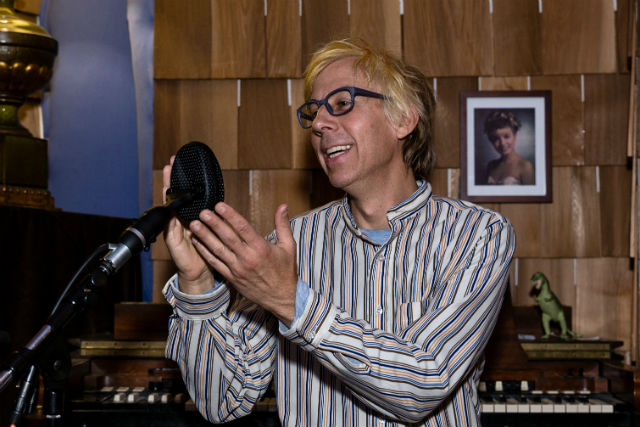 Though rent was much cheaper in the 1990s, living in the Bay Area was not as easy as people would like to believe, says Vanderslice. "Even then — 1990 — [San Francisco] was the most expensive option on the West Coast," he explained over burritos this past December. "[From] 1990 to 2000, it was one straight line to the tech bubble." 
While many musicians like the aforementioned Sonny Smith and Andy Cabic moved to San Francisco and the greater Bay Area in the late '90s and rose to prominence in the following half-decade, the dot-com bubble introduced a wave of gentrification as the tech industry first went mainstream. Dan Strachota, managing partner and booker of the Rickshaw Stop, compares the turn-of-the-century tech boom with the current one: "The music scene is a tree and the last one pruned the branches — some bands left town because they couldn't survive and a few condos moved in next to clubs and made it harder for them to survive because they said they had to put up more soundproofing and spend more money. This time, it's more like the tree has been ripped out by the roots." 
Mike Schulman, owner of Slumberland Records, which has put out albums from local favorites like Terry Malts, Weekend, and the Mantles, helped build the streaming site Rhapsody and worked at listen.com, a sort of a directory of mp3s. Now, he says, artists are alienated by the current tech industry, but it wasn't always the case. "They didn't feel locked out by [the first tech boom] — they were actually involved in it," Schulman recalls. "A lot of people I knew who were in bands or DJs — everyone worked for a tech company." 
Then, of course, the bubble burst between 2000 and 2002, and the San Francisco rock scene woke from its lull. In the years following the turn of the millennium, the next generation came to the city to make music, including Christopher Owens of Girls (who moved from Amarillo, Texas), Ty Segall and Mikal Cronin (both from L.A.), Tim Cohen of Fresh & Onlys (from Richmond, Virginia), and Michael Deni of Geographer (from New Jersey). They weren't all transplants, either: Art-rock outfit the Dodos and lo-fi garage-pop act Shannon & the Clams were just two groups that proved homegrown talent deserved the spotlight as well. 
But less than a decade after the Bay Area's music scene was revitalized in the wake of the tech boom-and-bust, many of the acts named above would leave the city's chilly fog for more affordable locales. 
Some may take the low road / Some may take the high / When I leave this city / Set it all a-fire 
The mid-to-late 2000s proved to be a renaissance of sorts for the Mission District, noted for its underground concerts, local venues, and widespread violence. Shaun Durkan, lead singer of shoegaze outfit Weekend, sums up what the Mission used to be like: "When I first moved to the Mission [in 2007], it was crazy. We moved onto 26th Street and that summer there were, like, five murders on our block, but there were house parties every night." 
All of a sudden, with Ty Segall, Thee Oh Sees, and Girls at the scene's forefront, music blogs and publications from across the country began to take notice of San Fran's fresh talent. Of course, as is always the case when a neighborhood becomes its city's cultural epicenter, prices skyrocketed. (See: Williamsburg, Brooklyn.) 
The average rent in San Francisco had been rising for years but the price increases from 2011 to 2015 were previously unseen in the city's history. According to Priceonomics, the median rent for a one-bedroom apartment in the Mission rose 90 percent in that four-year period, from $1,900 to $3,610. This trend wasn't confined to the Mission, either; rents grew 50 percent or more in 21 of San Francisco's 36 neighborhoods. 
Because of the high demand and low supply for property (space is limited, seeing as San Francisco is surrounded by the ocean on three sides), the city became largely unaffordable for anyone without a high-paying salary. It now takes about $200,000 for a family of four to live comfortably in the City by the Bay, according to a 2015 San Francisco Chronicle article.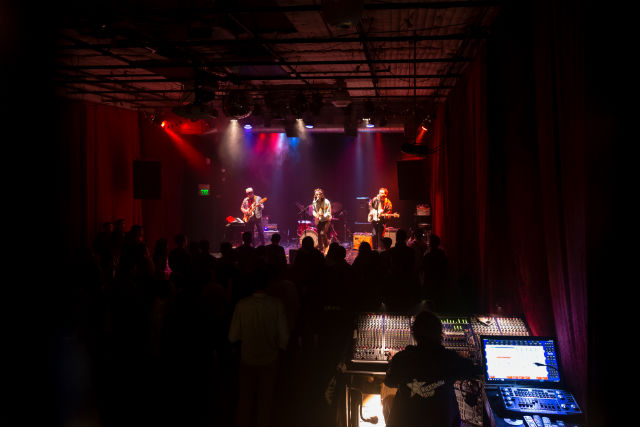 The two (relative) stars of the late-'00s and early-'10s San Francisco garage-rock scene — Segall and Dwyer — both moved to Los Angeles in '13 and '14, respectively. Segall bandmate Mikal Cronin followed suit, later joined by three of the five members of Deafheaven and many more. Some musicians even abandoned California completely: Weekend left for Brooklyn and Chaz Bundick of Toro y Moi recently relocated to Portland. Of those who stayed in the Bay Area, many hightailed it across the Bay Bridge to Oakland and Berkeley, like Adam Stephens of Two Gallants and Meric Long of the Dodos. Artists working in other genres were affected as well, including rising rapper Antwon, who moved to Los Angeles in 2015. 
"I would say more than 60 to 70 percent of people that I know have moved either through eviction, unaffordability, or frustration," said Shayde Sartin, bassist of both Sonny & the Sunsets and Fresh & Onlys, who's remained in the Bay Area despite being evicted twice. "One thing that doesn't get talked about is that a lot of artists don't want to live here anymore due to the assholes they have to tolerate. If I were a kid coming up today, I don't know if San Francisco would even be on the table as a city to move to make art and music." 
Garage-rock musician and producer Kelley Stoltz, originally from Michigan via New York, agrees. "I think that there were a lot of people who came here as painters, poets, dancers, and musicians, and the drive and motivation for being here was a creative one. There's a lot of money to be made in Silicon Valley and San Francisco if you've got the right idea, but the idea now isn't a nice, cool chord structure on a guitar that nobody's heard before or a beautiful painting or poem — it's about an app or something computer-related." 
And now that all the strange is gone / I walk these streets with blinders on / Life is short, death is long / And that's 'bout all I know 
San Francisco is a hard place to leave; its hills and picturesque coastlines tug at the heartstrings. "Moving out of the city was really difficult for me and a lot of people who aren't from there can't really understand it," Adam Stephens, frontman of Two Gallants, says, sighing. He moved to Oakland in 2013 after living in San Francisco his entire life. "Growing up in a place like San Francisco, we all knew that it was a special place even before we saw the rest of the country or the world." 
Says singer-songwriter (and former Girls frontman) Christopher Owens: "Even if someone was like, 'Your career will be so much easier if you moved to L.A.,' I wouldn't do it… That, to me, would be the definition of selling out. I have to live here." 
Though increasingly rare, there are a few musicians moving to the Bay Area to make music, including Husker Dü's Bob Mould, who came to San Francisco in 2009. Ironically, emerging dream-pop musician Jackson Phillips, known by his pseudonym Day Wave, recently moved to Oakland from Los Angeles because so many musicians had left. "I moved here because I wanted to start a new band and I wanted to do it in a place where there was no distraction, almost no scene or anything, nothing to influence me in any way," Phillips says. "I wanted the recordings that I like to influence me, not the other bands around [here]." 
Vanderslice is less optimistic about the possibilities for new musicians ("Impossible. Do not pass go. Get the f**k out of here," he warns), but everyone isn't as pessimistic. "I believe in miracles," says Shannon Koehler of blues-rock band the Stone Foxes. "They may have to work two or three times harder than we did and I thought I worked my f**king ass off. If they can make it, then they're animals." 
Camden Andrews, founder of Brouhaha, a budding house and techno underground party in Oakland and San Francisco, says that regardless of genre and talent, Bay Area concertgoers simply aren't supporting the acts that call the city home. "There aren't enough people that elevate the local guys to a level where they're getting national attention," he explains. "Electronic artists in San Francisco make it big in spite of, not because of, the listeners in San Francisco." 
The strange may be gone and the weirdos now a bridge away, but people shouldn't write off San Francisco. With loads of acts still in the area, as well as a good number of venues where performers can cut their teeth, the tech industry will never fully destroy the city's arts community. But while it's never easy for a band to make the jump from a local act to a nationally recognized one — the planets have to align at the exact right time — those odds have become significantly steeper for those living in the Bay Area.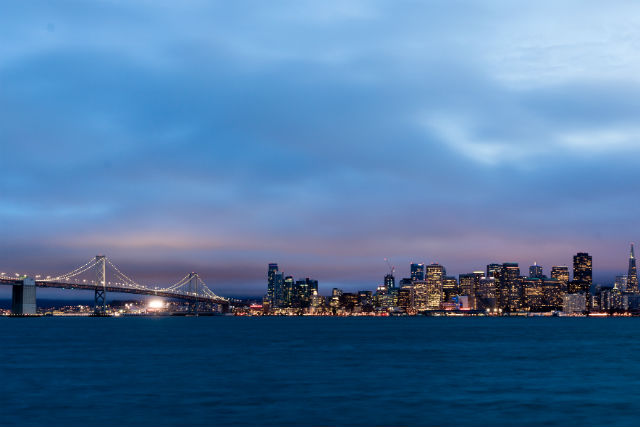 In his SF Weekly article "Want a Vibrant Music Scene in 2014? What Are You Doing Tonight?," writer Ian S. Port argues that "no one wants San Francisco's music scene to wither, certainly not your new neighbors who pay $3,150 just to live here in a tiny one-bedroom. But bitching about Google buses on Facebook, or even throwing rocks at their windows, isn't going to keep your favorite S.F. dive with a stage from becoming another overpriced furniture store. Only going there is." 
Venues may be turning off their lights and bands might be migrating elsewhere for supposed greener pastures, but only consumers and concertgoers can keep a local music scene alive. San Francisco might represent an extreme example of how gentrification impacts musicians, but this story is in no way confined to the Bay Area. Music scenes can't thrive without a loyal consumer base; the future of local music is in the hands of fans. 
So what are you doing tonight?