Afrika Bambaataa's legacy rapidly plummeted over the past few weeks after he was hit with multiple allegations of child molestation. The Universal Zulu Nation announced this past weekend that the musician, the organization's founder, has been removed as its leader.
Bambaataa, also known for the hip-hop classic "Planet Rock," has maintained his innocence through both written statements and also a recent radio interview. Last night (May 11), he addressed the allegations for the first time on camera with FOX 5's Lisa Evers.
"I never abused nobody," Bambaataa says. "It just sounds crazy for people to say, 'Hey, you abused me.' My thing is, you know all my people back then. You know all the people around me. If something like that happened, why you never went to none of them?"
Bambaataa also says he believes that there's an agenda behind the accusations.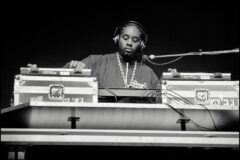 "It's hard to say what this many people are thinking," he says. "Some parts I seen that there could be shakeups and certain things people might've wanted."
The allegations began with 50-year-old Ronald Savage, who claimed in an interview with the Daily News that Bambaataa sexually abused him when he was 15. On April 16, the publication also reported that three more men had made similar accusations. On May 3, Shamsideen Shariyf Ali Bey, who purports to have been Bambaataa's bodyguard, told radio personality Star that the now-former Zulu Nation leader often hung out with boys, and claimed he had "walked in on stuff."
Police are not investigating the reported incidents, however, because they occurred beyond New York's statute of limitations, which does not allow child victims of sexual abuse to pursue charges after their 23rd birthday.