After being called out by masked EDM producer Deadmau5 for allegedly illegally torrenting music and editing software, Kanye West had some questions. Even though the two literally stood next to one another at the flashy TIDAL launch event to promote the streaming service and the importance of paying artists for their work (*cough*), 'Ye proclaimed to have no idea who Deadmau5 is. Here are Kanye's tweets on the subject, along with our answers to any queries he may have. We're just trying to help.

No, his name is pronounced "dead mouse."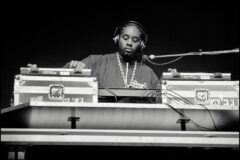 This is not how hashtags work.

One assumes that he probably checks the head, as it's too big to fit in into most airline's carry-on bag storage spaces. It does, presumably, get hot.

As seen in this picture of the inside of Deadmau5's helmet, no.

Deadmau5, it's worth remembering, accused Kanye West of illegally downloading a $189 beat-editing software that is made by a company that the producer co-owns.

Not necessarily.

You'd have to talk to his booking agent.

Disney and Deadmau5 have actually sued each other over copyright infringement issues, so it's unlikely that he has an officially licensed Minnie Mouse head.

Noted.

Kanye West claims in this tweet to be very detailed [sic] oriented, which is ironic given his next tweet…

…Because that is not TIDAL's official Twitter account, and the tweet pinned to the top of that page explicitly says, in English, "this account is not Jay-Z's TIDAL account. if there is a person misunderstanding, pls follow in this >>> @TIDALHiFi."
This has been a SPIN primer on Deadmau5.