For most of his life, Zachary Cole Smith has provoked strong reactions from people. The yellow-haired 31-year-old remembers that even as a kid, his fourth-grade teacher saw him as an irritant. "Anytime I would do anything that would let any of my personality through, she would just scream at me," Smith says in late January, over brunch at Williamsburg's Roebling Tea Room. Smith pinpoints that year as the one he started hating school, and then his anecdote takes a sudden turn away from childhood and toward the present: He says that his former teacher died a couple of years ago, after succumbing to cancer. "I kind of felt sad that I never… I don't know, never got to talk to her and figure out what was going through her head," he says, his delayed delivery sounding more thoughtful and less dazed than usual. "Like, how can you hate a 10-year-old?"
Twenty or so years later, Smith — who uses Cole as his first name — still draws ire; only now he does so not as a willful elementary-school kid, but as the frontman and architect of the Brooklyn-based DIIV, a band that's faced more than their share of controversy in their relatively short tenure. Earlier this month, the five-piece released Is the Is Are, the belabored successor to their 2012 debut album, Oshin. At 17 tracks, the new record is a feast, a make-up to fans who've waited nearly four years for a second full-length — they're rewarded with more than an hour's worth of fresh but familiar-feeling material. Skeptics likely won't warm to DIIV much based on Is the Is Are: It's an enhancement of its predecessor, clearly made by the same band and similarly replete with glistening guitars, krautrock pulse, and trancelike lyrics that always drift just out of reach. That's plenty for the faithful though, who are probably relieved that this band still exists at all, let alone in more formidable shape than before.
In the intervening years between albums, Smith remained a somewhat regular fixture in the media, despite his lack of new music. He's in the highest-profile relationship in indie rock, with 23-year-old singer and model Sky Ferreira, with whom he was arrested in September 2013, when cops pulled their car over and found Smith in possession of heroin. A little more than a year later, in December 2014, DIIV bassist Devin Ruben Perez came under fire after it was revealed that he had posted racist and homophobic remarks on the message board 4chan, the Internet's hate-speech-covered bathroom wall. All of this has made Smith an easy target for a callous and vocal chorus online — people who judge him for his struggles with addiction, who either resent his success or genuinely believe he doesn't deserve it, and who aren't afraid to let him know what they think. 
"I've never been mean to anybody in my whole life," Smith says. "When I acted out in high school and middle school, sometimes it was destructive but it was never, like, bullying… I don't understand all of the hate on the Internet."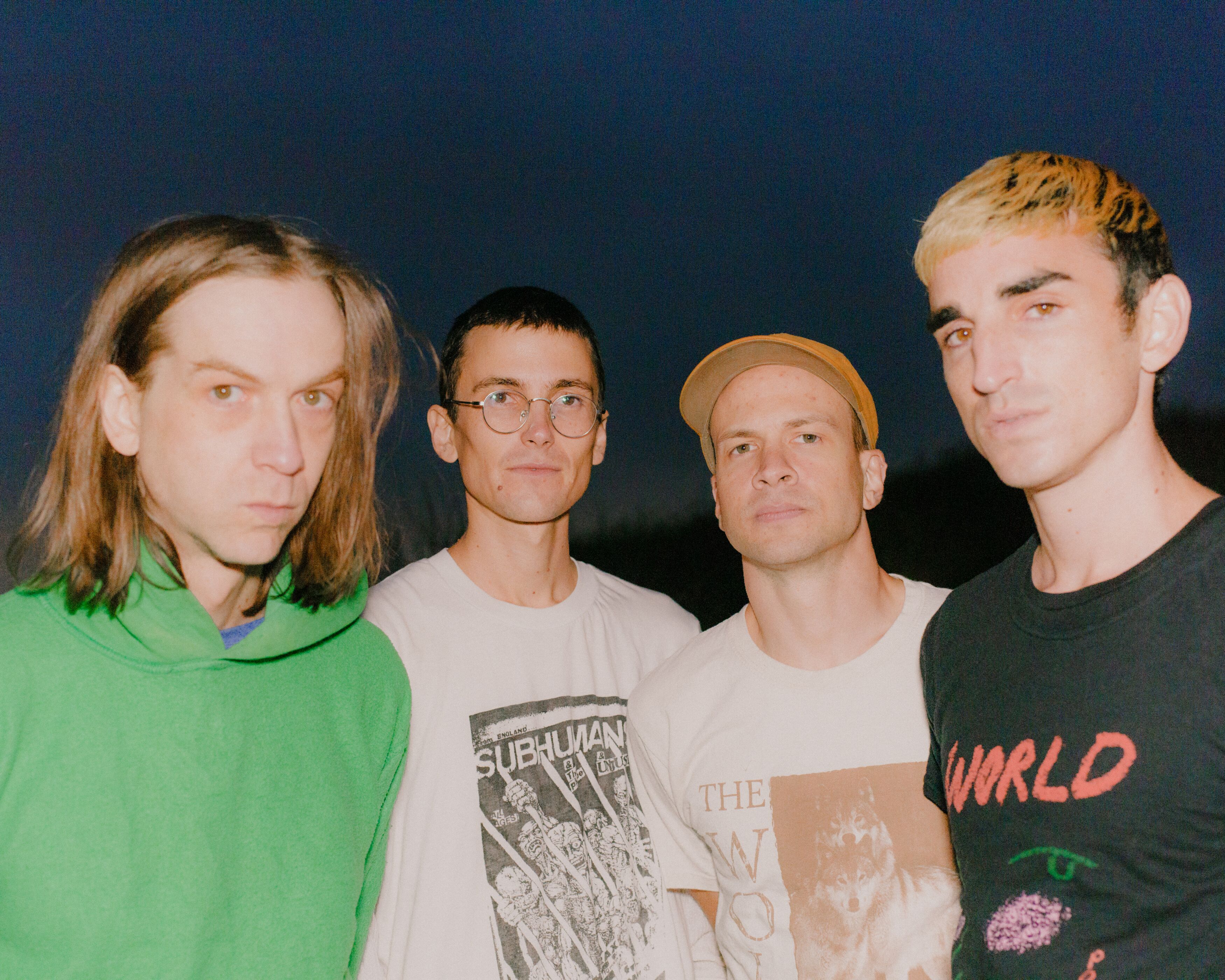 Born in New York City but raised in Connecticut, Smith admits that he had disciplinary problems as a teen, that he was basically "running wild." He bounced around a few different high schools; the first time he was expelled came after he and a friend were arrested on charges of criminal mischief, for breaking the windows of some trucks in a Wal-Mart parking lot. His volatility no doubt made parenting him a challenge for his mom and then-stepdad (Smith's father walked out on the family when Smith was a few years old and his younger sister was a baby), and Smith says he feels like he's still making it up to his mother, whom he happily calls his best friend. Despite the widely held belief that he's some spoiled trust-fund kid — which may very well just be something he fears to be a widely held belief — Smith insists he and his sister "never had any kind of luxuries or anything growing up," that they were part of a modest household anchored by a working single mom.
Smith went on to attend Massachusetts' famously open-minded Hampshire College, but got the boot after a little more than a year and ended up migrating to New York. He eventually fell in with a circle of musicians and joined a few different bands, including Beach Fossils, one of several promising, reverb-reliant Brooklyn groups that arose as the 2000s melted into the 2010s. Once Beach Fossils' well-regarded, self-titled 2010 debut helped them outgrow smaller shows that barely paid triple digits, he saw a need for a low-level rock band that could hypnotize crowds. So, in 2011, he decided to fill that need and started Dive (a nod to the Nirvana song of the same name), enlisting high-school friend Andrew Bailey as a second guitarist, Perez on bass, and Colby Hewitt, previously a member of indie-glam crew Smith Westerns, on drums. (Hewitt's since been replaced by percussionist Ben Newman.)  
"Being on drugs is not conducive to writing music," Smith says. "It sucks your creativity and it sucks your soul."
Soon enough, more gigs followed, along with a name change (to DIIV, a show of good faith toward a Belgian industrial act already called Dive) and a contract with local label Captured Tracks, onetime Beach Fossils home. "They were so energetic live," Mike Sniper, founder of Captured Tracks, says over the phone. "All of them were extremely animated, and the performance was great and really brought the songs to life more, and I was like, 'Oh, there's more potential in this than other Brooklyn reverb-y bands.'"
They certainly put the work in, as Bailey, 30, recalls. "All I remember about the beginning of DIIV," he tells me over Skype, "is working 50 hours a week at my dayjob as a dog walker, and then playing shows after my shift, like, every night. And if there wasn't a show, we had rehearsals every f**king night, just trying to sneak a nap on Cole's couch in between… [I remember] just always being f**king tired and exhausted, but then having a good time and rocking out."  
DIIV's first full-length, Oshin, arrived in June 2012, and by then the band had amassed a steady hometown following, after becoming a fixture at the now-shuttered DIY space 285 Kent. But being able to pair a tastemaker-approved album — one rich in melodies and consistent in tone — with a magnetic live show brought DIIV more exposure and a larger audience. Oshin also earned eyerolls from those who felt its surfgaze aesthetic was slight, derivative, and the product of a tired scene; but listeners attuned to the band's dreamy wavelength took comfort in the record's purposefully vague lyrics and washed-out vocals, its whirlpool of ringing guitars and post-punk rhythms. Hearing Oshin now, years later, the ache comes through clearer than before — its air feels dominated more by mournfulness than sea salt. It sounds as if you can hear the youth drifting out of someone's body with every breath, like watching fading sunlight ebb closer and closer to darkness.
[featuredStoryParallax id="183749″ thumb="http://static.spin.com/files/2016/02/diiv-zachary-cole-smith-is-the-is-are-new-album-interview-2-300×133.jpg"]
The year 2013 was not a good one for DIIV. In March, Smith shared a post on Tumblr complaining about the annual South By Southwest music conference in Austin, Texas, calling it a "glorified corporate networking party." His remarks got picked up, blogged about, and characterized as a tantrum; Smith responded on Twitter, saying that DIIV's shows were going well and he personally was having a good time, but was just uncomfortable with what was "obviously a huge corporate gang-bang." His comments and tone-deaf clarification weren't the worst PR disaster they'd suffer, but the coverage underlined a perception that Smith is still self-conscious of: that he and his bandmates are entitled types who weren't worthy or appreciative of the acclaim and platform they'd been given, modest as it all was.
But September brought the incident for which DIIV are arguably best known. "When I think about what really was the worst moment of my life, [it] was when me and Sky got arrested," Smith tells me in early December. "To add insult to injury, it suddenly was getting reported on every f**king website, magazine on the planet."
On September 13, 2013, Smith and Ferreira were driving in Saugerties, New York, on their way to perform at Basilica Soundscape, a musical festival located upstate, when they were pulled over by local police. A search of Smith's truck, which was unregistered, revealed a "plastic bag containing 42 decks of heroin," according to the crime blotter in the Daily Freeman, as well as ecstasy. They were both arrested and charged with criminal possession of a controlled substance, and their reputations seriously suffered as a result. Smith was mocked as taking his fascination with Kurt Cobain a bit too far, and Ferreira lost several modeling jobs, something Smith still harbors guilt over.
"I just feel bad that Sky had to go through it too because she didn't do anything," he says. We're at a bar in Williamsburg, not far from the apartment that he and Ferreira are currently sharing; the lighting's dim, the bartender enjoys blasting Television and Joy Division from the speakers, and the walls are lined with a dozen or so pinball machines. Smith's outfit adheres to his signature look: He's wearing a black DIIV sweatshirt that's at least two sizes too big, pillowing his small frame. "[Sky] wasn't out of control, I was. She was just there," he says, referring to the arrest. "I definitely just f**ked up her life, f**ked up my life. It was bad."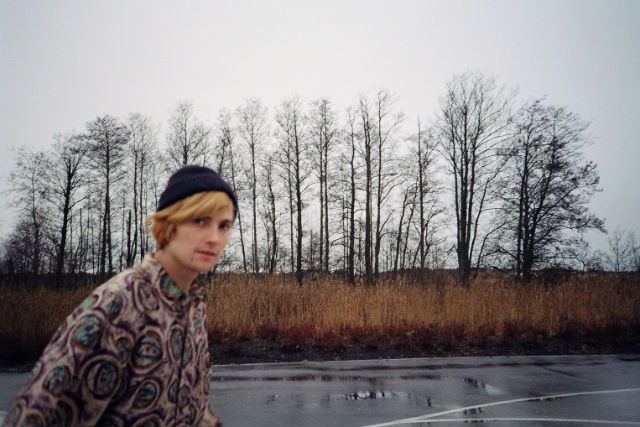 Ever since their run-in with the law, the hate directed at Smith and DIIV has been laced with more venom: people online wishing death upon them, hoping they'd overdose. "People trying to be clever while being as absolutely mean and hurtful and horrible as possible," Smith summarizes. "There's nothing I can do about it, but I have noticed that people want to hate us."
DIIV experienced another startling setback soon after the arrest, when Bailey suffered a breakdown and seizure after he tried to quit drinking suddenly. Luckily, he was hospitalized and then spent six weeks in rehab, recovering and fighting alcoholism. "When I was in there, I was like, 'Okay, [drinking's] done,'" Bailey says, letting out a hollow laugh. "'I can't do that anymore, obviously, because it almost f**king killed me.'"
Smith had his own stint at a detox center, a nearly two-week stay at a Connecticut facility around the start of 2014. "In a lot of ways [getting arrested] really was terrible," Smith tells me at one point during our time together. "But in other ways, it was a blessing in disguise because I was forced to go to treatment. I couldn't have this secret anymore."
Amid all of the personal and legal struggles, if DIIV were going to continue, they had to get back to making music. "After I did Oshin, I never thought I'd have to do another record," Smith says at the pinball bar. "It's like, 'I'm done and now I'm reaping the rewards, we're going on tour and I get to do all of this stuff.' It took a while before I even thought of the fact that I had to make a follow-up." Smith's drug problem didn't help with the creative process; when he was in the depths of his heroin addiction, around the time of the arrest, he was experiencing crippling writer's block. "Being on drugs is not conducive to writing music, you just can't," Smith says. "It sucks your creativity and it sucks your soul."
Within the band, there were some doubts about a sophomore record ever coming to fruition. "There were many, many moments in the last three years where I was like, 'Maybe it won't happen,'" multi-instrumentalist Colin Caulfield, 26, who joined DIIV in 2013, says over Skype. He lets out a laugh of relief mid-sentence, the kind you can only muster with enough distance. "For a variety of reasons, I was cautious. I didn't want to get my hopes up… I didn't know what was going to happen a year and a half ago."
The songs started to come together after Smith left rehab. As one might expect, the spectre of the frontman's drug use colors Is the Is Are; lead single "Dopamine" trades in the same sort of mesmerizing guitar swirls that powered Oshin's best tracks, but there's an urgency that DIIV lacked on record previously. Smith explores his addiction, lifting a line from Kurt Cobain's Journals ("Buried deep in a heroin sleep") and repeatedly admitting, "Got so high I finally felt like myself." That sort of dark undertow runs throughout the record, looming beneath its sun-streaked surface. "A couple of things on the record are about [how] right after I got busted, all my friends got freaked out, and either ran away or got all self-righteous," Smith says. "There was nobody that was there for me, except Sky."
Even with the songs written, finishing the album still took some time because Smith is (his words) "the absolute, most intense perfectionist-slash-control freak on Earth." He produced and mixed the record himself (with input from some collaborators), and while other members of the band say they feel comfortable voicing their thoughts, Smith has final veto power. He's completely devoted to DIIV, if that isn't obvious from him proudly wearing the group's merch; when we first meet in December, he's more than an hour and a half late because he had to sign off on the final artwork for Is the Is Are. (No one will ever accuse him of having the world's most accurate internal clock.) And what he's got now is a worthy second LP, a record that owes a debt to Fleetwood Mac's Tusk in length and Sonic Youth's Bad Moon Rising in tone, a fulfillment of his vision.
"A couple of things on the record are about right after I got busted," Smith says. "All my friends got freaked out, and either ran away or got all self-righteous."
There's a more practical reason to focusing DIIV on himself, though. "When that Devin thing happened," Smith says, "I realized I can only really take responsibility for myself." He's referencing the comments that bassist Devin Ruben Perez made on 4chan in December 2014. What he wrote is par for the course on that site and doesn't need repeating here, but people were immediately incensed and Smith was sickened. He tweeted from DIIV's official account, saying, "I will never EVER tolerate sexism, racism, homophobia, bullying, or bigotry of any kind. I'm doing everything to get to the bottom of this." Perez, who declined to be interviewed for this piece, tweeted that he isn't sexist or racist "and anyone who knows me knows that. I just said some dumb s**t on an anime message board." The day after the story broke, Smith tweeted, "I just want to make music and make people happy. I don't want this to kill the band I've worked so hard at building." 
Perez remains a member of DIIV, and Smith maintains that his friend isn't a hateful person. He's adamant that that kind of language is deeply upsetting and it's frustrating to him that it's now become a part of DIIV's larger narrative, but Smith also frequently points out the hypocrisy he sees in "all of these white kids calling Devin a racist. He lives life every day as a person of color and experiences racism all the time." He isn't necessarily excusing what was posted on 4chan, but is arguing that there's more context to the situation. "I know Devin and I know what he's been through. Devin lived on the street for ten years, he was abandoned by his family, he's experienced life in a really real way. He doesn't judge people," Smith says, before echoing a point he made to me a couple of minutes ago, almost as if he's repeating a mantra. "Ultimately, I can't say I want to take responsibility for every single thing he says and does, because he's not me. And I can only take responsibility for myself."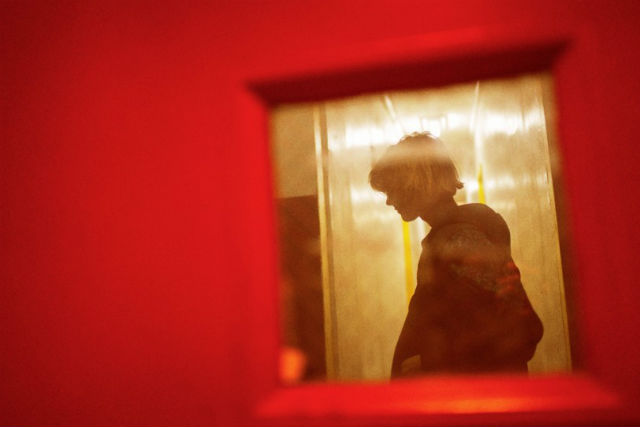 Just before Smith and I leave the pinball bar, Caulfield joins us. The two of them are flying to Europe the next day, to embark on a short burst of promotional appearances just before the holidays. They'll be performing songs from Is the Is Are acoustically, so they're going to rehearse a little at Smith's apartment. We walk the few blocks over to his place, which is located in one of the newer Williamsburg developments — spacious lobby, high ceilings — and isn't in the tidiest shape. It's tough to walk through the one-bedroom unit; racks and racks of Ferreira's clothing are obstructing the path from the front door to the couch, which is also covered with piles of miscellania. A poster from one of DIIV's earliest gigs — back when they were still called "Dive" — is laid out next to the couch.
After a few minutes of conversation, Smith and Caulfield sit in front of a laptop with their guitars and start playing a version of "Dopamine," listening to bits of the album version on the computer in between takes to compare. They're both focused, strumming along, getting in synch with each other and trading feedback as they figure out the pacing. They do this for about an hour, switching at one point to "Healthy Moon," a looping highlight from the album's second half. Watching them practice, hearing Smith sing with his gentle, brittle whisper of a voice, it's clear how consumed he is by his band and his songs, and I'm reminded of something he said earlier that day in December, when he was reliving his darkest private moments.
"I feel so lucky," he said that afternoon, "that I'm in a position where I can take all this negative s**t and turn it into something cool, something positive."