"There never was a plan."
That's the most frequently echoed sentiment when talking to Chumped, the now-former pop-punk fourpiece, on Saturday night, hours before their final show together. The band announced via Facebook in late October that they would be going on indefinite hiatus, bringing to an unexpectedly abrupt end one of the most promising young careers in DIY punk. Tomorrow starts forever for the group's post-Chumped lives, but tonight in Brooklyn, they're still four friends in a band, amazed they even got here in the first place.
"Everything that we got to do was like the new coolest thing we got to do," says bassist Doug McKeever. "This band was a lot of high-water marks," agrees guitarist Drew Johnson. "The next thing that happened, I was [always] like, 'Well, if we break up next week, at least we got to do this thing…'"
Whenever a much-loved group breaks up, it hurts. But it stings more with a band like Chumped than, say, with a 30-year-veteran band like R.E.M., where it's hard not to feel like you've already gotten something close to the whole story. The tale of Chumped is not one of rise-and-fall; they had barely even started the "rise" part. The quartet formed in Brooklyn earlier this decade when Johnson, singer Anika Pyle, and drummer Dan Frelly — all now in their mid to late 20s — moved east from Colorado, meeting the New Jersey-born McKeever when he and Pyle worked together at a farmer's market. In 2013, they played their first shows and released a self-titled EP, gaining a following on BandCamp and in the New York underground for their unguarded songwriting and heart-punching melodies. In 2014, they released their debut LP, Teenage Retirement, mixing power-pop sinaglongs with devastating emo balladry (sometimes in the same song), enrapturing fans and receiving some critical acclaim as well.
Then, in 2015, they decided to split. And that's it. When Johnson and McKeever talk about career peaks, they're not talking about playing Saturday Night Live, getting nominated for a Grammy, or having a radio hit — the band did none of those, nor did they come particularly close. When Anika belts, "I would wait for you all summer" over sun-baked guitars on Teenage Retirement single "Hot 97 Summer Jam," it resonates like "I think I'd be good for you, and you'd be good for me" did in '96, or "That's what you get when you let your heart win" did a decade later. But times are different for guitar rock now than they were when Weezer or even Paramore broke out, and it's possible that playing to small, devoted audiences at basement venues was as big as Chumped would ever get. But getting denied the chance to ever find out what they might have been capable of still smarts.
It's also tough to accept because the band doesn't offer a totally satisfying reason for dissolving. "There were a lot of things," Johnson explains. "We just always told ourselves, if it wasn't fun anymore, then why do it?"
Anything specific? "Just starting to get to a point where I think it was starting to put pressures on a lot of us, in a lot of ways," he vaguely elaborates. "It didn't feel the same as it did before."
Fact of the matter is that for Chumped, deciding to break up seemingly so early in their journey makes sense, because they didn't set out to do more than they've already done. What they are referring to with those "high-water marks" was getting to tour, putting out an album, having fans yell their songs back to them — just making an imprint. They had the songs to be massive — in a different era, at least — but not the goals. For a rock band to find mainstream success in 2016, you need more than great singles or albums: You need a little luck, and a whole lot of crossover ambition. That wasn't Chumped. They didn't dream bigger than playing on the same bill as teenage heroes Saves the Day. They didn't see the need to.
Having accomplished what they never even set out to accomplish, they're calling it an early day. The band had originally intended for their November 1 set at the Fest in Gainesville, Florida to be their swan song, but after some internal deliberation, they decided to give themselves a 2016 sendoff at Suburbia, a maybe-200-capacity venue that served as Chumped's Brooklyn home base. "This feels more natural, to kind of finish where we started," says Frelly. "Three years ago from last night was our first show ever. We didn't plan that at all, it was just serendipitous. But I think it really helped with closure… [being] with friends, at a place that feels like home."
Chumped originally planned just the Saturday night show, but after demand for tickets was so strong, they added a Friday performance as well — one that was a bit rushed, given that Johnson had just flown in from Denver that day and the band had no time to rehearse, but which the group views as a success. "'Endearing sloppiness.' That's the Chumped mantra, I think," jokes Pyle. 
It's also the prevailing tint for the Saturday show, which features previous tourmates Adult Dude, a Smiths tribute band fronted by local comedian (and avowed Chumped fan) Chris Gethard, and folk hero of the local underground Jeff Rosenstock, who the group considers a mentor. Gethard feigns a bad Mancunian accent as a  Morrissey stand-in and verbally spars with Smiths haters in the front row. A fan calls out for Rosenstock to play Weezer's "My Name Is Jonas" while he tunes up, and his band actually gets halfway through their "accidental cover" before running out of gas. The crowd is shoulder-to-shoulder with teens and young adults in hoodies advertising like-minded groups, and the friends and business associates that the members of Chumped mingle with before the show are indistinguishable from the kids about to watch one of their hero bands take the stage for the last time.
It's a familial atmosphere at the intimate venue, but with the space packed to its narrow walls with bodies and only one ineffective air conditioner for relief, it's getting a little too intimate by the time Chumped actually begin their set around 11:30. Eyeglasses throughout the crowd are fogging over due to the room's humidity, and on stage, you can practically hear the band — Pyle's vocals in particular — melting in the oppressive heat. "This is the closest I've ever felt to death," Johnson attests after slogging through one of their more unforgivably fast-paced numbers.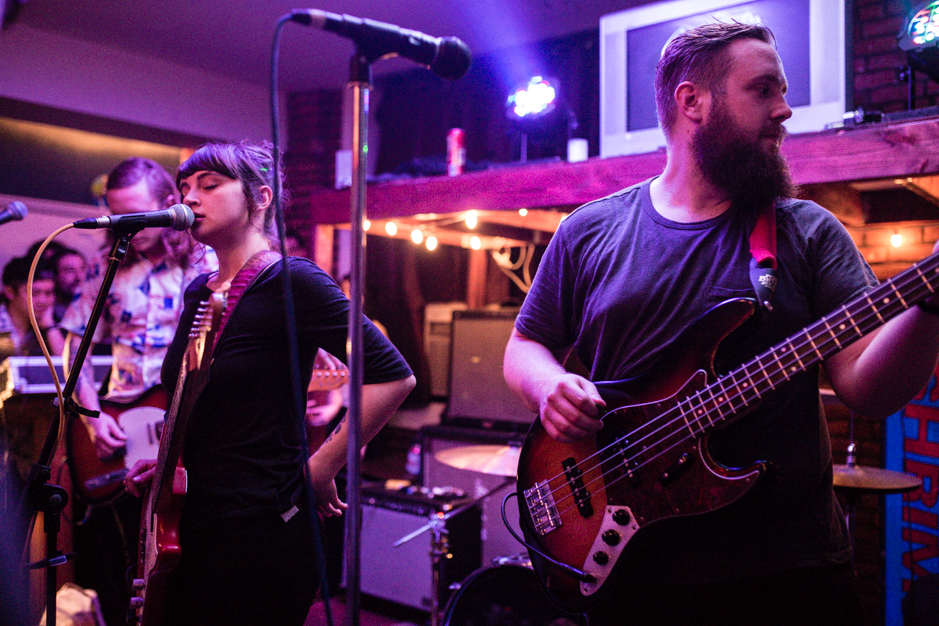 But the crowd offers their support, attempting to rev the band back up with mid-song chants of "CHUMPED! CHUMPED!" Emergency relief is provided with a crate of water bottles, and someone finds a pair of scissors for the group to transform their clothes into cutoffs. Chumped plays on, and the fans continue to power them through, some crowd-surfing so wildly that they dislodge a light fixture in the ceiling.
Hearing them play through the majority of their hour-plus of recorded material, you realize how many of Chumped's best songs feel like they're about capturing the feeling of a time that's already started to fade. Appropriate for a band whose lone album is titled Teenage Retirement, they traffic in the heavy emotions and eternal uncertainty of youth, but already with an eye towards what invariably comes next. Their sentimental core is in universally relatable moments like the "We drank and we talked s**t and I was happy" chorus to Retirement's "Name That Thing," but they also fear dwelling so long in those moments that they never move forward from them, ending up like the "Old and Tired" woman of the album's closer.
https://youtube.com/watch?v=i40NcyvpYVM
"Part of the process of closure on something like this is understanding the significance and validity of a specific record or time," Pyle theorizes before they take the stage, "and [making] peace with the fact that it changes over time." Tellingly, the group's final recorded song — January's "Not the One," a bittersweet BandCamp one-off whose chorus features Pyle closing the door on a relationship — wasn't some planned final statement, but simply a Retirement castoff they'd forgotten about until recently, its deep wells of poignancy and maturity about moving on are just natural for them. Chumped's seemingly premature split might not need any further explanation than just being kinda on-brand.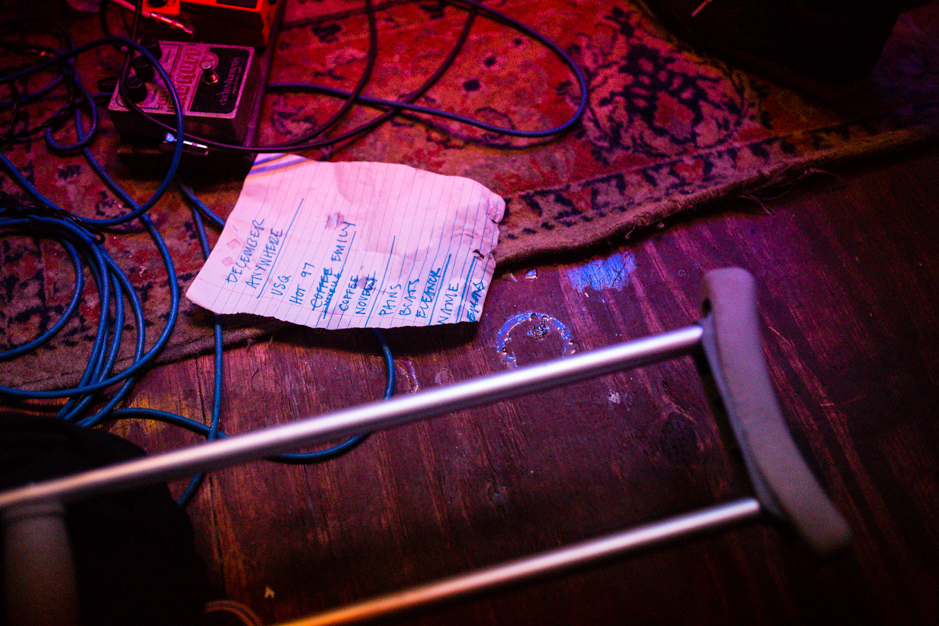 The tone of their final evening as a band is anything but mournful, though. Johnson had called the previous night's show "a celebration," and that's what Saturday feels like, too. It's a celebration of the DIY scene, and all of the new friends and family they've picked up over three years — which also stretches to far-flung locations like Austria, and one fan from Atlanta who Pyle tearfully tells me once wrote to the band to "thank us for saving his life." It's a celebration of having the privilege to end your band while you're all still friends, with more good memories than bad, and of life going on afterwards. (Pyle and Frelly are already making music together as Katie Ellen, while Johnson is in Colorado-based bands Your Loss and Spoiling, and McKeever is focusing his energy on making beats.) More than anything, it's a triumph of music making a difference in people's lives — of how one-and-a-half albums of great rock music is more than enough for a recorded legacy worth remembering, of how connecting with 200 people in a basement gig is just as real and important an accomplishment as headlining Coachella. (Which, McKeever quips, the band would reunite to do, "if they give us enough money.")
Chumped close their final gig with their self-titled EP's "Something About Lemons", the nearest thing they ever had to a hit, which basically just means it's their most popular song on Spotify. But with the band overwhelmed by emotion, and physically overwhelmed by friends rushing the stage to turn the performance into a big group hug, they can't make it through the final chorus — which their fans happily shout for them. And they always will.