Correction: An early version of this post called Viagra a painkiller. It has been amended.
New information obtained from a police search of Scott Weiland's tour bus has revealed possible details about the late Stone Temple Pilots and Velvet Revolver singer's final hours. A search warrant from police in Bloomington, Minnesota, obtained by Billboard, says that an unnamed "friend" of the band went to check on Weiland on Thursday, December 3, after his wife called after being unable to contact him. The friend found Weiland, alone and unresponsive, in the bedroom of the tour bus, which was parked at the Country Inn & Suites. He called 911, and officials pronounced Weiland, who officially died of cardiac arrest, dead at 10:27 p.m.
[articleembed id="174024″ title="Scott Weiland's Ex-Wife: 'Don't Glorify This Tragedy With Talk of Rock and Roll'" image="174025″ excerpt="When Scott Weiland, the frontman for the Stone Temple Pilots and Velvet Revolver, died…"]
The warrant goes on to reveal that an "unknown white substance packaged in baggies" was found "located in the bedroom in plain view." According to Billboard, police separately confirmed that there was cocaine on the bus. Authorities also discovered a "baggie with green leafy substance," Viagra, sleeping pills, and Ziprasidone, which is used to treat symptoms of bipolar disorder.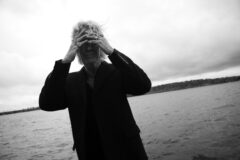 Weiland's funeral is being held today, according to Instagram photos posted by the wife of former Velvet Revolver bassist Duff McKagan, who said she was on the way to the ceremony. "Today is your funeral, and a very difficult one for Duff N' I and so many others. We love u Scott," she wrote. (h/t Alternative Nation)