Future treated hip-hop like his own personal social media platform in 2015, firing off mixtapes, albums, one-offs, and guest verses the way that most people dispense favorites likes on Twitter. Since the calendar turned on January 1, the list of songs the man born Nayvadius Wilburn has appeared on has swelled to damn near triple digits in length — with a new song as recently as last night — and we still have nearly two weeks to go before the year's officially up.
In tribute to our Rapper of the Year's uniquely productive 2015, we've ranked all 96 songs he's contributed to as a guest or lead artist this year— anything that's been officially released with Future's name on it. Check out our list below, and cross your fingers that 2016 brings with it another 12 months of March Madness.
96. "UFO" (w/ Timabaland and Tink) (Non-Album)
https://youtube.com/watch?v=sdKR2bKRcgk
As in "U Fuckin' Other (Niggas)." Song is as vile as acronym suggests. — ANDREW UNTERBERGER
95. "Dedicated" (By The Game) (The Documentary 2)
94. "Everything That Glitters Ain't Gold" (By Hollywood) (Non-Album)
93. "U the Only One" (feat. Finesse Gang 101) (Non-Album)
92. "I Swear I Never Tell Another Soul" (By DJ Khaled) (I Changed a Lot)
91. "Mean to Me" (By Zona Man) (Non-Album)
90. "Problems" (By Shawty Lo) (Non-Album)
89. "My Niggas Interlude" (By Juvenile) (Mardi Gras 2)
88. "El Chapo" (By Casino) (Non-Album)
87. "Crystal" (By Kaaris) (Le bruit de mon âme')
86. "Freaknic" (By Mila J) (Non-Album)
85. "Payback" (w/ Juicy J, Kevin Gates, & Sage the Gemini) (Furious 7 OST)
Well, at least it's not "See You Again," but it's about as bland in its muscled-up "Lose Yourself" riffing (and sub-"Monster" drum shuffle) as the Wiz smash was in its mawkish balladry. — A.U.
84. "I Don't Play About My Paper" (By DJ Khaled) (I Changed a Lot)
83. "I'm Sure of It" (By Lil Don Loyal) (Non-Album)
82. "Whitney Houston" (By Casino) (Ex-Drug Dealer 2)
81. "High Fashion" (By Travi$ Scott) (Non-Album)
80. "Dem Skrapz" (By Waka Flocka Flame) (Salute Me or Shoot Me 5)
79. "I Ride" (By DJ Khaled) (I Changed a Lot)
78. "Film" (By Juicy J) (Blue Dream & Lean 2)
77. "Say That" (By Casino) (Ex Drug Dealer 2)
76. "You Can See" (By Jadakiss) (Top 5 Dead or Alive)
75. "Hey There" (By Dej Loaf) (…And See That's the Thing)
Future's been on effective puppy-love duets in the past, but "Hey There" is too much of a compromises too much in the name of nondescript mash-noting. In the year of "Trap Queen," we all can do better. — A.U.
74. "Aww Man" (By Lil Bibby) (Free Crack 3)
73. "Foreva Eva" (Beast Mode)
72. "Bellucci" (By Booba) (D.U.C.)
71. "Groupies" (DS2)
70. "MMM" (By Puff Daddy) (MMM)
69. "Da Fam on Da Gram" (Skit) (56 Nights)
https://youtube.com/watch?v=NAehjbtHhco
A Godfather-themed goof about Instagram stalking ("We followed you and then unfollowed you right back!") that doesn't last a second beyond its tolerability. Amusingly preposterous enough to almost make you nostalgic for the pre-iTunes halcyon days of rap skit ridiculousness. — A.U.
68. "You Mine" (By DJ Khaled) (I Changed a Lot)
67. "U Did It" (By Chris Brown) (Royalty Deluxe Edition)
66. "Diamonds From Africa" (56 Nights)
65. "Can't Lie" (By Ralo) (Non-Album)
64. "No Basic" (Beast Mode)
63. "Cross Me" (By Lil Wayne) (No Ceilings 2)
62. "Colossal" (DS2)
61. "Hit It Raw" (By Young Scooter) (Juggathon)
60. "Neighborhood Drug Dealer" (Remix) (By Rick Ross) (Non-Album)
59. "56 Nights" (56 Nights)
58. "Don't Call My Phone" (By Young Scooter) (Jug Season)
57. "I Ain't Going Back Broke" (By Mavado) (Non-Album)
56. "Jersey" (What a Time to Be Alive)
Future's one solo cut on his and Drake's collaborative album doesn't make as much of a statement as Drizzy's "30 for 30 Freestyle" — statement-making isn't really Future's jam anyway — but its twinkling beat is probably the closest sonic approximation of What a Time to Be Alive's diamond-encrusted cover, and "You do what you want when you poppin'" is a pretty right-on summation of the rapper's 2015. — A.U.
55. "Stick Talk" (DS2)
54. "Where I Come From" (Beast Mode)
53. "Oooooh" (feat. Young Scooter) (Beast Mode)
52. "Scholarships" (w/ Drake) (What a Time to Be Alive)
51. "Ball Like This" (By L.A. Leakers) (Non-Album)
50. "3500" (By Travi$ Scott) (Rodeo)
49. "Free At Last" (56 Nights)
48. "New Level" (By A$AP Ferg) (Non-Album)
47. "Lil One" (DS2)
46. "Drive By" (By Curren$y) (Canal St. Confidential)
45. "Get High With Me" (By Waka Flocka Flame) (Non-Album)
Waka invites Future and his air-raid siren along to his Electric Daisy excursion with buddy DJ superstar Steve Aoki, with surprisingly undisastrous results — Aoki (and DJ Whoo Kid) don't drop the beat as expected, they just grime up the bass and throw an eerily trilling vocal in the background. FuturEDM will have to wait; for now, this dirtiness will have to do. — A.U.
44. "I'm the Plug" (w/ Drake) (What a Time to Be Alive)
43. "Simple Things" (Remix) (By Miguel) (Non-Album)
42. "Purple Coming In" (56 Nights)
41. "Rich $ex" (DS2)
Being rich and having sex are two really fun things, and yet they don't feel so good when Future's mutated voice cracks when he describes his fantasies: "Have some Tom Fords on while you suckin' me." The audacity of the guy's willingness to show us how empty he aspires to be is hypnotic. — DAN WEISS
40. "Last Breath" (Creed OST)
39. "Take Advantage" (By Rick Ross) (Black Dollar)
38. "Blow a Bag" (DS2)
37. "Live From the Gutter" (w/ Drake) (What a Time to Be Alive)
36. "Fine Whine" (By A$AP Rocky) (AT.LONG.LAST.A$AP)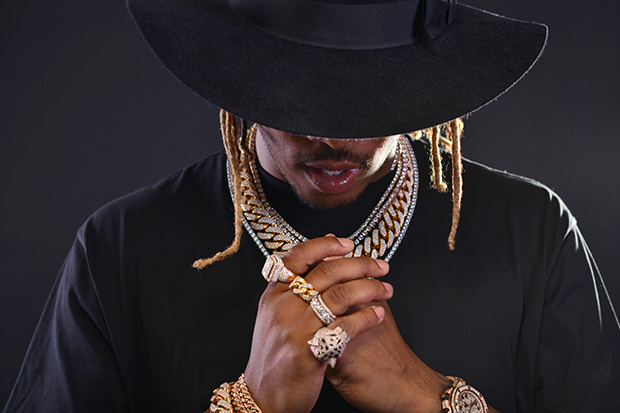 35. "Now" (56 Nights)
34. "Play With Them Keys" (By Young Scooter) (Juggathon)
33. "Lay Up" (Beast Mode)
32. "Drinks on Us" (By Mike WiLL Made It) (Ransom)
31. "Aintchu" (feat. Juvenile) (Beast Mode)
30. "Mi Combo" (By Yandel) (Non-Album)
https://youtube.com/watch?v=dKQuaKF68Jg
Puerto Rican reggaeton duo Wisin y Yandel were one of the biggest Spansih-speaking acts doing it before they went on hiatus in 2013, so it only makes sense that the latter crooner swept up one of rap's biggest titans for the solo assist. Did we ever think we'd hear Future rhyming over tropical 808s? Not really, but the double "Shorty so bilingual" bars are worth every head scratch. — BRENNAN CARLEY
29. "Freak Hoe" (DS2)
If not the most hedonistic song on DS2, "Freak Hoe" certainly lounges in the album's high-priced private suite. That's where the windows are blacked out, the lighting's dim, and the especially cinematic track (put together by ATL producer extraordinaire Metro Boomin) climbs out from the speakers, almost like a K'NEX set assembling itself. It's where the conversation includes stick-up talk and foggy recollections of the night before — and how it can be topped tonight. — KYLE MCGOVERN
28. "No Compadre" (56 Nights)
The second verse of this one starts with Future's most on-brand proclamation of the last 12 months: "I'm not excited." If 2015's remembered as his year in a Biblical sort of wilderness, it's important to remember that even God's son himself had to go through the same thing. And even he didn't emerge with a message so ebullient as this chaotic kiss-off. — COLIN JOYCE
27. "Slave Master" (DS2)
https://youtube.com/watch?v=P9KDbbx_kKc
"Slave Master" contorts its titular idea to fit Future's rhymes about hopping out the whip, and the rest of the track dipping into the jewels'n'drugs-stuffed backpack Future's had slung around his shoulders for the past few years. But the outro that pays tribute to fallen friends ("Do it for Double he gone / Long live A$AP Yams") ends things in an unexpectedly reverent way. — B.C.
26. "Jump Out the Face" (By Meek Mill) (Dreams Worth More Than Money)
"Jump" may be a Meek Mill song, but Future completely takes over with his boastful codeine-laced guest verse. Leave it to him to make bragging about hardcore drugs practically dragging him to hell ("Just took a perc now I'm on another level / Tasting on the molly got me dancing with the devil") sound infinitely cool. — BIANCA GRACIE
25. "Change Locations" (w/ Drake) (What a Time to Be Alive)
"Change Locations" was basically the "Search and Destroy" of 2015, rap's streetwalking cheetah rampaging through the clubs of his hometown, emptying out their champagne reserves and serial-f**king all women in and around their vicinity. If his heart isn't full of napalm, you'd shudder to think what it actually consisted of. — A.U.

24. "Digital Dash" (w/ Drake) (What a Time to Be Alive)
Even as watery takes on his marble-mouthed melodicism dominate the charts, Nayvadius Cash pushed further into bleary bars delivered just this side of the dream world. And "Digital Dash" was his slurriest moment in a year full of them. He sands down words to their catchiest components, again proving himself the master of f**ked phonemes and nonsense mantras. — C.J.
23. "Just Like Bruddas" (Beast Mode)
Zaytoven flexes his soft side with this gorgeous, piano-heavy beat, the number of layers waxing as the song progresses. Future matches Zay's sentimental mood with Auto-Tuned crooning, showing off a kinder, more caring Nayvadius — one who speaks about his roots with as much sentimentality as Scarface did on "On My Block," making "Just Like Bruddas" unlike any other Future song this year. — OLIVER KINKEL
22. "Rotation" (DS2)
https://youtube.com/watch?v=rJicwkEKohs
The Blade Runner boot stomp of Southside and Metro Boomin's dusky productions proved the perfect vehicle for Future's existential ruminations, and "Rotation" is the pair's finest collaboration. With synthesizers that breathe, sway, and lean like the world's wooziest new-age tapes, the instrumental here provides a stark, dizzy backdrop for Future's codeine-noir bars. He's even more striking in the half-light. — C.J.
21. "Kno the Meaning" (DS2)
The twilit piano tricks you into thinking you're about to hear Aphex Twin's "Avril 14th," or at least Kanye's "Blame Game," until that familiar airhorn sounds, and Future chronicles his memoirs more artfully (and tearfully) than any ranked list or year-end essay could. His kingpin uncle. His jailed DJ. And his freedom from Ciara. He says the best thing he ever did was fall out of love. But know the meaning: how he says it tells otherwise. He went through a lot of pain to get on top, and the top didn't cure what ails him. And if he gets another three-peat like 2015 out of it, he won't care. — D.W.