A couple of weeks ago, Yo La Tengo started a Spotify playlist to compile the songs they've covered over the course of their three-plus decades in action. At press time, the mix features Todd Rundgren, the Ramones, Roky Erikson, and Randy Newman — just to name a few of the the Rs — and contains an unbelievable 234 songs.
As prolific as they've been at churning out placidly romantic original recordings over their 13 studio albums, Yo La Tengo have also made it a point to build up a songbook of standards as robust as any wedding band, filling classics like 1990's Fakebook and any given live show with surprising renditions (whether fully realized or ramshackle) of hits as disparate as the Velvet Underground's "Who Loves the Sun" or Sun Ra's "Nuclear War."
Fakebook delivered a gasp of fresh air after a few albums of distortion and feedback, and remains one of the most beloved records from the early portion of YLT's oeuvre. That album hits its 25-year anniversary in 2015, but rather than mark the occasion with a reissue campaign, the Manhattan-via-New Jersey trio return on August 28 with a record titled Stuff Like That There that parallels Fakebook's covers-heavy structure. "We thought we would do something at least unusual in our world," guitarist Ira Kaplan explains of their decision to celebrate."It's like 'Casey at the Bat' and we've taken the first two pitches. We decided, 'OK, we're gonna swing at this one. It's been 25 years, why not?'"
So to join the band in their efforts, SPIN hopped on the phone with Kaplan and bassist James McNew to chat about a few of their favorite covers that other bands have performed over the years.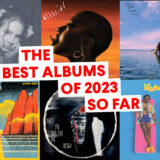 1. Miriam, "Not For Me" (Bobby Darin)
Ira Kaplan: Miriam Linna from Norton Records put out an album last year, Nobody's Baby, but it's like an old '60s record. The songwriter isn't really the focus of it, it's just a collection of great songs. So it is kind of like a Cher record. The song that kind of jumped out for me among so many was "Not for Me," which is a song I love from Bobby Darin. I think that's always a great start, is when you switch the gender of the singer.
Is it a big deal for you to be familiar with the song being covered?
Kaplan: Frequently. That's definitely an eye-catching moment, when it's a song you already know. I remember going to see Television for the first time and therefore not knowing the songs, but there they are doing "Fire Engine" by 13th Floor Elevators and "Psychotic Reaction" by the Count Five. So it is kind of a way in to break that barrier.
Did you want to talk about one of those Television covers?
Kaplan: I sort of did and I didn't. I just brought up "Psychotic Reaction," but rather than talk about Television's version, I'd rather talk about a version I like even more.
2. Brenton Wood, "Psychotic Reaction" (The Count Five)
Kaplan: Brenton Wood was labelmates with Count Five so his label decided to have him do a version of "Psychotic Reaction." They just took the same track from Count Five without the vocal and had him sing over it, and it's fantastic. It's just perfect. I got to see him a few years ago at a festival and the promoter was telling him, 'You have to do 'Psychotic Reaction," and he was like, 'Why would I perform a piece of album-filler?'
That is strange though, the idea just taking your labelmate's pre-recorded track and singing over it.
Kaplan: People talk about the studio system in old Hollywood and in a certain sense it's like an assembly line. But great things come out of it even though — or actually because — it creates its own context for things. So the idea of something as crass as, "Well we've got this 'Psychotic Reaction' song by Count Five," with the label going, "How can we exploit this even more?" That doesn't necessarily add up to it being bad.
3. Alvarius B, "You Only Live Twice" (Nancy Sinatra)
McNew: There's a record by Alvarius B — Alan Bishop from Sun City Girls — called Baroque Primativa. It was a very unusual record for him, I think. It was a dreamy, almost very sweet record; kind of like a bedroom sort of feeling to it. But there was a cover of "You Only Live Twice" and it's just heartbreaking. It's really one of the most beautiful things I've ever heard. And I think the whole record is mostly just acoustic guitars and vocals. It just rips me apart. And there's also a version of "God Only Knows" on that record. So I guess that would be a tie, because I think of those songs together and I think of that album, which had a huge impact on me. I thought it was one of the best records of that year.
4. The Urinals, "Little Johnny Jewel" (Television)
McNew: My mind just split in half when I saw them do that. I thought it sounded exactly like the Urinals, and it was like, "Oh yeah, they turned it into a two-minute blast, 90 mile-per-hour song and then it was over." They just turned it into the most economical, brief thing that you could. I really respect that.
That sounds similar to your approach to Yo La Tengo's take on covers. It seems to get absorbed into your sound entirely.
McNew: Yeah, I think so. Sometimes people try to put a spin on it and maybe there's a line between trying too much instead of just enjoying it.
5. Black Flag, "Louie Louie" (Richard Berry)
McNew: This is is just one of the greatest examples of a band showing you their sense of humor. It's an extremely dark cover of a very light frat-rock party song. The guitar sounds like a wounded animal and anytime he picks up his hands between chords it's howling feedback and it's so relentless. But it doesn't seem weird, it seems like they wrote "Louie Louie." If you put it next to all the songs before Damaged, you're like, "Oh yeah, they wrote that song. Of course they did."
6. Happy Flowers, "Not Fade Away" (Grateful Dead)
McNew:  They were a noise duo, and I know they recorded that song because they hated it and they hated the Grateful Dead and they hated all the Grateful Dead fans and they hated everything about it. It sickened them. So they recorded their own version of "Not Fade Away" which was basically them just screaming their brains out and just playing this ass-wrenching noise and it's hilarious and fantastic and it was absolutely the right thing to do at the time.
Have you ever covered a song because you hate it, to try and damage it like that?
McNew: I don't think we have. Not on purpose anyway. I mean we've damaged plenty of songs, whether we intended to or not, mostly through the [WFMU fundraiser shows, where the band will cover any song for a donation]. A lot of songs get beaten up pretty bad during those. It's not so much through ill will as this one was.
7. Teenage Fanclub, "I Heard You Looking" (Yo La Tengo)
Kaplan: Teenage Fanclub did a cover that was really exciting for us. They played it live and then they released "I Heard You Looking" on one of their singles. That was a really big deal. Just awesome.
McNew: It was super amazing and weird because as far as I know that was the first time that we ever had anyone cover one of our songs, let alone this band that we loved. It just sort of didn't seem real.
There used to be this weekly comedy show in New York City called "Tinkle," which was a show hosted by David Cross, Todd Barry, and H. Jon Benjamin. They would have this two-hour show every Sunday night, I think, and one of the weeks, one of the comedians was Louis C.K. During Louis' set, he just told one of Todd Barry's jokes and  I had never ever seen that before. I had seen bands cover other bands' songs but I had never seen a comic cover another comic's jokes. And at the end of it he said, "That's not one of my jokes, I just always wanted to tell that joke." And Todd was pretty freaked out by it. This was sort of like that, "Did they just play a song that we wrote? Really? That's weird." I hope that we can return the favor sometime.
8. Mission of Burma, "Heart of Darkness" (Pere Ubu)

Kaplan: I saw this played live before I had ever heard the original and just was blown away. Right from the start they were just bludgeoningly amazing. But "Heart of Darkness" definitely stood out. I guess I was probably aware of that song without having heard it.
Does it take you aback to realize that a song you like is actually a cover? Is it ever a negative thing?
Kaplan: I don't buy into that at all. In that case, it just made me interested in catching up with the early Pere Ubu singles.
But some people would feel that way.
Kaplan: I guess, yeah. [Laughs.] But, you know, not in the circles I run in.