Update: Deee-lite lyricist, co-producer, and cowriter Kier Kierby tells SPIN she's experienced similar problems. " I never got paid for one Deee-lite performance because management told me my pay would be in future record sales generated from the shows," she says. "I'm not bitter about it because it was an opportunity to grow up and learn to be a bit more skeptical which is needed in the music business."
Sinead O'Connor is accusing her booking agent, Rita Zappador of Modus in Rebus Booking Agents, of defrauding her for 18 months worth of performance wages. The singer took to her Facebook page on Sunday morning, where she posted a circled-in-red copy of the insurance document from her now ex-booking company along with an angry statement, which you can read in full below.
Observe below… What I got paid for three shows in Germany, FIVE HUNDRED EURO as compared to what everyone else got paid. The last two figures on this list amount to what the agent Rita Zappador and Modus In Rebus got, €11,700.00. The €47,700.00 is the total of what my four and a half hours' work generated. Pls note the document is page 9 of 7! This is the type of dodgy documents we are being provided with. This is the sodding insurance document !!! In the end the agent didn't even pay me the five hundred. SHE DOCKED ME FOUR THOUSAND! So my work generated almost €48k but cost me €4k. Pls note bands do not arrange these things themselves. One's business managers and agents do. One trusts one is not being lied to when one is seduced to go on tour by being assured of earnings. Our job is to shake our asses and sing nice. Management's job is to fight off every cunt that wants to rip us off. MASSIVE negligence cases to be brought by me against every member of my now ex management team. Not only for the below but for several even more appalling and wreckless negligences, which have cost me hundreds of thousands of euro which I was illegally told was my obligation to pay, and it was NOT my legal obligation. In short I have been ass raped by Rita Zappador and Modus in Rebus with the full (written, and totally behind my back, without my knowledge) support of Simon Napier Bell, Bjorn De Water and my now ex accountant. ALL of whom need to lawyer up, and get ready for the fraud squad.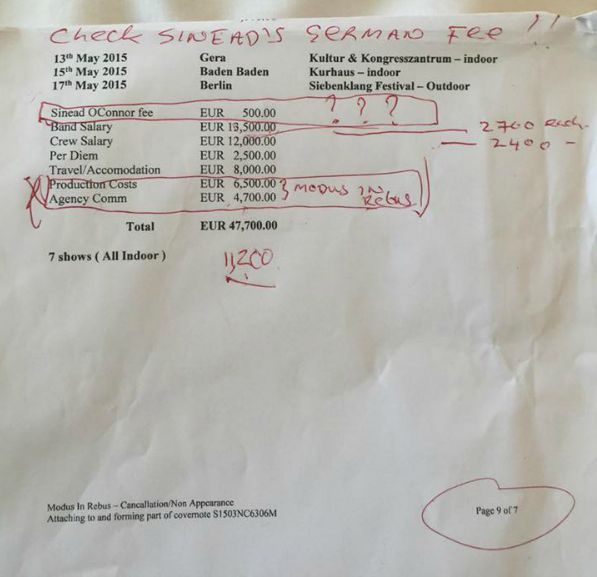 Roughly paraphrased: O'Connor only made €500 for three shows in Germany last May, while Zappador and her company made, according to this document, nearly ten times that amount. The Irish singer also claims that she was never even paid for her work.
Now, we don't claim to be experts in the who-gets-what arena of music performance vs. booking, but it seems obvious that a performer of O'Connor's talent and stature should probably receive more cash per concert than what approximately amounts to $1000 American dollars — if they receive it at all, apparently.