More than any other such program that people actually pay attention to, the MTV Video Music Awards have come to operate on the principle that the only truly unforgivable sin an award show can commit is to be boring. Even by past VMAs standards, this year's ceremonies stood out for standing out — there were moments obnoxious, hilarious, revelatory, crass, and even unexpectedly political; all wonderful and horrible and barely ever dull.  As such, we probably could spend till Halloween parsing out our takes on the action that was packed into Sunday night's two-and-a-half hours of music-video awarding, but instead, we've narrowed it down to our absolute favorite and least-favorite moments — though really, with the VMAs, sometimes we wonder if there's even a difference between the two.
BEST: Moonbabes, a.k.a. Sexy Astronauts
Nick Jonas' team of helmet-headed, scantily clad dancers ducking and bobbing behind him stole the show before it even started. Besides the comic value of watching such sleek figures with weirdly enormous heads pelvic-thrust the youngest JoBro, the spectacle kept the red carpet from feeling like the literally well-trod territory it is. But the best part may have been the close, when the consummate performers — sexy space people and their leather-clad leader — stood, chests heaving with the exertion of such a tight set. — HARLEY BROWN
BEST: Nicki Minaj and Taylor Swift Make Peace
Nothing settles bad blood quite like a joint VMAs performance (and, in Miley Cyrus' case, an actual joint). Nicki Minaj's and Taylor Swift's opening number certainly did that — and more. Those crimson, feathery outfits; all that strutting; Swift's passionate fire-smize — it didn't even matter that you couldn't hear her vocals over all the hubbub. All that matters is that she and Minaj put aside a wee Twitter miscommunication and publicly hugged it out. They even looked like they wanted to embrace, too. Of course I'm still shvitzing over the fresh case of Cyrus vs. Minaj, but, in the words of Scarlett O'Hara, I'll think about that tomorrow. — RACHEL BRODSKY
WORST: Whatever That First Skit Was
"I'm not a stand-up. That's what it always feels like — like everything's flopping and dying out there," Miley Cyrus told the New York Times ahead of her turn as VMAs host. "So my intro is fun skits." Unfortunately, Cyrus and her writers overestimated how much anybody cares about the fake behind-the-scenes planning sessions for her Instagram account. Even an Andy Samberg cameo couldn't save the night's first irrelevant sketch and its stilted, non-comital jokes. When the opening salvo of your skit-heavy performance peaks with a mealy thigh-slapper about felating an ear of corn, it's a bad, bad sign for what's to come. (Looking at you, Snoop Pigg.) — JAMES GREBEY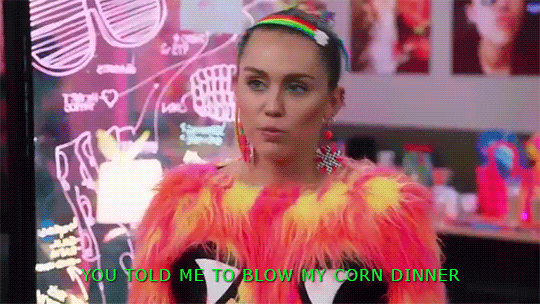 BEST: Nicki Minaj, Settling Family Business
The last few days, we've wondered why Nicki Minaj had stayed uncharacteristically radio-silent in response to Miley Cyrus'
derisive comments
about the rapper's pre-VMAs Twitter behavior. Now we know she was just waiting for the right moment: On stage, having accepted
the Best Hip-Hop Video award
for "Anaconda," and after having thanked her pastor. "And now, back to… This bitch that had a lot to say about me the other day in the press. Miley,
what's good?
" (Death stare.) The host attempted her best
"That's marvelous!"
deflection, but she was inaudible below the eternally echoing sound of microphone hitting floor. — 
ANDREW UNTERBERGER

BEST: The Weeknd's Apple Music Adventure
The two-part Apple Music commercial was kind of a mind-f–k, starting with the Weeknd making his way to the afterparty just minutes after his actual VMAs performance. Once the camera pans to a burning car from "The Hills" video, however, it's apparent that time is not collapsing; it's simply a very well-orchestrated clip, with John Travolta (!) as a limo driver and a bumpin' house party that dissolves into a puff of, well, you probably know what. More to the point, it's another cinematographic step in Abel Tesfaye's increasingly detailed character sketch. — H.B.
WORST: Rita Ora, Walking Spoiler
Yeah, yeah, no idea how she keeps showing up at these things either, but whatever: Presenting a VMA is hardly an honor so prestigious that it need be the sole province of the A-list. Still, if you get to do it, play the game right — Ora all but announced Fetty Wap as the self-evident winner of the Artist to Watch award before even opening the envelope, then stepped on co-presenter Emily Ratajkowski's announcement of the actual victor by belting the "Trap Queen" chorus. Would say something like "that's how you don't get invited back next year," but Ora's bad-penny charms have long proven themselves immune to such truisms. — A.U.
BEST: Macklemore Takes His Haters Downtown
My girlfriend is the biggest Macklemore hater imaginable and she is completely smitten with "Downtown." No one knows what to make of the thing, which is the best possible outcome for the second-most hated rapper in the game. The West Side Story-inspired video featuring absolute legends on the order of Grandmaster Melle Mel himself, the completely owning-it Broadway-bound chorus, the moped mini-opera plotline… Macklemore did his best to bring as much of the bonanza as possible to the VMAs and the palpable joy of his (and what army's) performance could melt even our hating hearts. It is absolutely your move Iggy Azalea. — DAN WEISS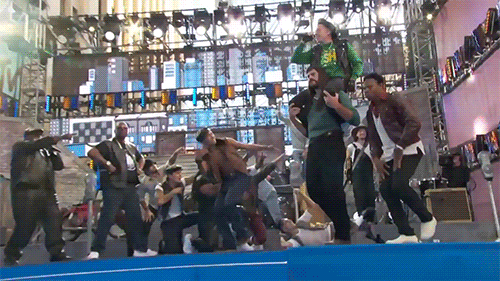 WORST: Jared Leto, Professional Creeper
Getting introduced by Miley Cyrus as "the woman with whom I had my first lesbian experience" was an inauspicious start for Leto, perhaps the world's only 43-year-old Oscar winner who still really wants to grow up to be Black Parde-era Gerard Way. Things got much worse when Leto put on his after-dark FM DJ voice to introduce the Weeknd: "Every once in a while an artist comes along who inspires us, breaks new ground, and makes us all really, really horny. So pull your pants down, skirts up, and welcome the one, the only, the Weekend." Hey, making sex sound alien and creepy is supposed to be Abel's job, Jared. — A.U.
WORST: Miley and Snoop Pig's Weed Sketch
So Miley's got marijuana on her mind, that's no secret, but that Snoop Dogg skit seems the result of just one doob too many. After eating too many edibles, our trusty pooch becomes a pig to guide her through a bad trip. And that's… pretty much the whole joke. It's more half-baked than Half Baked and it's certainly not the best rambling, weed-inspired moment of the night. That honor goes to newly minted Stoner-in-Chief Kanye West. Miley, and Snoop for that matter, come off more like school kids trying to copy the laconic fuzz of their old Cheech and Chong tapes. — COLIN JOYCE
BEST: Justin Bieber's ascendance and breakdown
Justin Bieber's breakdown was one of many moments in this year's VMAs that blurred the line between genuine display of emotion and publicity stunt (ahem, Nicki and Miley). Though the Biebz isn't exactly hurting for good publicity these days — thanks to Skrillex for revitalizing his music career, and his various court cases for receding in the rearview mirror — when he scrunched up his face and doubled over, it seemed like he was finally, truly repentant and grateful to be back on the stage. That bizarre "beam me up, Scotty" moment, cheesy as it kinda was, certainly added to the spectacle of the performance. — H.B.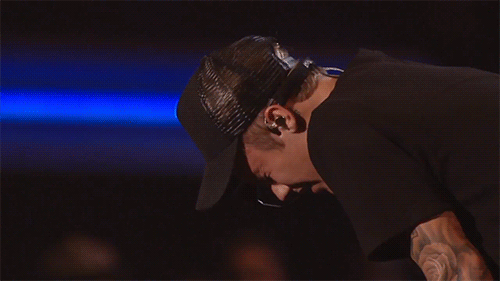 BEST: Kanye West Finally Lets Himself Finish.

To quote my esteemed colleague
Harley Brown
, "Only Kanye can top Kanye." And while the
forthcoming SWISH
has its work cut out for it musically, following what his F-R-I-E-N-D Taylor Swift called "one of the greatest careers of all time," Kanye the man, the deity, proves once again that
this isn't even his final form
. For long stretches, that Video Vanguard acceptance speech made no sense at all; Cee Lo deserved Justin's Grammy because he
cried 
harder? (WTF is up with all the male tears
tonight
?) No wonder Yeezus "still doesn't understand award shows."Over what felt like hours, 'Ye got one thing damn right for sure: "We not gonna control our kids with brands." Wait, two things: "The art ain't always polite." Okay, three: "I'm conflicted, bro." He just wanted people to like him more. This whole damn time. Is it
possible
to like him even more? See you at the polls, 2020. —
D.W.
BEST: Miley Cyrus and Her Dead Petz' debut performance of "Dooo It!"
Though the rest of the show could have very well been an advertisement for Los Angeles' medical marijuana establishments, Miley's show-closing performance went down like a couple hits of LSD. There's kaleidoscopic instrumentation care of the Flaming Lips members on hand and a boundary-free approach to gender and sexuality thanks to her backup dancers and a skeevy Wayne Coyne. It'll all be a little bit overstimulating, but it's pretty nice to bask in the excess if you just sit back and float down stream. — C.J.