At first, it's surprising that RÜFÜS DU SOL have mostly recorded their sunny blasts of tropical house in the world's chillier climates: the Australian live electronic trio recorded their breakthrough debut 2013 LP, Atlas, in South Wales, and they headed to a tiny studio in Berlin to get started on its follow-up. In the latter case, the brutal cold inspired a melancholy new spin on "You Were Right," the blissful first listen off Rüfüs du Sol's as-yet-untitled sophomore album.
Vocalist Tyrone explains, "We got home after being away for five months, we'd spent the last part of that locked up in this special little apartment in Friedrichshain that we turned into our studio. But, it was so cold that we were rarely leaving the apartment… so coming home to summer in Sydney, being surrounded by the familiarity of everything that being home entails, we were suddenly approaching songwriting in a different way, both technically and emotionally. We were able to unlock a different side to our writing."
Just in time for summer — at least, on this side of the planet — "You Were Right" crests and falls like a warm Indian Ocean wave, with gently synthesized screeches and ululations in the background, as if it were the soundtrack to a rainforest dance party. Take a listen here.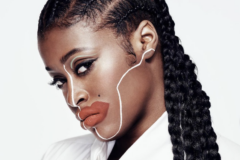 Keep an eye out for RÜFÜS DU SOL's forthcoming album and check out their handful of upcoming tour dates below.
RÜFÜS DU SOL tour dates:
July 17 — Scranton, PA @ Camp Bisco
July 18 — Piercy, CA @ Northern Nights
July 19 — Silverado, CA @ Woogie Weekend
July 23 — Denver, CO @ 1UP Colfax
July 24 — Dallas, TX @ Gas Monkey
August 1 — New York, NY @ Full Moon Festival