Welcome to SPIN's Singles Mix! SPIN staffers have rounded up their favorite, must-hear tracks for your personal playlists. Collecting the finest from Harlem's rap king, hand-wringing Austin punks, synth lovers, and more, these are the songs you need to know right now.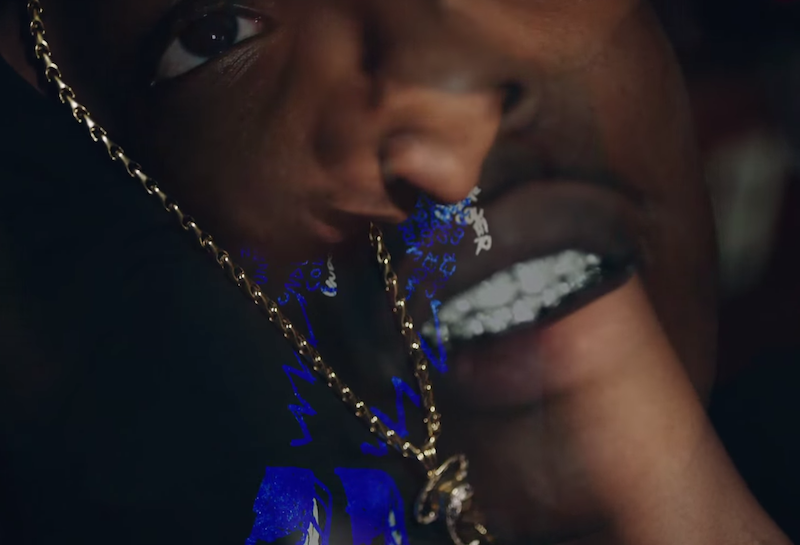 A$AP Rocky feat. Joe Fox and Kanye West, "Jukebox Joints" (RCA)
Let's start with that 'Ye verse: dropping references to hashtags and FOMO and then breaking the latter phrase down into its "fo mo" components  to illustrate the number of kids he wants to impregnate Kim with? Rocky maintains the At.Long.Last chillwave slickers he spits throughout the album, and a lush choir keeps the song from rattling too far off the rails, but really, when you strip it down, "Jukebox" is an opportunity for Kanye to get goofy again. If he wanted to scrap SWISH and follow this route to its natural conclusion, we wouldn't be mad. — BRENNAN CARLEY

Bad Bad Hats, "Shame" (Afternoon Records)
A killer bass line takes the lead in this gritty Hives-meets-Yeah Yeah Yeahs garage-punk romp, which is delivered by Minnesota's Bad Bad Hats. Taken from their forthcoming debut album, Psychic Reade (out on July 17 via Afternoon Records), "Shame" goes down like a refreshing, kick-you-in-the-face-strong cocktail, most likely swilled after a booty call gone bust. Wash that man right out of your hair.  — RACHEL BRODSKY

Charli XCX, "Famous (Brenmar remix)" (Atlantic)
Pretty much everything trap lord Brenmar touches turns to gold — or Fool's Gold, the producer's label — including this remix of Charli XCX's sugar-sweet slice of fantasy pop. He kicks it into a twerk-worthy gear with a cavernous echo and clap-clap sequence to build things up before rattling it back down with a bass-heavy chorus. — HARLEY BROWN

DJ Koze, "I Haven't Been Everywhere But It's On My List" (!K7 Records)
The 50th edition of Berlin electronic label iK7's DJ-Kicks series is special indeed: It's curated by Frankfurt's most gentle sonic provocateur, DJ Koze, whose "I Haven't Been Everywhere But It's On My List" is the first listen off the compilation. His typically complex pastiche of textures and samples — indiscernibly hopped-up female vocals gasping over a Dilla-like loop of strings and jazz-tempo hi-hats — still manages to bop along at a steady, soothing tempo. — H.B.

Institute, "Cheerlessness" (Sacred Bones Records)
Out in the bleak desert landscapes of last year's Salt EP, the Austin punk scene vets in Institute proved they weren't afraid of a little malaise. Even down to its on-the-nose title, their latest single "Cheerlessness" finds them delving back into those darker impulses. Bass lines rattle and clang into nervous locked grooves and bitter guitar lines sit static and anxious, while vocalist Moses Brown mumbles about the "Expression of a dog / Who's been whipped." It's harrowing stuff that proves punk's not dead, just dead-eyed. — COLIN JOYCE

Neon Indian, "Annie" (Mom + Pop)
Many have (understandably) brought up Madonna's "La Isla Bonita" as a reference point for Neon Indian's impossibly breezy new cut, but we suggest another sublime pop-goes-Island precedent: Carly Simon's "Why." The devastating melancholy of Simon's early-'80s minor-hit-turned-cult-classic doesn't quite translate to "Annie," but the bubbling bass, dubby guitars, and rollicking rhythms certainly do, paired with a synth breakdown and guitar mini-solo that's infinitely more '80s than anything in "Why." The only thing missing is the faux-handclaps, but you gotta save something for the album proper. — ANDREW UNTERBERGER

Refused, "Françafrique" (Epitaph)
"Ex-ter-mi-nate the brutes. Exterminate all the brutes!" commands Refused's latest, before evolving into a sing-song chorus of "Murder, murder, murder, murder." Lead singer Dennis Lyxzén is precisely the right person to shriek "KILL, KILL KILL!" like an (even more) deranged Miss Hannigan. The next time your city comes under bed bug siege, better get these Swedish hardcore kings on the case. — R.B.

UPPERMOST, "Blame it On Love" (UPPWIND)
Behdad Nejatbakhshe's newest single is a throaty bit of electronic reggae with rickety, marching trip-hop on bottom and overflowing acid synths foaming over the top. The French genre-splicer himself fumbles around in the deep pockets his voice while still gliding back on a falsetto as smooth as an escalator for the title hook.  — DAN WEISS