Welcome to SPIN's Singles Mix! Every week SPIN's staff writers pick their favorite, must-hear tracks for your mid-week playlists. From grief-stricken rap to funkified post-wave to '70s-inspired glam, these are the songs you need to hear right now.


Future Punx, "Forgive the Doubt" (Dull Tools Records)
"I know enough about you not to take offense," sing Future Punx on their "post-wave" (their term, not ours) funkfest "Forgive the Doubt," which melds disco-scratch guitar, incongruent synths and reconciliatory lyrics. DAN WEISS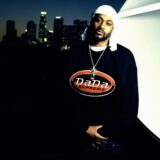 Ghostface Killah, "Love Don't Live Here No More (feat. Kandace Spring)" (Tommy Boy Records)
Acting as a "hip-hop superhero" from Staten Island, Ghostface Killah waxes nostalgic on "Love Don't Live Here No More," which reflects on a break-up with a onetime lover. The track is the first single from his upcoming solo LP, 36 Seasons, a concept album that centers around Killah's aforementioned super-powered persona. Live instrumental production by the Revelations furthers the emotional tension, but it's Kandace Springs' bluesy hook that helps the track's haunting heartache reach its peak. MATTHEW LEVINE


Nick Jonas, "Teacher" (Island Records)
This week, the youngest JoBro released his self-titled solo album that's a lot like Justin Timberlake's 2002 solo debut, Justified, in its confident sexuality and forward-leaning pop jams. "Teacher" is one of Jonas' biggest hooks, a song that sounds both utterly of the moment and sparklingly new at the same time. It's got elements of old-school funk (Bruno Mars, Nick Jonas is coming for you) with powerfully emotive vocals, an inescapable pre-chorus ("Oh my / Oh my / Oh my god!"), and a perfectly synthesized instrumental section that screams "dance to me, right now, right here." Don't write this album off; it's a pop heavyweight in disguise. BRENNAN CARLEY


Pearls, "Big Shot" (Remote Control/Dot Dash Records)
Seventies glam-pop revivalists Pearls stomp their way to center stage with "Big Shot," the first single from their forthcoming LP, Pretend You're Mine. The Melbourne-based trio merge evenly paced electric drum beats with sophisticated yet raw guitar strokes — not too far off from the tough-girl vibe of Blondie's classic driving anthem "Call Me." RACHEL BRODSKY


Robert DeLong, "Long Way Down" (Glassnote Records)
A year after breaking out with debut LP Just Movement, electro-pop singer/songwriter/producer Robert DeLong is back with this week's Long Way Down EP, the title track of which is already beginning to make waves on modern-rock radio. Like the best songs on Movement, "Long Way" buzzes, hums, and twinkles with the density of an EDM production, but with sharp pop/rock songcraft and biting lyrics like, "I've been fucking around / While you've been saving the world from nothing." It could easily end up as a crossover hit, if you had any clue what base genre it was even really crossing over from. ANDREW UNTERBERGER


School '94, "Like You" (Cascine)
Gothenburg's School '94 (formerly known as just "School") is back in session this week, educating listeners on bedroom pop with the titular track off of their forthcoming EP. Vocalist Alice Botéus Felix coats shimmering guitar licks and starry synth hooks with melancholic lyrics: "Swear I could have been / Anywhere with everything." If anything's for sure, it's this: The song's dramatic flourishes are sure to bring your classmates to tears. M.L.


SOAK, "Shuvels" (Rough Trade Records)
"Shuvels" is the spellbinding new release from 18-year-old Bridie Monds-Watson, a.k.a. SOAK. The Irish adolescent weaves her high school heartache through soft-edged guitar with an emotional clarity made only more inspired by her signature raspy bellow. Accented by choral swells and symphonic fog, "Shuvels" is a delicate companion to its B-side, the brooding outcast anthem "B a noBody." MAGGIE ROGERS
//www.youtube.com/embed/j3mFzIkFyMw


Stranger Cat, "Sirens" (Unsigned)
Brooklyn electropop duo Cat Martino and Sven Britt break out the synths in the shimmering, romantic "Sirens." A jittery, excitable track, "Sirens" showcases Martino's ethereal yet robust vocals while painting a lyrical portrait of pure infatuation. R.B.


TCF, "54 C6 05 1C 13 CC 72 E9 CC DC 84 F2 A3 FF CC 38 1E 94 0D C0 50 5C 3E E8" (Liberation Technologies)
Yes, that sequence of numbers and letters is actually the title to Lars "TCF" Holdhus' new song. Actually, all of the pieces in the Norwegian tech enthusiast's repertoire are named with variations of those number-letter couplings, suggesting some creative exploration of coding at a more expressive level. On this track, featured on an EP being released next week via Liberation Technologies, we get an aural representation of what that algorithm would (maybe) sound like, swiveling through an escalation of feverish digital noise. LUIS POLANCO


"Young In Love," Thelma Plum (Footstomp Records)
Utilizing smokey R&B undercurrents and hints of soul, Brisbane's Thelma Plum glides through "Young In Love," a break-up ballad from her Australian-released Monsters EP. Working with producer M-Phazes (Eminem, Kimbra), the 19-year-old songstress champions her title with heart-heavy vocals and easy sophistication. Luxurious strings and atmospheric percussion sweep through the song's cinematic pop soundscape, converging in bittersweet, broken-hearted bliss. M.R.


YACHT, "Terminal Beach" (DFA Records)
It's easy to catch YACHT's drift on "Terminal Beach," where vocalist Claire L. Evans, in an unchanging tone, portends a future ruled by machines. Depicting a beach with cell phone tower palm trees and "little metal coconuts," the track's muted guitar riffs further the sense of unease, as do the high-frequency radio bleeps that seem to signify coded conversations of the future. M.L.